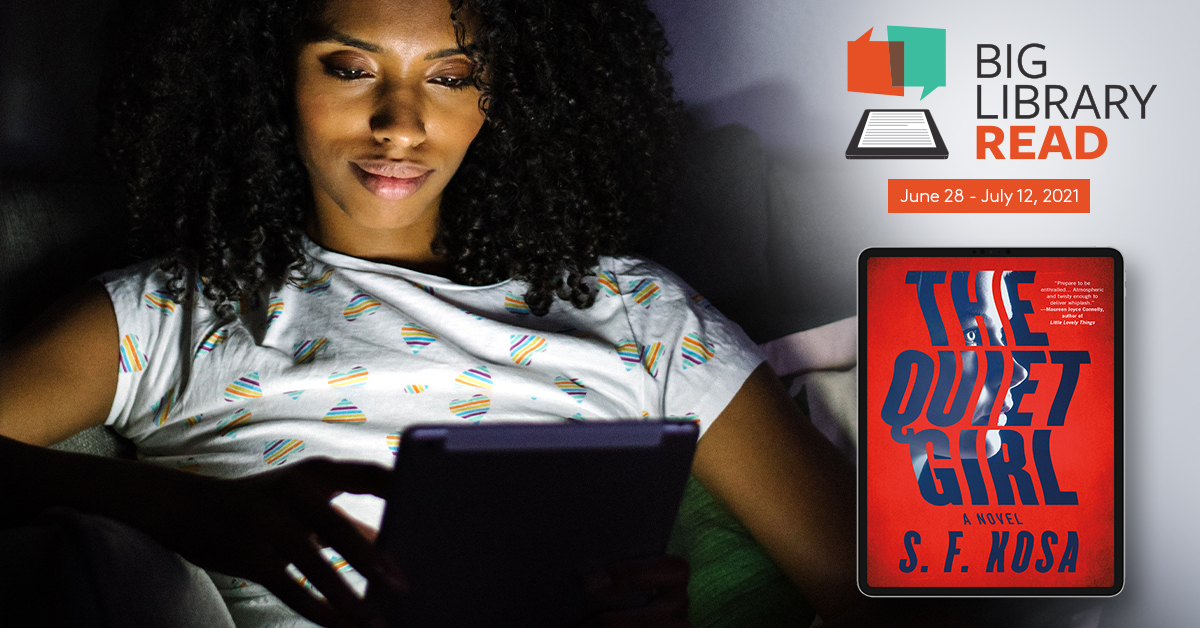 Big Library Read is almost here!
Our global ebook club Big Library Read (BLR) is right around the corner! From June 28 – July 12, the ebook of The Quiet Girl by S.F. Kosa will be available without waitlists or holds. This thrilling and atmospheric novel is about a new husband on the hunt for his missing wife. A quiet, mysterious girl seems to hold the key and her missing memories may break them all.
On Wed., July 7 at 12pm ET, S.F. Kosa will be joining our Professional Book Nerds in a live conversation and Q&A! Along with discussing The Quiet Girl on the BLR discussion board (coming soon), this free virtual event is an opportunity for readers to engage directly with S.F. about her incredible book. Register today.
Libraries looking to promote The Quiet Girl and BLR can visit the Big Library Read website to download our marketing materials kit. Readers can also join the conversation by using the hashtag #biglibraryread on social media for a chance to win a tablet and a signed book from the author.
Be sure to subscribe to the OverDrive Blog so you don't miss updates. Please see your Account Manager if you have any questions regarding this or any of our exciting reading programs.
About The Quiet Girl by S.F. Kosa
When Alex arrives in Provincetown to patch things up with his new wife, Mina, he finds an empty wine glass, her wedding ring on the desk, and a string of questions. The police believe Mina, a successful romance author, simply left the marriage before it truly began.
But what Alex finds in their empty cottage points him toward a different reality: Mina has a secret and now she's disappeared. In his effort to find her, he meets Layla, a young woman with information to share. She's a strange, quiet girl whose missing memories may break them all.
To find his missing wife, Alex must face what Layla has forgotten. And the consequences are anything but quiet.
About Big Library Read
Big Library Read, facilitated by OverDrive, is a global reading program that connects readers around the world with the same ebook and audiobook at the same time without any waitlists or holds. This worldwide digital version of a book club is available for free through your local library and all you need to get started reading is a library card.
Tags In
Browse blog and media articles