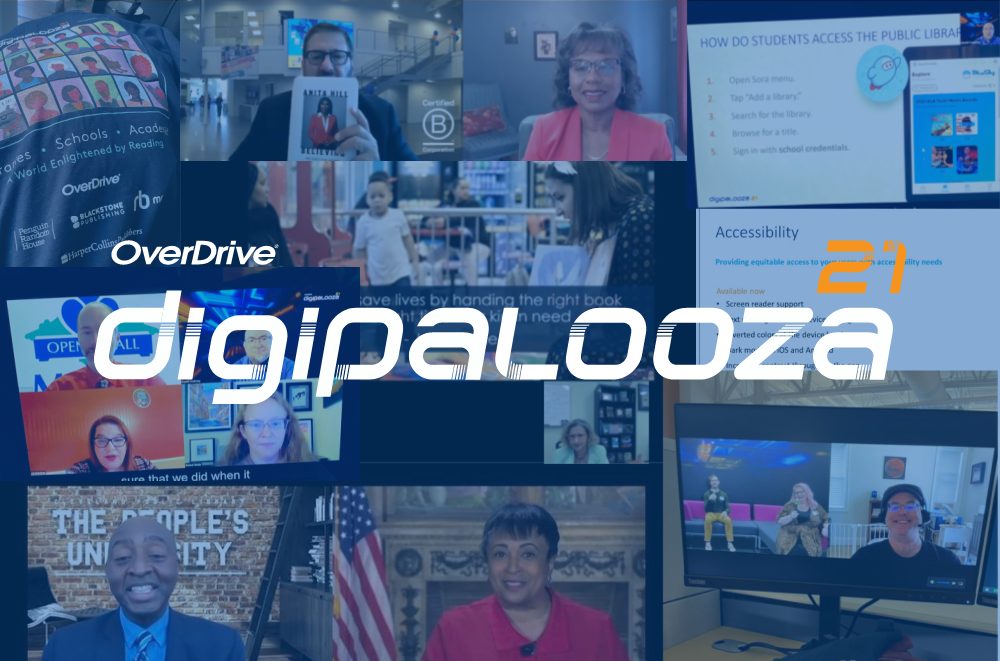 Digipalooza '21 Highlights
Last week, OverDrive welcomed more than 1,700 librarians, educators, publishers, and industry leaders to Digipalooza '21, our 8th Digipalooza and first-ever virtual event. The program spanned three half-days jam packed with panel discussions, presentations from leading librarians and educators sharing best practices, exclusive interviews with bestselling authors like Andy Weir and Grace Burrowes, and an all-star keynote speaker lineup with Dr. Carla Hayden, Librarian of Congress, Dominique Raccah, Founder, Publisher, and CEO of Sourcebooks, and Professor Anita Hill, one of the most important voices and advocates for gender and racial equality.
The conference concluded with OverDrive CEO Steve Potash sharing his vision for the OverDrive service of tomorrow. In his presentation, he discussed the numerous updates for our Marketplace users, and enhancements to all our services for your readers and students. He unveiled Readtelligence, an R&D project that OverDrive will embark on in the future to respond to long-standing requests from librarians and selectors to have access to more data about titles that supplements the metadata, bibliographic information, and reviews available today. With tens of thousands of new titles coming to OverDrive Marketplace each month, OverDrive can provide Readtelligence to objective data, for example: when titles have external links, the complexity of the language, and other data such as the location of a book setting, and number of and type of images. Imagine a reader is looking for a book with pictures of Abraham Lincoln, and we could use Readtelligence to connect that reader to books with pictures of Abraham Lincoln.
OverDrive supports the ALA Library Bill of Rights for intellectual freedom. Readtelligence would not restrict, label, or filter content, but rather give selectors additional information about titles to inform their collection development process.
So much of what was shared at Digipalooza '21 was the result of librarians who experimented, piloted, iterated, and drove innovations that guided the course for digital libraries worldwide for the last two decades. And Readtelligence will be no different—as OverDrive explores the opportunity to enhance the data provided to selectors for content, we will seek input and involvement from our partners along the way.
For now, our team of innovators and developers are hard at work enhancing Marketplace and the selection tools used by your library or institution. We're committed to providing a great experience for users with diverse accessibility needs, and we're excited to deliver a fresh solution for title recommendations in Libby. We also look forward to offering the Kanopy catalog and apps to your users. Stay tuned for more details.
Thank you to all who joined us for Digipalooza '21! We look forward to continuing the conversation. The journey continues…
Tags In
Browse blog and media articles