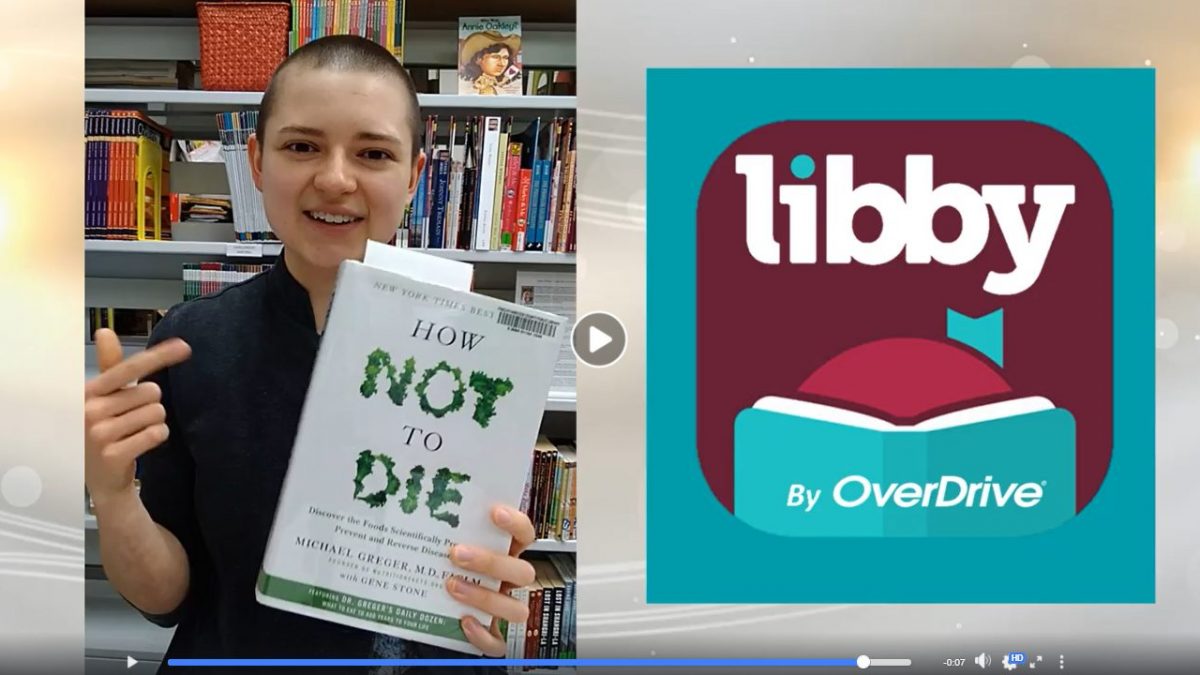 Libby Spotlight: Findlay-Hancock County Public Library (OH)
By Annie Suhy, Outreach Services Specialist
"Alone, we can do a little. Together, we can do a lot." Findlay-Hancock County Public Library (OH), a member of The Ohio Digital Library, exemplified this quote in their outreach efforts for Libby and their digital collection. We first spotted them when we noticed the Libby promotional messages they were printing on their checkout receipts. After hearing more about their strategy, we learned how library staff created a well-rounded approach to their outreach efforts that touched nearly every facet of the library including targeting users of their print collection, social media and video production, staff training opportunities, and in-person outreach.
Read on as we hear collectively from Courtney Ward (Information Technology/HR Manager), Heather Rhoads (Community Relations Coordinator), Kristy Szkudlarek (Read for Life, Adult Literacy Program Coordinator), Melody Flick (Adult Services Librarian), and Kayleen Veit (Extension and Outreach Services Manager) at FHCPL about how they found success promoting Libby, and how they worked together to achieve their goals.
Tell us more about why you decided to promote library services on your checkout receipts. What a cool idea!
The decision to have promotional checkout receipts was a part of our 2018-2020 Strategic Plan. One of the primary needs, or service responses, we identified during the strategic planning process was the need for patrons to "know your community." We felt that promoting a wide variety of programs, services and activities on our receipts would help the library become a central source of information in the community.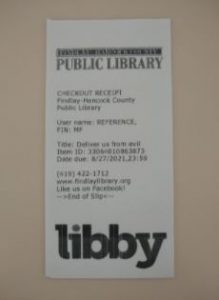 How does it work? Is there a specific program or printer that was used?
We use an application called MyPromo Receipt, which allows our receipt printers to print promotional information specific to adults, teens and children based on the items they check out. We currently have two licenses, and you need one license per printer. We were able to use this software with our existing Epson Receipt printers, so it did not require additional or different hardware.
What services do you promote on the receipts?
We like to promote in-house programming, along with our digital collection. We've promoted library events such as SummerREAD, CommunityREAD, holidays, etc. Last May, we promoted our Virtual Libby Training Session, led by Libby experts (request a training for your library here!). During the pandemic when the library had to close, all of our book discussions went online and so digital availability of book titles became imperative.
In what other ways did your marketing plan change with the COVID-19 pandemic?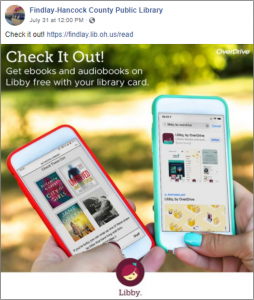 During the pandemic, like many libraries, we were trying to utilize social media to promote our digital resources since the library was closed. The goal was to post a digital collection Facebook post 1 to 3 times per month, highlighting new materials, books for discussion groups, etc. Social is a fun platform to experiment with to see what resonates with patrons.
We also started doing Book Talks as a way to connect with our patrons. Book Talks are brief, fun and informal 2-minute videos that we produce that focus on our favorite reads, book discussion titles and more that are posted to our Facebook page every Friday. In each video, we share our recommendations and also try to mention if the book is available in print or in Libby. We have been tagging authors or illustrators and have gotten some fun shares, likes and interaction on social media from them!
Some of our staff have really embraced and enjoy producing the Book Talks, and others, not so much. Kristy, our Read for Life Coordinator, has a background in video production, so it was a fun way to utilize those skills. Find all of the Book Talks on their YouTube page.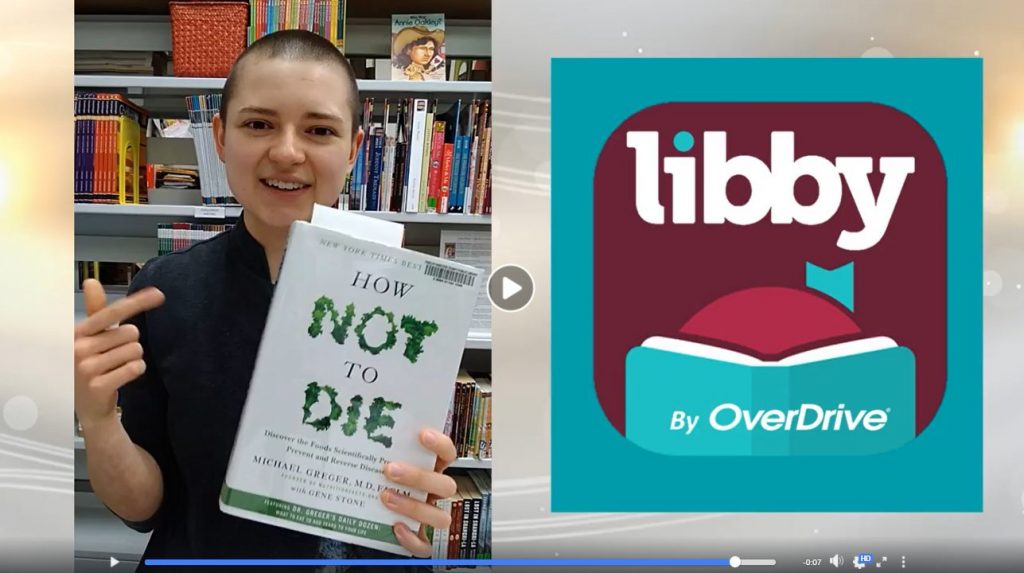 It sounds like you really try to involve all of your staff members in promoting Libby and your digital collection.
We do! A lot of opportunities also come from the interactions we have with patrons at our service desks. We have handouts printed out with instructions for using Libby and these come in very handy if a patron has a question, or if they just got a new device for Christmas, or if the book they want isn't available in print. We also try to feature digital resources prominently on our website. To educate our staff, we make in-house reference training packets on a different topic every month. In July, the focus was on library apps like Libby. In each packet, we try to ask staff questions that encourage them to explore the resource and anticipate the questions our patrons may have about it.
Love that you added some humor into your questions to keep staff on their toes!
This was my favorite:

In what other ways do you have fun promoting Libby?
The library makes regular visits out in the community to get the word out about our library services. We also reach out to local youth organizations and the Family Resource Center. We also set up a booth at community events like the Hancock County Fair and the Flag City Balloon Fest too.
Last but not least, why is digital reading important?
All: Reading a book digitally can make a title more accessible as you can adjust font size, switch to dyslexic font, and change lighting. And during the pandemic when libraries were closed, apps like Libby helped us continue to provide resources to our patrons.
Melody: Before I became a librarian, I romanticized print books and didn't think I would like digital versions, but over the years the convenience has converted me. I can check out books from home (at midnight if I want!) and listen to audiobooks while cooking or going for a walk.
Kayleen: Digital reading is staying with the times. I have a child that likes to read, but she can't carry a book with her at all times. But, guess what? She has her phone with her at all times!
If you would like to nominate your library to be featured in an upcoming spotlight, please contact us and let us know what you're doing in your library and how you are reaching more users with Libby!
About the author:
Annie Suhy has been working with public libraries since 2006. As an Outreach Services Specialist, Annie has partnered with libraries across the globe to integrate their digital collections into their outreach efforts. She was especially excited to coordinate this Libby Spotlight because Findlay-Hancock County Public Library was where she received her very first library card.
Tags In
Browse blog and media articles