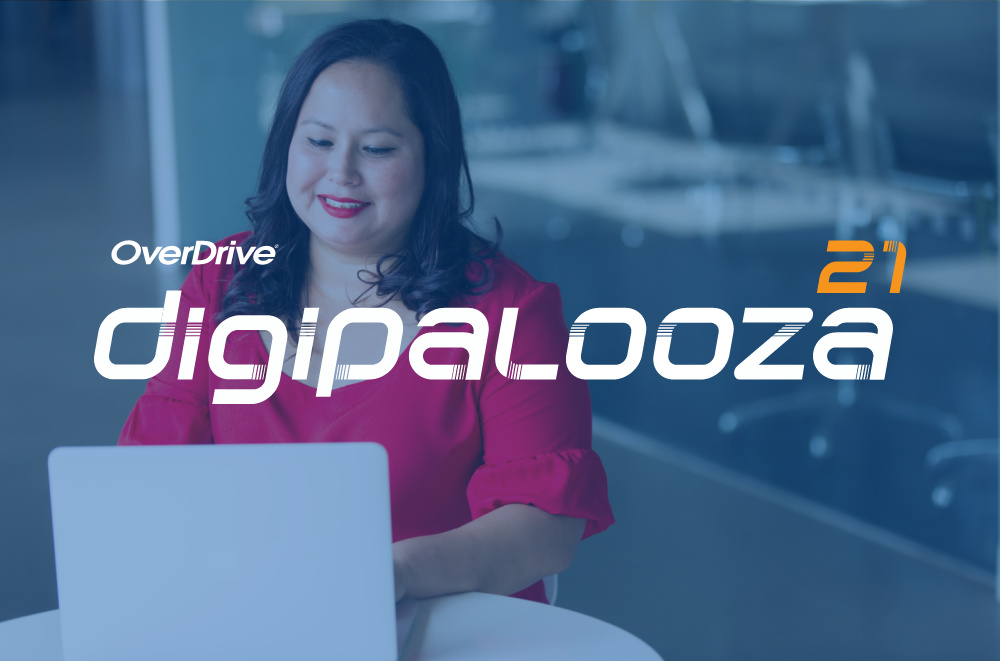 3 key takeaways from Digipalooza '21 for OverDrive Professional Partners
Thank you to everyone who joined us for Digipalooza '21! We may not have been able to all be together in person, but we hope everyone enjoyed the informative sessions and networking opportunities as much as Team OverDrive did. Over the course of three half-days, attendees learned best practices from peers, informative panel discussions with industry leaders, see exclusive interviews with bestselling authors, and hear phenomenal keynotes from Dr. Carla Hayden, Librarian of Congress, Dominique Raccah, Founder, Publisher, and CEO of Sourcebooks, and Professor Anita Hill.
Attendees who registered before August 5 will have access to the session recordings until Sept. 30.
Here are three key takeaways for our OverDrive Professional partners:
1) DEI initiatives start with understanding where the opportunities lie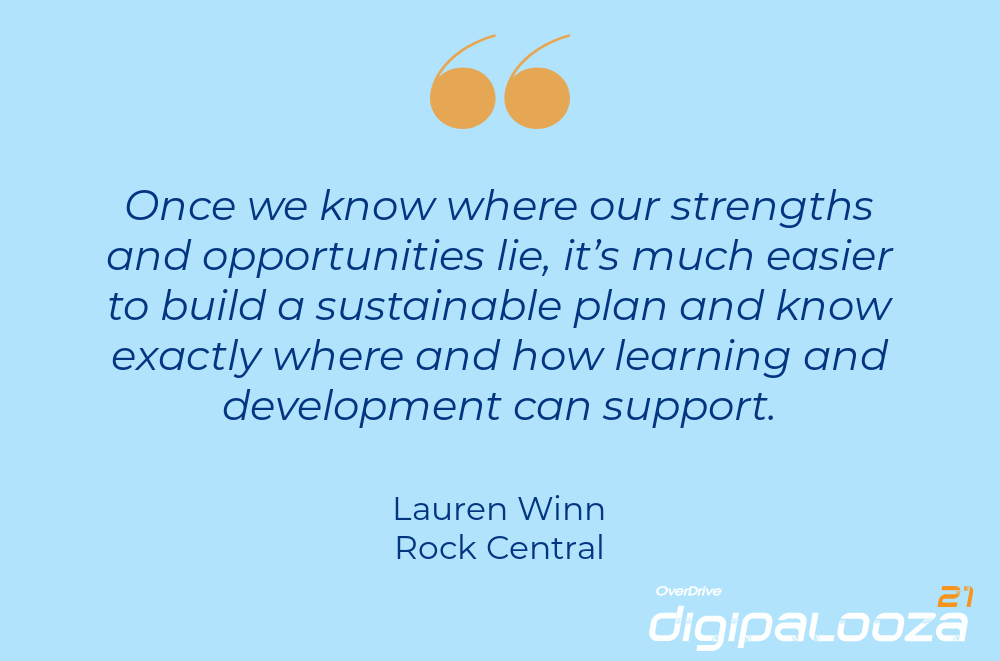 In their session, Best Practices For Bringing Diversity, Equity and Inclusion to Your Workplace or Campus, Marie Seymour-Green from the University of Delaware and Lauren Winn from Rock Central shared best practices for how a digital library can support DEI initiatives. From buying more diverse and inclusive titles in response to social justice movements to finding ways to weave DEI into "non-DEI" learning opportunities, this session is a can't-miss for anyone who wants to know how to identify DEI gaps in their collection and make changes across your workplace or campus.
2) Curation is key to helping readers find books
In Lessons from the Data for Academic and Corporate Libraries, Rebecca Walton from Brigham-Young and Christina Kruger from U.S. Army gave attendees a deep dive look into the circulation numbers from their institutions. Circulation was up at Brigham-Young and US Army's digital libraries, especially as access to the physical collection was limited due to COVID-19. For both, the curation tools in OverDrive Marketplace were a vital resource to getting books into the hands of readers.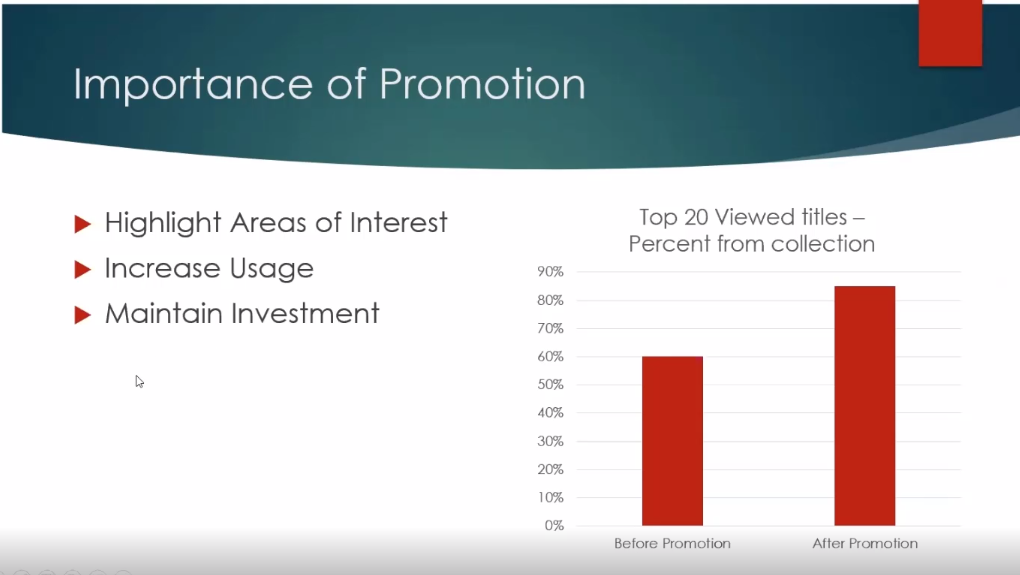 Best practices:
Highlight areas and topics of interest to your community
Rotate the banners to keep the front page of your OverDrive collection fresh
Curate older backlist titles that still have interest among users who may not have had a chance to read it when it was trending and had high holds
3) Don't be afraid to duplicate print and digital materials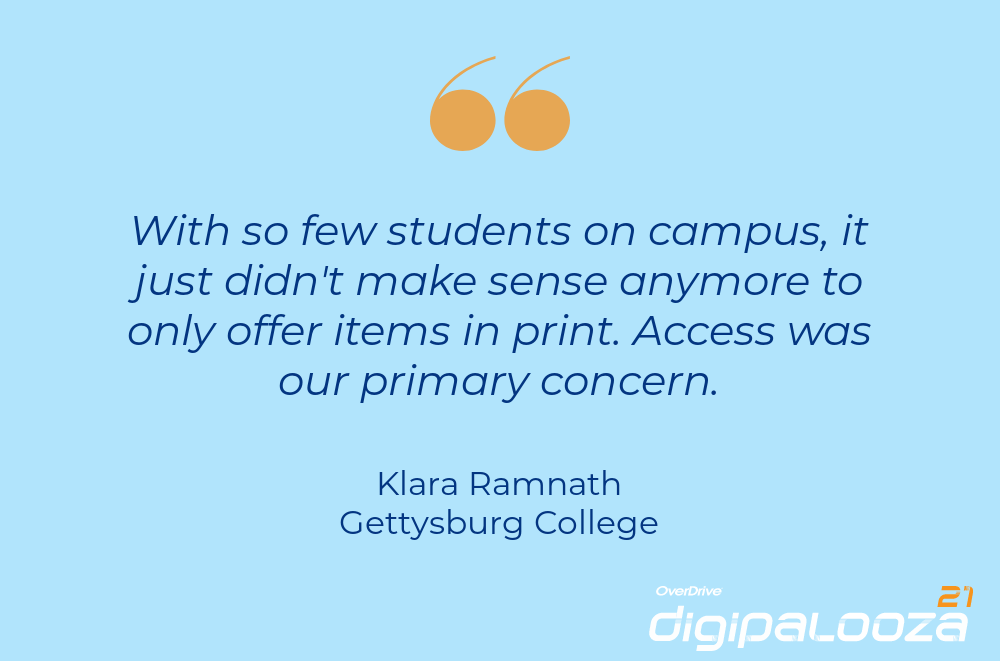 Many libraries have a collection development policy that restricts duplication of titles across multiple formats. Such was the case for Isabelle Garcia from Microsoft and Klara Ramnath from Gettysburg College. But in their session The Future is Now: How a Digital Library Catalog Best Compliments Your Physical Library, Ramnath and Garcia shared how COVID-19 forced a collection development policy shift as they quickly needed to pivot to digital books to support their community.
Browse blog and media articles