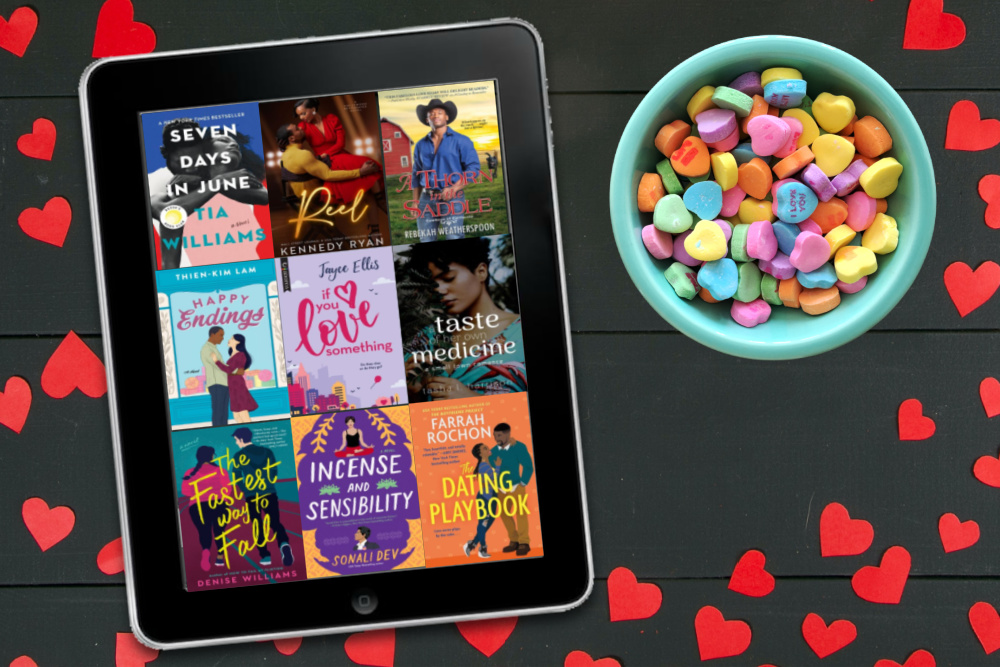 9 romances published in 2021 you may have missed
By: Jill Grunenwald, Marketing & Communications Specialist
Here at OverDrive, we read romance all year long. But we also know February is the month when a lot of people turn to romance novels, possibly for the first time. So in the spirit of our love of love and the happily ever afters found in romance novels, we wanted to share some of our favorite titles published last year. Whether you're brand new to the romance genre and looking for somewhere to start or you're a longtime romance reader wanting some books to add to the TBR, we hope you love these titles as much as we do.
9 romance novels published in 2021 you may have missed
The Fastest Way to Fall by Denise Williams
When Britta is asked to write about her experience with a hot new body-positive fitness app for work, she sees this as an opportunity to prove she can write for the lifestyle website full-time. Enter Wes, CEO of the FitMi Fitness app. Britta's his first new client and they click immediately. As weeks pass, she's surprised at how much she enjoys experimenting with her exercise routine. He's surprised at how much he looks forward to talking to her every day. They convince themselves their attraction is harmless, but when they start working out in person, Wes and Britta find it increasingly challenging to deny their chemistry and maintain a professional distance. Wes isn't supposed to be training clients, much less meeting with them, and Britta's credibility will be sunk if the lifestyle site finds out she's practically dating the fitness coach she's reviewing. Walking away from each other is the smartest thing to do, but running side by side feels like the start of something big. Author Denise Williams has a really wonderful author's note at the beginning of this book talking about why it was so important to her to write a romance featuring a fat woman living her best life and not feeling like she needed to change her body to find love.
A Taste of Her Own Medicine by Tasha L. Harrison
Sonja needs to re-enter the workforce after divorcing her husband of thirteen years. On the advice of her sister, she signs up for a six-week course for entrepreneurs in the hopes she'll learn everything she needs to know to build a business to support herself and her kids. She's able to ignore the fact she's the oldest student by at least ten years, but she's not able to ignore how attractive the instructor, Atlas, is. For Atlas, dating is the last thing on his mind or his priority list until he meets sweet, shy Sonja in his class. But Sonja has no time for distractions, and certainly not with her younger teacher no matter how interested he is in her…
If You Love Something by Jayce Ellis
Executive Chef DeShawn Franklin's life is pretty much perfect. That is, until his grandmother calls and drops three bombshells. One, She has cancer and she's not seeking treatment. Two, she's willing half her estate to DeShawn's ex-husband, Malik. Oh, and yeah, third, DeShawn and Malik are actually still married. Ooops. When DeShawn's shady uncle shows up to contest the will, DeShawn and Malik have to put their differences (and non-divorce) aside and pretend to be happily married just long enough to finalize the houes deal. But the more time they spend together, the harder it is to remember why they ever parted.
Happy Endings by Thien-Kim Lan
Trixie Nguyen has made a fresh start in Washington, D.C. and is determined to prove her Vietnamese parents that she can succeed in a nontraditional career. Specifically that of her pleasure toy business. In fact, her first pop-up event is going well — that is until she runs into her ex, Andre, who dumped her via a Post-it note. (I would make a comment about Sex & the City and And Just Like That… right now but we'll save that for another time.) For Andre, seeing Trixie again is an opportunity to save his soul food restaurant from gentrifying by partnering with Trixie to create a combo shop and restaurant for those hungry customers who want a little extra spice. Thanks to their steamy truce, both businesses start to sizzle and their red-hot desire soon reignites deeper feelings. But when Trixie receives an incredible career opportunity, will pride ruin their second chance at happiness?
Reel by Kennedy Ryan
First, let us take a moment to appreciate the gorgeous cover. Set against the backdrop of a movie set, Reel is glamorous and cinematic with a grumpy/sunshine dynamic between stern and brooding director Canon and his sparkling actress Neevah. It is not just a love letter to this wonderful characters, but a love letter to film and performing arts and the incredible work done by Black creatives over time.
Seven Days in June by Tia Williams
Eva is a bestselling romance writer who had a passionate week with award-winning literary author Shane Hall twenty years ago. When the two stars of New York's Black literati are brought together at a literary event, sparks fly as they both pretend they haven't spent the past few years secretly writing to each other in their books. Over the course of seven days in the middle of a hot Brooklyn summer, Eva and Shane reconnect. But old hurts resurface and Eva's not sure she can trust the man who broke her heart.
The Dating Playbook by Farrah Rochon
When it comes to personal training, Taylor Powell kicks serious butt. Unfortunately, her bills are piling up, rent is due, and the money situation is dire. Taylor needs more than the support of her new best friends, Samiah and London. She needs a miracle. And Jamar Dixon might just be it. The oh-so-fine former footballer wants back into the NFL, and he wants Taylor to train him. There's just one catch—no one can know what they're doing. But when they're accidentally outed as a couple, Taylor's game plan is turned completely upside down. Is Jamar just playing to win . . . or is he playing for keeps?
A Thorn in the Saddle by Rebekah Weatherspoon
Rebekah is one of my personal favorite writers and this Beauty and the Beast retelling is no different. When ranch owner Jesse is tapped to run for public office, he knows this might be his one chance to prove to his family and friends that he can keep his cool. Only problem is, while he's got a mind for business, his people skills are lacking. Former tech consultant Lily-Grace Leroux has had it up to her hat with hot-tempered men who think they know what's best, especially a big headed rancher set on keeping her widowed father from dating his grandmother. But after Lily-Grace learns of Jesse's softer side during a painfully awkward showing at a community date auction, one thing becomes clear; while Jesse Pleasant is not ready to run for public office, he might be ready for love. Against her better judgement and despite their rocky start, Lily-Grace warms to the sparks flying between them. She never dreamed they would build their own connection, one destined for its own happily ever after.
Incense and Sensibility by Sonali Dev
Yash Raje, California's first Indian-American gubernatorial candidate, has always known exactly what he wants—and how to use his privileged background to get it. But when a hate crime at a rally critically injures his friend, Yash's easy life suddenly feels like a lie, his control an illusion. When he tries to get back on the campaign trail, he blacks out with panic. Desperate to keep Yash's condition from leaking to the media, his family turns to the one person they trust—his sister's best friend, India Dashwood, California's foremost stress management coach. Raised by a family of yoga teachers, India has helped San Francisco's high strung overachievers for a decade without so much as altering her breath. Yash has spent a lifetime repressing everything to succeed, including their one magical night ten years ago—a too brief, too bright passion that if rekindled threatens to destroy the dream he's willingly shouldered for his family and community . . . until now.
Looking for more? Checkout last year's list of 9 romance published in 2020 you may have missed.
Browse blog and media articles