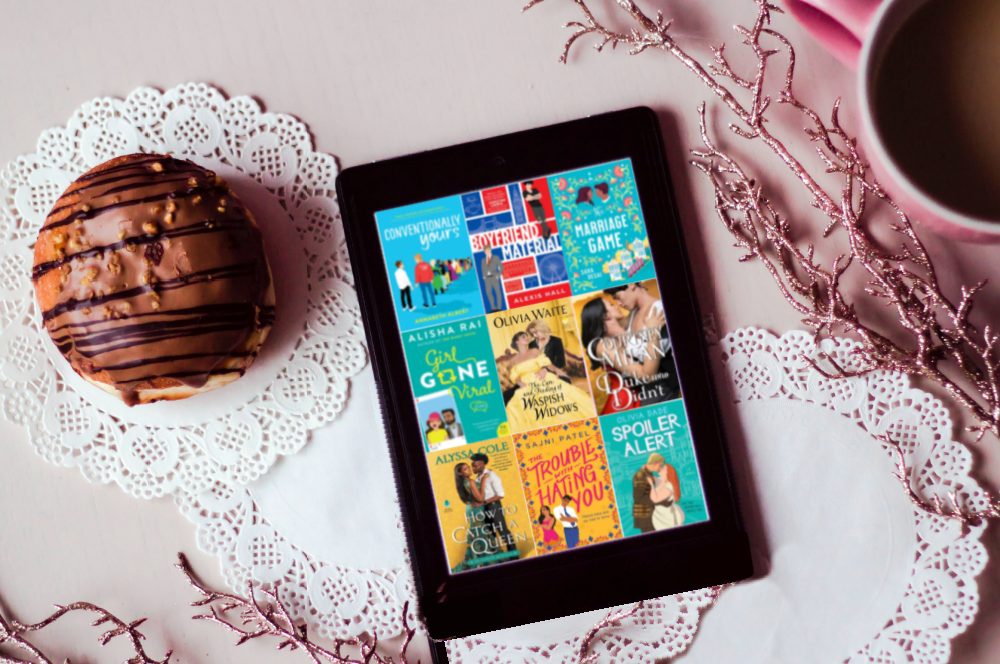 9 Romances Published in 2020 You May Have Missed
By: Jill Grunenwald, Marketing & Communications Specialist
I don't know about you, but after 2020 I need some escapist fiction in my life. It's one reason I read romance novels — you are guaranteed a happily ever after (or, in some cases, a happy for now). Two people finding each other and falling in love? Who doesn't want more of that? Especially when there is still so much unknown happening in the world.
Publishing a book is always hard, but authors who published in 2020 in the middle of a pandemic when physical libraries and bookstores were closed had extra challenges. That's why, in the spirit of Valentine's Day, I wanted to share 9 romance novels published in 2020 that you may have missed. From fauxmances to Enemies-to-Lovers, historical and contemporary, there's a little bit of everything on this list.
Librarians looking to add a little more romance to their lives (or their digital libraries) should visit Marketplace to shop our February Romance Sale! With over 10,000 romance titles on sale up to 50% off, our February Romance Sale is the perfect time to spread a little love. The Resource Center also has a Valentine's Day marketing kit available that partners can use to encourage their communities to read their hearts out.
9 romance novels published in 2020 you may have missed:
Conventionally Yours by Annabeth Albert
Ah, good ol' Enemies to Lovers. Charming, charismatic, and effortlessly popular, Conrad Stewart seems to have it all…but in reality, he's scrambling to keep his life from tumbling out of control.
Brilliant, guarded, and endlessly driven, Alden Roth may as well be the poster boy for perfection…but even he can't help but feel a little broken inside.
When these mortal enemies are stuck together on a cross-country road trip to the biggest fan convention of their lives, their infamous rivalry takes a backseat as an unexpected connection is forged. Yet each has a reason why they have to win the upcoming Odyssey gaming tournament and neither is willing to let emotion get in the way—even if it means giving up their one chance at something truly magical.
The Duke Who Didn't by Courtney Milan
Miss Chloe Fong has plans for her life, lists for her days, and absolutely no time for nonsense. Three years ago, she told her childhood sweetheart that he could talk to her once he planned to be serious. He disappeared that very night.
Except now he's back. Jeremy Wentworth, the Duke of Lansing, has returned to the tiny village he once visited with the hope of wooing Chloe. In his defense, it took him years of attempting to be serious to realize that the endeavor was incompatible with his personality.
All he has to do is convince Chloe to make room for a mischievous trickster in her life, then disclose that in all the years they've known each other, he's failed to mention his real name, his title… and the minor fact that he owns her entire village.
Only one thing can go wrong: Everything.
Spoiler Alert by Olivia Dade
I will look for any excuse to talk about this book because I love it so much. In fact, this post may exist specifically so I can talk about Spoiler Alert.
The world knows Marcus as the star of the biggest show on television, but he has a secret: he writes fanfiction on the side. And not just any fanfiction; Marcus writes fanfiction of his own show, fixing all the things he doesn't like about the storylines.
April is a plus-size woman who loves doing cosplay of Marcus's show. When one of her latest costume creations goes viral on Twitter, Marcus asks her out. The world thinks it's just a publicity stunt, but on their first date Marcus realizes two things: 1) he wants to continue seeing April and 2) April is his fanfic writing bff. But he can't tell her because if the showrunners ever find out he writes fanfic, his career as an actor would be over.
So now Marcus has two secrets. With love and career on the line, can he stop hiding once and for all?
(At the risk of a literal spoiler alert: just this week Olivia announced All the Feels, a new book in the same universe, this one featuring Marcus's best friend, Alexander, and I CANNOT WAIT.)
The Trouble With Hating You by Sajni Patel
Liya Thakkar is a successful biochemical engineer, takeout enthusiast, and happily single woman. The moment she realizes her parents' latest dinner party is a setup with the man they want her to marry, she's out the back door in a flash. Imagine her surprise when the same guy shows up at her office a week later — the new lawyer hired to save her struggling company. What's not surprising: he's not too thrilled to see her either after that humiliating fiasco.
Jay Shah looks good on paper…and off. Especially if you like that whole gorgeous, charming lawyer-in-a-good-suit thing. He's also infuriating. As their witty office banter turns into late-night chats, Liya starts to think he might be the one man who truly accepts her. But falling for each other means exposing their painful pasts. Will Liya keep running, or will she finally give love a real chance?
How to Catch a Queen by Alyssa Cole
When Shanti Mohapi weds the king of Njaza, her dream of becoming a queen finally comes true. But it's nothing like she imagined. Shanti and her husband may share an immediate and powerful attraction, but her subjects see her as an outsider, and everything she was taught about being the perfect wife goes disastrously wrong.
A king must rule with an iron fist, and newly crowned King Sanyu was born perfectly fitted for the gauntlet, even if he wishes he weren't. He agrees to take a wife as is required of him, though he doesn't expect to actually fall in love. Even more vexing? His beguiling new queen seems to have the answers to his country's problems—except no one will listen to her.
By day, they lead separate lives. By night, she wears the crown, and he bows to her demands in matters of politics and passion. When turmoil erupts in their kingdom and their marriage, Shanti goes on the run, and Sanyu must learn whether he has what it takes both to lead his people and to catch his queen.
Boyfriend Material by Alexis Hall
I love me a fake relationship. This one features Luc, the son of rock star parents who split when he was young. Luc's father was never really in his life, instead spending the past twenty years in and out of rehab. Now that his dad's out again and making a comeback, Luc is back in the public eye and one compromising photo is enough to ruin everything.
To clean up his image, Luc turns to Oliver, a barrister who's never had a moment of scandal in his life. The pair don't have much in common, but decide to pretend to date in order to help Luc's public image. After the dust has settled, they can go their separate ways and pretend it never happened. But of course, the longer you fake-date someone the more you realize how much you want to real-date them and things get complicated.
The Marriage Game by Sara Desai
After her life falls apart, recruitment consultant Layla Patel returns home to her family in San Francisco. But in the eyes of her father, who runs a Michelin starred restaurant, she can do no wrong. He would do anything to see her smile again. With the best intentions in mind, he offers her the office upstairs to start her new business and creates a profile on an online dating site to find her a man. She doesn't know he's arranged a series of blind dates until the first one comes knocking on her door.
As CEO of a corporate downsizing company Sam Mehta is more used to conflict than calm. In search of a quiet new office, he finds the perfect space above a cozy Indian restaurant that smells like home. But when communication goes awry, he's forced to share his space with the owner's beautiful yet infuriating daughter Layla, her crazy family, and a parade of hopeful suitors, all of whom threaten to disrupt his carefully ordered life. As they face off in close quarters, the sarcasm and sparks fly. But when the battle for the office becomes a battle of the heart, Sam and Layla have to decide if this is love or just a game.
Girl Gone Viral by Alisha Rai
One minute, Katrina King's enjoying an innocent conversation with a random guy at a coffee shop; the next, a stranger has live-tweeted the entire encounter with a romantic meet-cute spin and #CafeBae has the world swooning. Going viral isn't easy for anyone, but Katrina has painstakingly built a private world for herself, far from her traumatic past. Besides, everyone has it all wrong…that #CafeBae bro? He isn't the man she's hungry for.
With the internet on the hunt for the identity of #CuteCafeGirl, Jas Singh, bodyguard and possessor of the most beautiful eyebrows Katrina's ever seen, offers his family's farm as a refuge. Alone with her unrequited crush feels like a recipe for hopeless longing, but Katrina craves the escape. She's resigned to being just friends with Jas—until they share a single electrifying kiss. Now she can't help but wonder if her crush may not be so unrequited after all.
The Care and Feeding of Waspish Widows by Olivia Waite
When Agatha Griffin finds a colony of bees in her warehouse, it's the not-so-perfect ending to a not-so-perfect week. Busy trying to keep her printing business afloat amidst rising taxes and the suppression of radical printers like her son, the last thing the widow wants is to be the victim of a thousand bees. But when a beautiful beekeeper arrives to take care of the pests, Agatha may be in danger of being stung by something far more dangerous.
Penelope Flood exists between two worlds in her small seaside town, the society of rich landowners and the tradesfolk. Soon, tensions boil over when the formerly exiled Queen arrives on England's shores—and when Penelope's long-absent husband returns to Melliton, she once again finds herself torn, between her burgeoning love for Agatha and her loyalty to the man who once gave her refuge.
As Penelope finally discovers her true place, Agatha must learn to accept the changing world in front of her. But will these longing hearts settle for a safe but stale existence or will they learn to fight for the future they most desire?
Tags In
Browse blog and media articles