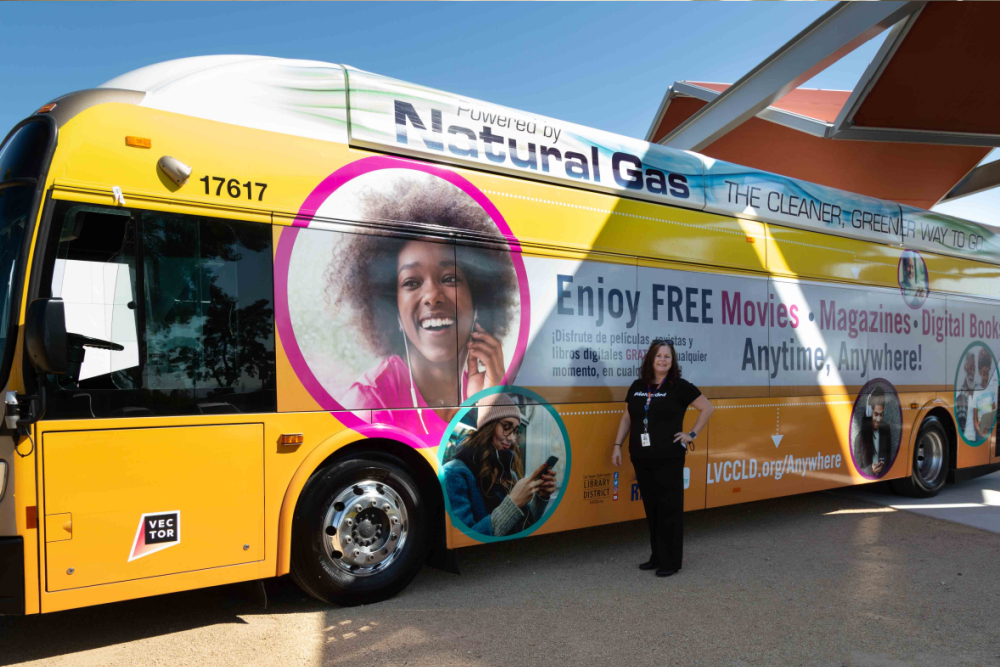 Las Vegas Library Director is a driving force for innovation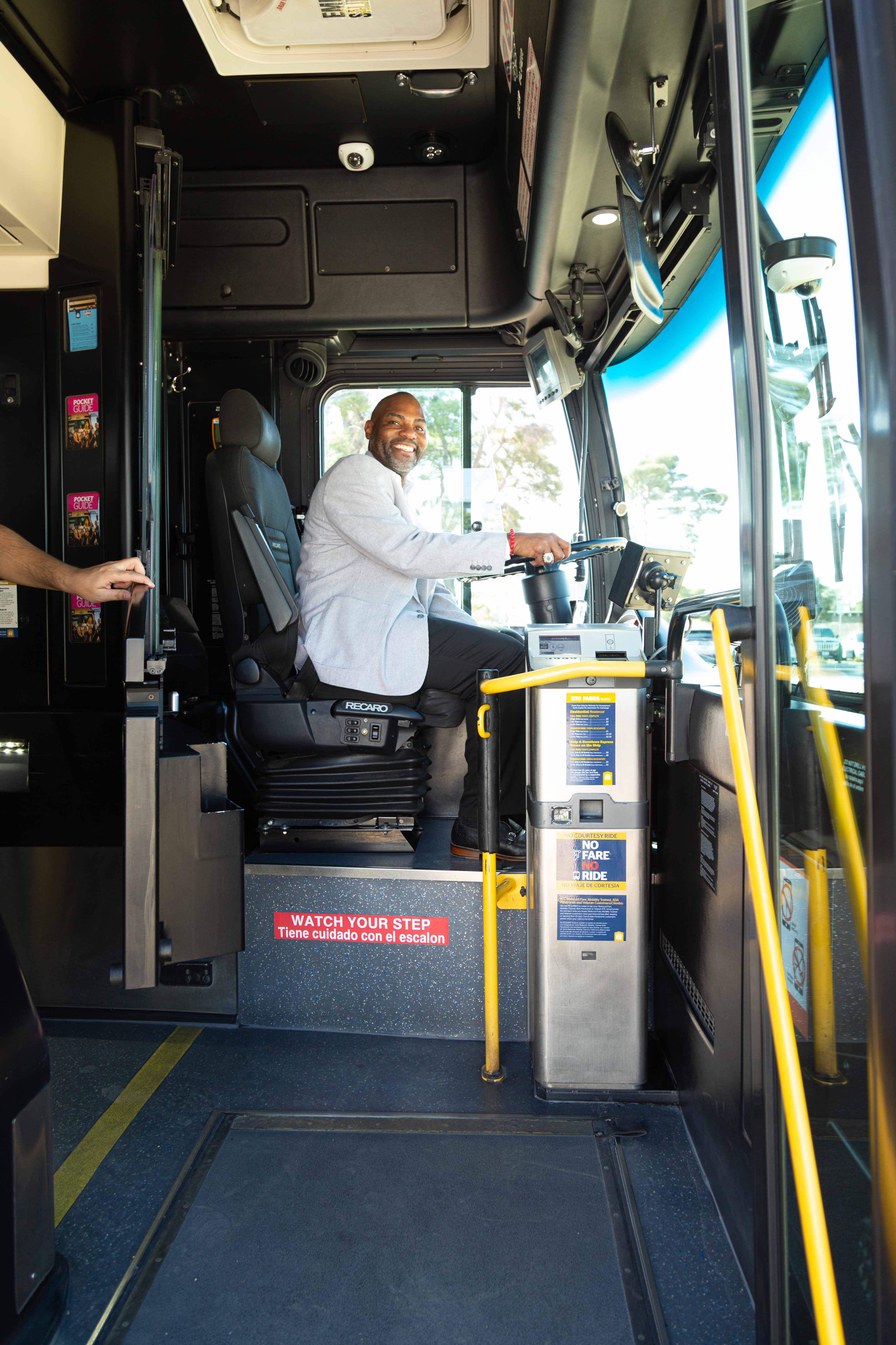 Update 3/16/22: ALA awards the Las Vegas-Clark County Library District the 2022 ALA/Information Today, Inc. Library of the Future Award for its "Bringing the Library to Transit Riders" program.
Kelvin Watson, Executive Director of the Las Vegas-Clark County Library District (LVCCLD), is always looking for opportunities to expand the library's user base by reaching community members where they are.
"My philosophy on libraries is asking, 'How do we introduce virtual libraries into our communities?'" he said.
Watson has built a career on developing innovative ways to connect with people who have never visited the physical library and introduce them to all the educational and entertaining services the library has to offer. This mission to increase the library's presence outside of its physical walls became even more crucial since the onset of the COVID-19 pandemic, when branches were forced to close their doors.
Behind the wheel of change
For Watson, public transportation has always provided unique opportunities to market the library outside of the physical building. During his time at Queens Public Library, library programs were advertised on the sides of buses in New York City. While director of Broward County Library System in Florida, he introduced virtual pop-up libraries on public buses.
Shortly after starting at LVCCLD in February 2021, Watson was speaking with a Clark County commissioner about the pop-up library project he had spearheaded in Florida. The county commissioner wanted to see if the same type of program could be introduced in Clark County. He introduced Watson to a contact at the Regional Transportation Commission (RTC), which maintains a fleet of 400 WiFi-enabled buses.
Watson went to work developing a comparable program to Florida's, but quickly determined that the dust and heat of Nevada presented different technical challenges in Clark County. While Watson was looking for options that didn't require hardware, he had a conversation with OverDrive CEO Steve Potash. Potash mentioned OverDrive's text message-based Instant Digital Card (IDC) system which enables readers who download the Libby app to get a digital library card using only their mobile phone number. Immediately, Watson knew that was the perfect solution to allow LVCCLD to bring virtual libraries to the community courtesy of RTC's fleet. By scanning the QR codes in the buses, riders are encouraged to download the Libby app and enter their phone number to gain instant access to browse and borrow digital books from the library.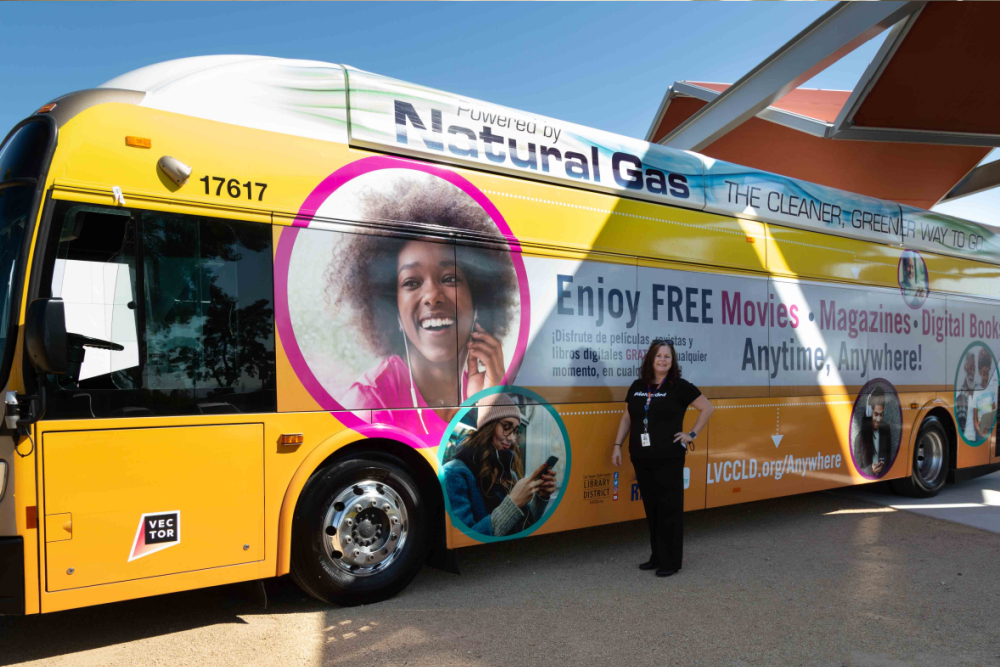 Since launching in September 2021, over 7,000 Instant Digital Cards have been issued to Las Vegas area RTC riders, and 41,000 checkouts from LVCCLD's OverDrive digital collection can be attributed to those IDC users.
"OverDrive is honored to work with innovative libraries and librarians around the globe, and Kelvin is one who stands out," said Steve Potash.  "He constantly pushes the boundaries of what's possible with his visions for delivering new levels of service and success."
The future is an open road
Access is not limited to just residents of Las Vegas and Clark County, either. Visitors to the area can also check out ebooks, audiobooks and more from LVCCLD's digital library courtesy of a temporary Instant Digital Card. Those visitors who are temporary IDC users will be introduced to Libby and will turn to their home library and look for the same resources after their trip to Las Vegas is over which he still sees as a major win.
Moving forward, Watson hopes to extend LVCCLC's virtual libraries to include 24/7 library kiosks in different parts of the community, including the Las Vegas Strip and local hotels. And, just like with the buses, while visitors can access these digital resources, Watson is also thinking about the staff and employees who may not have a schedule that allows them to get to the physical library. Meeting them where they are provides an opportunity for more locals to check out ebooks and audiobooks through the OverDrive collection without needing to visit the physical library.
Tags In
Browse blog and media articles