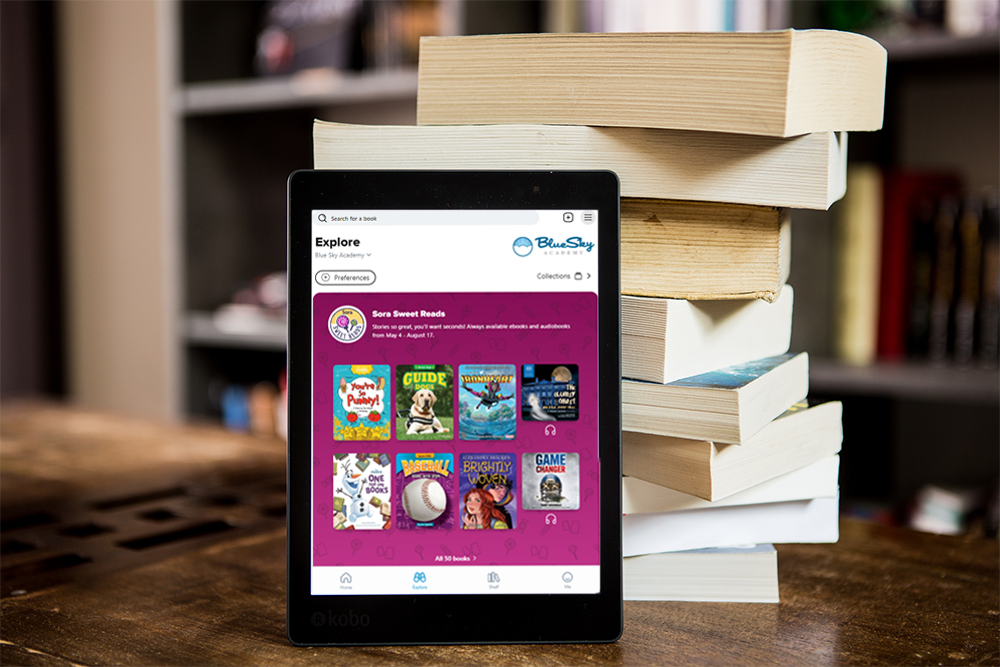 13 ways to use Sora side-by-side with your physical library
By: Kristen Hein, Product Support Specialist
Your digital collection is an important part of your library. Many people see the digital library as something separate from their physical library and print titles, but it's something that should exist alongside it! It provides students more title choices, more formats and helps reach even more types of readers.
As you know, events in the library help build a culture of reading. Below are some ways you can integrate the Sora reading app into your regular library events.
Library events
Story Time (both live and virtual!)
Instead of holding up one small picture book to a group of students, you can use your projector to project your ebook for all to follow along and see. You can also use read-along ebooks for the whole class to follow along with the narration.
Pro-tip: Ebooks are great for any virtual reading event that you are doing with a group, especially if you have a guest reader coming in!
Themed events
Do you have an upcoming Dog Man Mania or Star Wars Night? Curate collections for these events in Sora! You can also use your Sora Showcase to display these curated collections and highlight the titles that go along with it right inside your physical library!
Pro-tip: Want more readers to access the popular titles for the event? Work with your Account team to determine which lending model works best with your budget.
Lunch & Listen
When your students come in for a Lunch & Listen, use Sora to play an engaging audiobook. Some great choices can be something read by a celebrity narrator, a popular series, multi-character narration, humor titles, or narrative voices unlike mine. Let your Account team know if you need help with any recommendations!
"Blind Date" with a Book
First, determine a way for students to sign up for their "blind date". Once you know who's interested, you can then Title Assign books directly to their Sora accounts.
You've Been Booked
Have the staff or student who's been "booked" choose a title, then have it Featured at the top of Sora with a special campaign! This is something that your Account team can help with, so be sure to reach out.
This can also work for Teacher Appreciation Week, Student of the Month, and more!
Promoting Sora in the print library
There are lots of ways you can integrate Sora into your school's print library:
Use Shelf Markers in the print library with QR codes for popular titles that link to the same ebook title in Sora.
Use our Sora bookmarks from the Resource Center to put inside print books in the school with a QR code to Sora. You can even customize them with read-alike titles (e.g. "If you liked this book, check out these titles…")!
Display your Sora Showcase prominently on devices in your library to show students what they can find in Sora!
Crafting classes
Curate a collection of crafting books for your students to choose from. You can use a projector to enlarge step-by-step instructions if they're in the library with you!
(Do you have a Cooking Club instead? Project recipes from e-cookbooks and have students follow along!)
Reader's Theater
We offer a variety of Reader's Theater ebook titles. Students can engage with the scripts while projected or on their own devices. You can find lists of Reader's Theater titles here.
Pro-tip: Don't forget to curate and ask your Account team for help with lending models to ensure each kid gets a copy!
Author visits
Do you have an author visiting soon? You can always curate a collection in Sora of their works! Does the author have one stand-out title or a newer one you are focusing on? You can work with your Account team to get the title a special feature on the top of Sora! (Ask your Account Manager about Featured titles.)
Award winners and Battle of the Books
Make sure you have all the up-to-date state awards as well as other notable award-winning titles in your collection. You can use our lists to help! You can even offer these titles (if available) in audiobook format, too!
And don't forget to curate these titles into engaging collections for your students to easily find.
School-wide events
Go-Green
Is your school participating in a green initiative? Promoting digital is a great way to support this!
Open House/Tech Nights
Display your Sora Showcase for parents to see what's in your digital collection. Use how-to guides, bookmarks, and other handouts from the Resource Center to help keep parents in the know!
Committees and clubs
Sora can help support student interests. Whether it's Minecraft Club, Gardening Club, History Club, Diversity Committee, AP course students, Band extracurriculars… you can include these genres and more to reach all types of readers! A few tips to help support this:
Curate for the different clubs! Create curated collections for these specific interests, initiatives, and events they have coming up.
If you have a Newspaper or Poetry Club, use our Local Content tool to upload student-created works to be shared!
When your students are participating in STEAM or Robotics competitions, you can Feature a title at the top of Sora to get everyone excited! Ask your Account team how!
As always – contact your Account Manager with questions
For all these events and more, don't forget to curate collections to keep students engaged and help them easily find these titles within Sora! If you want to make sure that you have enough titles for your students before the event, be sure to work with your Account team to discuss best lending models and ways to utilize your budget
If you have any questions on any of the OverDrive features above or want to discuss ways to integrate Sora into your upcoming library events, please reach out to your Account Manager.
---
About the Author:
Kristen Hein is a Product Support Specialist working with schools to integrate digital into their libraries and classrooms. She herself has experience as a history teacher working with students grades 8-12 focusing on U.S. history and government. She generally spends most of her free time chasing around her hyper-active pup Romeo, hiking, practicing yoga and trying out the best Cleveland restaurants.
Tags In
Browse blog and media articles