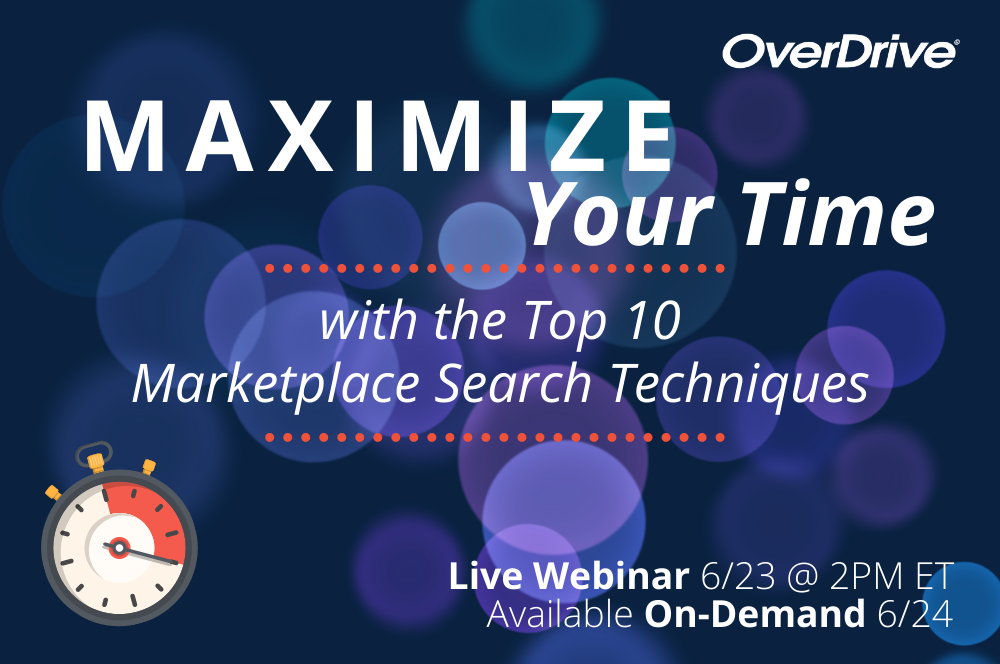 Learn on the Go with On-Demand Webinars
Full disclosure: I was sweating in my car today while listening to a book about organizing my workspace and driving to get nine thousand errands done and I thought, "There has to be a better way to learn." (I thought this right as a sunscreen-soaked bead of sweat fell into my eye, PS, and the next 30 seconds of information was lost to weeping and yelling. Most of it my own.)
Luckily if you're looking to learn about All Things OverDrive, this IS a better way: on-demand webinars.
For anyone unfamiliar, every month we host somewhere between 2-5 live webinars where we discuss trending topics in librarianship, technology, product updates, collection development, and more. And what's more, we record and add them to our On-Demand Webinars page of the Resource Center for folks with conflicting schedules or those who live on the other side of the globe from OverDrive HQ.
In June, we've got an amazing session if you're looking to Maximize Your Time with the Top 10 Marketplace Search Techniques. This one-hour session on June 23 at 2 PM (ET) will dive deep into Marketplace searching and set you on the path for collection development success.
If you can't join us live, though, or you just want to learning refresher on your own timeline, let's walk through the top on-demand sessions you won't want to miss. Grab a comfy chair, turn on your AC (or heat, depending on where you are in the world), and read on!
Making the Most of Your OverDrive Advantage Account
Explore the subtle but powerful impact of building and managing an Advantage collection in OverDrive Marketplace, including an overview, best practices for building and maintaining a successful collection, and FAQs.
World Literary Tour: Spotlight on OverDrive's Spanish-Language Catalog
Hop into this lively discussion about our Spanish-language offerings in Marketplace and get inspired by our favorite tips for shopping, curating, and promoting your Spanish digital collection.
Enjoy Streaming Video with Kanopy and OverDrive
Enjoy our chat with Kanopy experts where we talk about the best way to get started with our video streaming service and answer some of the most frequently asked audience questions.
Getting Started with Libby (plus DBM offerings)
Watch one of our most popular on-demand webinars! We'll show you how to get your patrons started with Libby, tips for customizing the experience, and where to find Libby marketing and help resources.
Bonus: Looking for library patron training? Our Digital Bookmobile team now offers free monthly live Libby sessions for patrons. Share this registration link with your patrons today!
Spend time learning on your own time and at your own pace – in your own space! – with OverDrive on-demand webinars.
Tags In
Browse blog and media articles