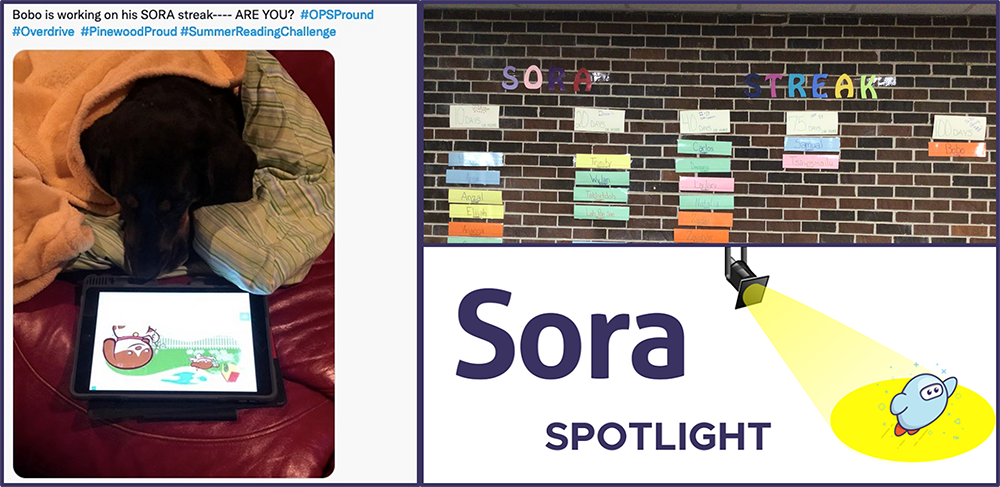 Sora Spotlight: Susan Young, Librarian at Pinewood Elementary (NE)
By: Kristen Hein, Account Manager
Our recurring Sora Spotlight series features a wide range of educators who've become Sora champions at their school, impressing us with their innovative methods for implementing the reading app and engaging with their students. Here, we ask them to share their insights and ideas here so that we can all be inspired to find new ways to reach students with reading.
Today, we'll check in with Susan Young, a Librarian at Pinewood Elementary School in Omaha, NE.
Educator Stats
Name:
Susan Young
Describe your position and your school.
I am a teacher in the library at Pinewood Elementary School. Pinewood Elementary School is located in Omaha, Nebraska.   We have a student body of over 200 students. We are a community of learners that shares the ups and downs more than most elementary schools. Our student population is made up of neighborhood students and surrounding communities.  We are a Title 1 school with a diverse population, with students from Pre-K to 5th grade.
I have been a teacher for 25 years.  I spent the first 21 years in the classroom.  I have been in the library for the last four years, loving every minute of it.  My primary focus with students is library and technology skills.  Students have the opportunity to experience Sora, keyboarding, coding, various creativity apps, game play and puzzles. At Pinewood Elementary, Library is the best part of the day!
How many years have you been active with OverDrive?
8
What are you currently reading?
Two Many Birds by Cindy Derby
Susan's Sora Story
What do you love most about Sora?
Sora levels the playing field for all students. Students whose reading level skills are not quite at their grade level are able to check out audiobooks and have the same experience as their peers. Sora also offers the opportunity for several students to read the same book.  Our "No Wait, No Worry" collection allows friends to read a book together and share the joy of reading.
What unique things have you done to help increase student engagement with Sora?
At Pinewood, we had the students participate in a Sora Reading Streak. Students had to read consecutively to earn awards.
At 10 consecutive days, student names went on the Sora wall.
Students who read for 40 consecutive days earned popcorn and pop.
At 75 consecutive days student earned pizza and shared the books they are reading.
Students who read 100 consecutive days had the opportunity for the library mascot, Bobo, come to school and they could read with him.
In what ways has this been successful?
It was great to see the number of students who had their name on the Sora wall. Students would ask each other what their Sora streak was. The school celebrated each milestone with tweets, announcements, and other recognition at school. Overall, Pinewood's Sora use doubled.
As you look to the rest of this school year, do you have any exciting ideas you want to try?
Students are being challenged to read 30 days on Sora this summer. They will report their process to me during the summer. Students who reach this goal will have Root Beer floats in the fall and help kick off another exciting year with Sora.
Is there anything else you want readers to know about your implementation of Sora or your library?
Sora is as exciting as you make it. Students took great joy in what my Sora streak was and what was in my Sora history. They wanted to read what I was reading. Once students saw my Sora lists, they began developing their own lists, building the excitement of what to read next.
Get to know Susan
If you could have your students read one book and one book only, what would it be and why?
If I could have students read only one book, it would be Inkheart by Cornelia Funke. This book takes students on an adventure where the protagonist father is capable of reading characters out of books. This exciting ability exposes students to all kinds of conversations about who they would want to read out of a book and what the ramifications would be. It gives you a chance to discuss characters from books you and your students have read.
What advice do you have for new educators/librarians with a digital collection?
The advice I would give a new educator with a digital collection is simple: your excitement becomes their excitement. You need to dive into your collection, find a multitude of topics and subject matters and build a desire in your students to share in the experience. The more you read, the more they will read. The more you seek knowledge, the more they will seek knowledge – and it doesn't hurt to have an adorable dog as the library mascot.
---
Want to be featured in our next Sora Spotlight? Reach out to us with a brief explanation of what you're doing in your school and how you're making an impact with Sora!
Want to learn more about Sora? Check out a live product walk-through to see it in action!
---
About the Author:
Kristen Hein is an Account Manager working with schools to integrate digital into their libraries and classrooms. She herself has experience as a history teacher working with students grades 8-12 focusing on U.S. history and government. She generally spends most of her free time chasing around her hyper-active pup Romeo, hiking, practicing yoga and trying out the best Cleveland restaurants.
Check out how other educators are using Sora to increase student reading:
Tags In
Browse blog and media articles