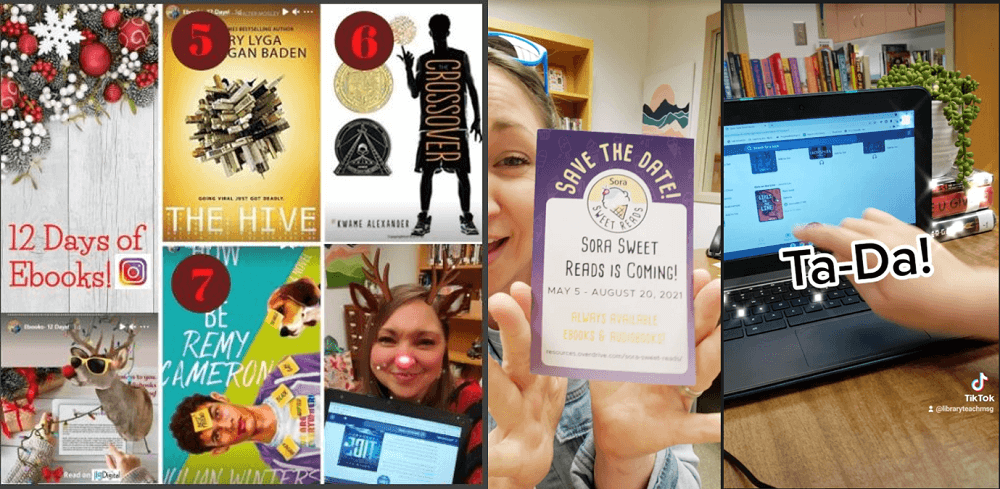 Sora Spotlight: Andria Morningstar-Gray from Lakeview High School (OH)
By: Kristen Hein, Product Support Specialist
In this recurring series, we'll feature a different librarian, media specialist or educator who's become a Sora champion at their school, impressing us with their innovative methods for implementing the reading app and engaging with their students. We've asked them to share their thoughts and ideas here so that we can all be inspired and identify new ways to reach students and help them fall in love with reading.
Today, we'll hear from Andria Morningstar-Gray, a library media specialist at Lakeview High School in Ohio.
Educator Stats:
Name:
Andria Morningstar-Gray
Describe your position and your school.
I am a high school library media specialist at Lakeview High School. My school has 500 students in grades 9-12. I used to teach English at the middle and high school level and received my degree in Gifted Education.
I am responsible for Instructional Technology coaching, where I conduct teacher trainings on Google, Zoom, Screencastify, edPuzzle and other things teachers need to teach daily. My school has been 1:1 with Chromebooks for the past 4-5 years and we are a Google school, with Google apps and tools.
How many years have you been active with OverDrive?
This is my first year with OverDrive. Over the summer, I applied for a State of Ohio CARES Act Mini-Grant for libraries to receive $3,000 related to education and COVID-19 to start an ebook collection.
Why did you choose Sora?
We have two library media specialists in our district, and students would report that they don't really read ebooks and prefer print books. Because of that, I wasn't looking to spend budget on ebooks, but I also wanted to be 21st century library. Plus — how do they know if they like it, if they haven't had the opportunity to try it?
I thought it was a good idea to expose them to ebooks, (so) I signed up for Sora. I'm so excited for the public library connection — if we don't have a title, they can connect automatically to the public library and have all those books to pull from, too. It's such a good skill for their future too, (because) it's available beyond their high school time with us.
What are you currently reading?
I just finished Annihilation by Jeff Vademeer. My daughter was reading it in her 11th grade English class and is obsessed with it, so I had to read it too! It's apocalyptic. There's an "Area X" where scientists get dropped each year to figure out what's going on, and the jungle is alive — either they make it back or they don't.
I just downloaded The Invisible Life of Addie LaRue (V.E. Schwab). One of my student aides is an avid reader and said it's the best book she has ever read!
Andria's Sora Story:
What do you love most about Sora?
I love the way it looks; I think that it's very user friendly. It's appealing the way the covers face out, I love that it is very graphic and it's visually clear what's available. It makes it easy to search for an ebook, which could be hard since it's digital. I love the public library connection: students can search multiple libraries at once.
The way I've been using it is by buying multiple copies of things that kids always try to check out. I could have the print copy of One of Us is Lying and could also have it as an ebook for the student to check it out right now. When we were virtual, I could send students links to books I thought they would like and get books instantly into their hands.
In what ways has implementing Sora been successful?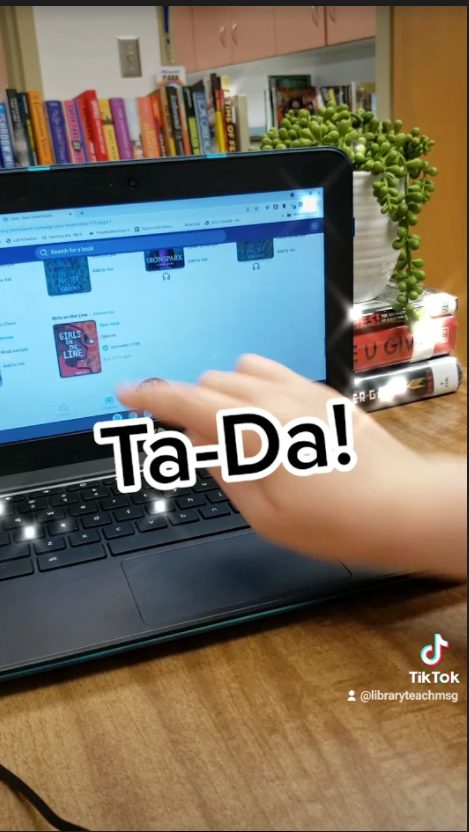 The kids are excited about Sora and ebooks as an option. The most exciting part is when they get to the shelf and there isn't a book that they want — I can then go to Sora and say, "Look, I have it here!" and they can read it right away. The instant gratification of having another option is huge. No librarian wants to say, "We have a book, but it's checked out." It's not helpful. I really love that part and the kids appreciate that they have another way to get the book that they want.
How has Sora impacted distance learning this past year at your school?
The teachers appreciated it over the past year because there were so many times where we had a hybrid schedule — half the kids were at home, half were at school. It's been nice for the students that are remote and quarantined for two weeks — if they're starting a project, I can get them a book without having them come to the physical library. Their education in the classroom is uninterrupted. They can do the individual reading project; they have access to books wherever they are at.
What unique things have you done to help increase student engagement with Sora?
The biggest thing I did this year was list Sora on our website and make how-to videos on how to use it. I have a library website that is connected to our Lakeview Local Schools website. That has a "Reading" page with a Get Started video. I shared that with our English teachers so they could push it out to kids as soon as our connection was made, to share right away!
We had just gone remote for three weeks after Thanksgiving. We were all back home again, and I decided to do "12 Days of Ebooks" around Christmastime, over break. I started posting daily book talks on our high school library Instagram featuring just our new Sora ebooks. I wanted them to know that their library was still open online! I featured one ebook each day and used a holiday filter to keep it festive and fun. I posted links to my videos on our school's social media platform and promoted my series of book talks on our library website and Google Classroom, too.
Here's a sample post:
The library's gift to you is 12 Days of Ebooks! Starting today, I'll feature one eBook from Sora OverDrive that you can read at home right now! Reading is a gift . . . curl up with a good book and find some comfort & joy! Did you know you can read on your Chromebook or smartphone right now?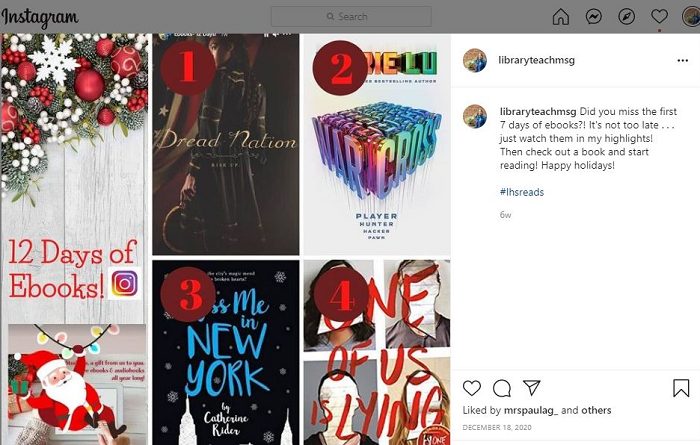 How else have you utilized social media to reach your students?
I have a TikTok for the library that I post on about once a week, featuring a book, projects the students are working on and our video and production projects. All that goes into TikTok. The TikToks also get posted to the school library's Instagram. It serves the same purpose — to feature books once a week and projects, new book orders and those kinds of things.
We have social media at school that our parents and community members also see. I post them there too. I also email directly to the teachers.
As you look to the coming school year, do you have any exciting ideas?
I have more ideas for how I want to promote in the future. My to-do list for next year is:
Shelf markers, so that where the book would be on the shelf they can slide it out and have it say "ebook available".
On social media, I want to feature a weekly "Would you Rather?" with one print book that we also have in ebook or audiobook. I'd say, "Would you rather read it like this or like this?" and get student feedback, ultimately to get them talking about the book and voting to engage them.
Bathroom stalls, to feature books in the bathroom and have a blurb about them.
Is there anything else you want readers to know about your implementation of Sora or your library/classroom?
What I think is powerful about using Sora with our readers is privacy. We have a Gay-Straight Alliance club and we have a print collection of books that deal with LGBTQ+ issues; I like that in Sora I can purchase some of those same titles. Students can check them out with a little bit more privacy. They don't have to walk up to the front of the library, scan it and be seen carrying it if they are not ready for that.
Not just for that, though. For example, boys can read romance books. Students have the freedom to read what they want to read without the judgment from their peers. I also feel like our readers/kids who come into the library and like to boast to their friends, "I'm not a reader," might find something they like and can read without carrying around the book and worrying about being picked on. The anonymous aspect of it makes it easier to get their feet wet and see what all the reading fuss is about without judgment.
Get to know Andria
What is the most important thing you hope your students take away from reading/education?
I hope students discover that there are books written all about their interests and passions. I hope my students learn that reading is for everyone, and that it doesn't matter much how you read (audio, ebook, print book) as much as it matters that you do.
What advice do you have for new educators/librarians with a digital collection?
Make digital collections tangible through clever marketing. The most thoughtfully curated collection will go unread if students don't realize it exists. Be prepared to pivot or try multiple approaches to reach students! Time and repeated exposure also helps. To be honest, I'm still working to perfect marketing our digital collection; this past year was a building year. I tried using social media and fliers and announcements over the loudspeaker and bookmarks and book trailer videos. Next year, students and teachers will be reintroduced to it during library orientation and marketing, and I'm hopeful that a second or third look will be all they need to become hooked on ebooks and tell all their friends, too!
---
If you want to be the next Sora Spotlight, please reach out to us with a brief explanation of what you're doing in your school and how you're making an impact with Sora!
Interested in learning more about Sora? Join a live product walk-through to see it in action!
---
About the Author:
Kristen Hein is a Product Support Specialist working with schools to integrate digital into their libraries and classrooms. She herself has experience as a history teacher working with students grades 8-12 focusing on U.S. history and government. She generally spends most of her free time chasing around her hyper-active pup Romeo, hiking, practicing yoga and trying out the best Cleveland restaurants.
Check out how other educators are using Sora to increase student reading:
Tags In
Browse blog and media articles