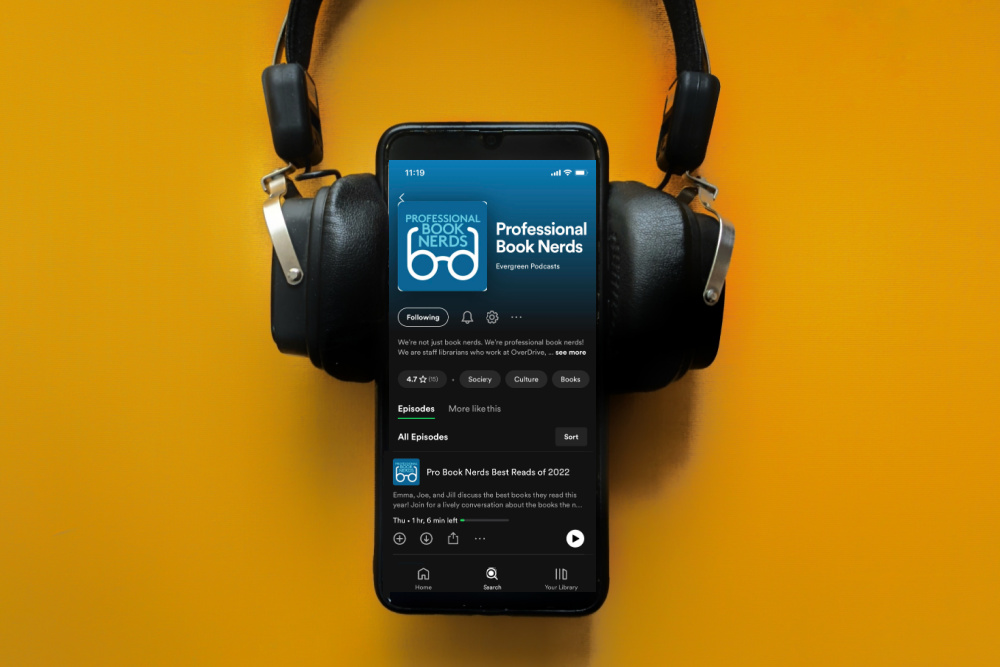 Best books of the year with the Professional Book Nerds
January 2023 is a few days away, but you still have plenty of time to finish your 2022 reading goals! Whether you set a goal for the number of books you read, are following a reading challenge, or tried to read more widely, reading goals are a great motivation to keep yourself reading all year long.
If you're still looking for some books to complete your goal, or have time off at the end of the year and are in need of some book recommendations to read over the holidays, our Professional Book Nerds are here to help with several episodes dedicated to the best reads of 2022.
Best Reads of 2022 from the Professional Book Nerds
Professional Book Nerds Best Reads of 2022
Emma, Joe, and Jill discuss the best books they read this year! Join for a lively conversation about the books the nerds loved most. We loved these books so much that Joe refers to "before" and "after" this book, Jill loves a title so much she'd marry it if she could, and Emma owns five print copies (soon to be seven) of one of these titles. Listen now.
Best Audiobooks of the Year with Robin Whitten from AudioFile
Robin from AudioFile is back again to share some of the best audiobooks of the year! From fiction to romance and mystery and even family friend titles, there's something for everyone in this year's AudioFile Best of the Year list. Listen now.
OverDrive Librarians Best Books Reads in 2022
Emma welcomes back some familiar voices to PBN! Maria, Kristin, Holly, and Jane discuss their favorite books that they read in 2022. They also discuss books that make you laugh while crying, the "one bed" romance trope, Goodreads Choice Awards, character-driven plots, using the chili pepper spice rating scale, and their undying devotion to Emily Henry's Book Lovers. Listen now.
Professional Book Nerds Favorite 2022 Interviews
For seven years, OverDrive's Professional Book Nerds have been interviewing authors for the podcast. From debut authors to award-winning and bestselling writers, these thoughtful conversations take you behind the scenes of your favorite books and authors — and 2022 was no exception! Asking each of the co-hosts to choose their favorite interviews from the past year is a challenge (I should know; I'm one of said co-hosts!). In fact, we couldn't even come up with just one each because everyone we interviewed was so good. Rather than thinking of these as our "favorites," think of them more like the ones we thought of first when asked.
Rainbow Rowell (Emma)
Emma, Joe, and Jill are joined by the one and only Rainbow Rowell in today's incredibly special episode. We chat about her new short story collection, Scattered Showers, writing across genres and formats, She-Hulk, fanfiction, historical figures in love, hair dye disasters, and more. Hear their conversation now.
Emily Henry (Emma)
On today's episode, Emma FANGIRLS over Emily Henry and her latest novel, Book Lovers. They also chat about their favorite romance tropes, Hallmark movies, bright pink book jackets, book hangovers, the impact of TikTok, the magic of iced coffee, and a kayak scene that didn't make the cut. Oh, and Oscar Isaac. Listen to the conversation now.
Courtney Summers (Jill)
Bestselling Young Adult author Courtney Summers returns to discuss her new book I'm the Girl. She shares with Jill the inspiration behind her book, writing books about teen girls for teen girls, the cultural systems in place that perpetuate violence against girls and women, and what it was like slipping a Sadie easter egg into the story. Listen to the conversation now.
Evette Dionne (Jill)
Today's guest is Evette Dionne, author of the new book Weightless. Jill and Evette discuss navigating the world in a fat body, medical fatphobia, reality TV, and Evette recommends some books about body positivity and fat liberation. Hear their conversation.
Akwaeke Emezi (Joe)
On today's episode, Joe is joined by multidisciplinary artist and writer Akwaeke Emezi, to talk about their debut romance title, You Made a Fool of Death with Your Beauty. They talk about selling film rights (and the slowness of the Hollywood machine), creating art AND book jackets, their TikTok For You Pages, and Abbott Elementary!
Rosie Walsh (Joe)
On today's episode, Rosie Walsh comes on to discuss her new book, The Love of My Life. She shares her immersive approach to researching her characters' occupations and living spaces, she shares her experience of having a child during a global pandemic, and convinces Joe that everyone needs a garden shed to escape into! Listen to their conversation.
To listen to all of these episodes and more, visit the Professional Book Nerds website.
Browse blog and media articles