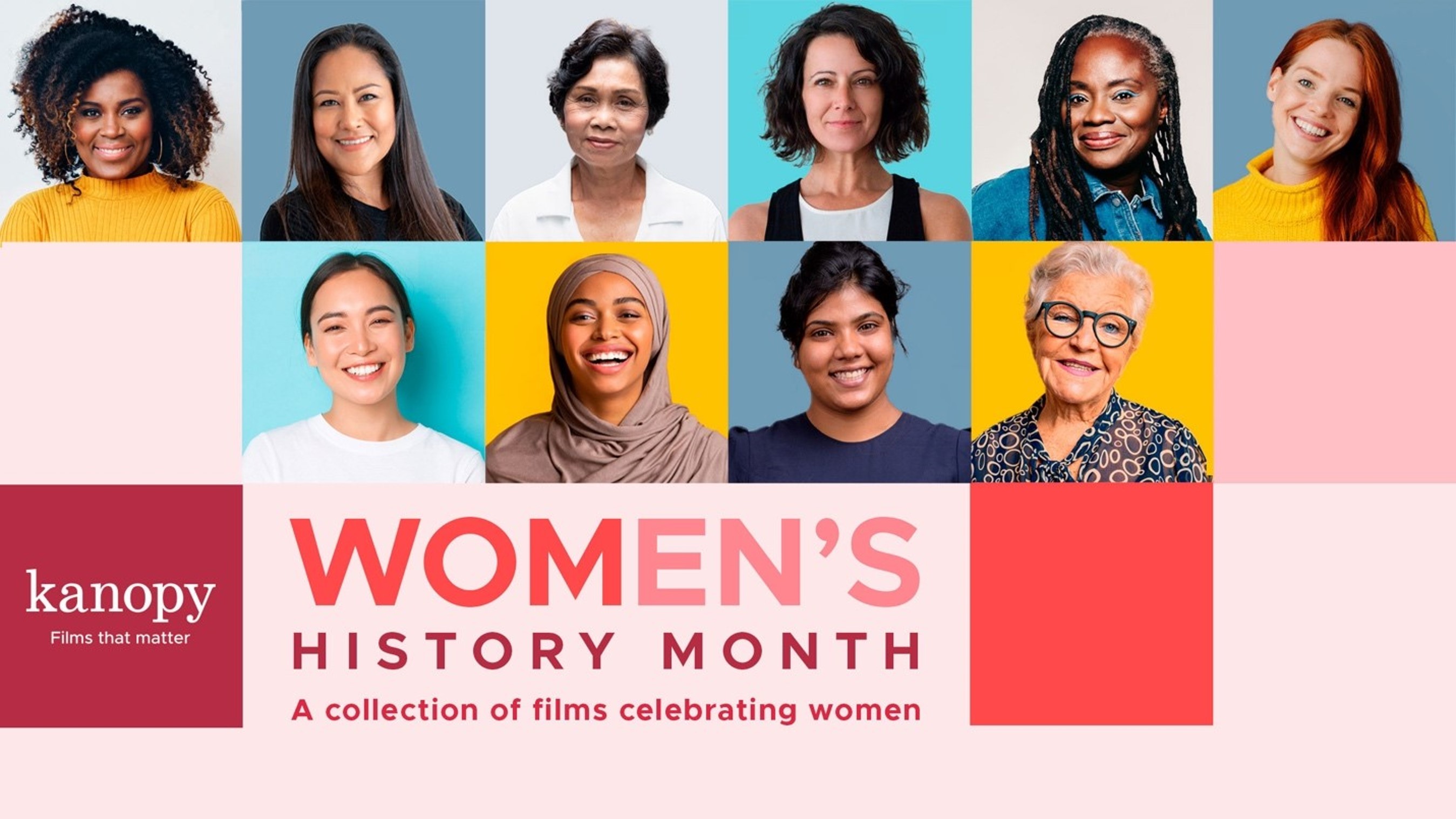 Kanopy Celebrates Women's History Month 2023
By: Kanopy
From its origins as a weeklong observance to a federally recognized annual month-long celebration dedicated to the role of women in our history, Women's History Month gives us an opportunity to learn and reflect. We are proud to support our library partners by offering carefully curated programming that complements your library's own efforts for Women's History Month, from staff picks honoring women writers and important historical figures, to lectures, screenings, and other events offered to your patrons and community. Join Kanopy throughout the month of March for special programming highlighting the invaluable contributions and accomplishments of all women. 
March is Women's History Month
In 1980, a group of women activists formed a coalition called the National Women's History Project. Their mission was to address the lack of female representation in accounts of American history. At the time, the accomplishments of women were omitted from classrooms and history books, only representing a meager 3 percent of all text– hardly an accurate and comprehensive historical account. In 1981, after an aggressive lobbying campaign by the organization, the United States Congress passed a public law declaring the week of March 7, 1982 "Women's History Week", marking the first time the accomplishments and contributions of women to the history of the United States had been formally recognized by the federal government. Several years later in 1987, the National Women's History Project (now called National Women's History Alliance) urged Congress to pass legislation extending recognition to an annual month-long celebration. Since then, every March is recognized as Women's History Month, with the continued goal of honoring all of the women whose accomplishments, contributions, and support have made the United States the country it is today.   
For Women's History Month 2023, Kanopy's programming team has carefully selected titles aimed toward educating on the many essential milestones in women's history, from groundbreaking feminist icons, the Suffrage Movement, and the impact that gender bias and discrimination has, not only on women, but society as a whole. We've also curated shelves to include films directed by women, films that include prominent female historical figures, and titles that focus on current events, including the powerful social and political movements that concern women now.    
Directed By Women
Here at Kanopy, we proudly place the spotlight on female filmmakers year round, in hopes of introducing new audiences to films that might go unrecognized otherwise. In addition to our regular catalog offerings, we strive to be part of the ongoing conversation on diversity and representation in film by paying close attention during Women's History Month. Our special programming for the month-long celebration includes feature-length narrative and documentary cinema directed by a group of diverse, talented, and visionary women. This year's celebration includes titles such as Emma Seligman's Shiva Baby (2020), Ava DuVernay's Middle of Nowhere (2011), Nana Mensah's Queen of Glory (2021), and Rachel Carey's Ask for Jane (2018). Other filmmakers featured include Leena Yadav, Justine Bateman, Greta Gerwig, Céline Sciamma, Agnès Varda, Joanna Hogg, Julie Dash, Ana Lily Amirpour, and Ida Lupino.   
Access titles featured in Directed By Women.
Women in History
Women have continually played an integral role in every aspect of society, and many times without credit. We have assembled an impressive lineup in our spotlight on groundbreaking women throughout history, from the leaders of the suffrage movement, the role of sororities in HBCUs, and key figures in space exploration, to women's liberation, Hollywood trailblazers, scientists, and women who care for other women through lifesaving medical care. This collection features documentaries such as Twenty Pearls: The Story of Alpha Kappa Alpha Sorority Inc. (2021), The Codebreaker (2021), One Woman, One Vote (2020), She's Beautiful When She's Angry (2014), and Jane: An Abortion Service (1996).   
Access titles featured in Women in History. 
Major Figures
For every social and political movement, medical and scientific breakthrough, and cultural accomplishment, the contributions of women cannot be overstated. With each obstacle in our history, there has been a woman who faced those challenges head on by pushing every boundary, defying the rules, and redefining gender roles,  trailblazing a better path for future generations of women. Learn the stories of Ruth Bader Ginsberg, Anna May Wong, Bessie Coleman, Lois Weber, Eleanor Roosevelt, Rita Moreno, Harriet Tubman, Wilma Mankiller, Maya Angelou, Dolly Parton, Patricia Highsmith, and many other women in our Major Figures spotlight. Curated documentaries and series that are available include: Unladylike2020 (2020), RBG (2018), Eleanor Roosevelt: A Restless Spirit  (1994), America's Long Struggle Against Slavery: Harriet Beecher Stowe and Harriet Tubman (2020),  Barbara Lee: Speaking Truth to Power (2020), and Maya Angelou: And Still I Rise (2017).   
Access titles featured in Major Figures.
Current Events
While significant progress has been made with regard to women's rights and all that includes, the fight for equality and against bias and discrimination never ends. Safe and affordable access to healthcare, reproductive freedom, the gender pay gap, transgender rights and gender affirming care, racism, sexism, and misogyny are all issues that concern women and their communities today. Our programming addresses those concerns with a collection of insightful documentaries that explore  racism and how it intersects with feminism, sexuality, reproductive and gender rights, bias, harassment, and social and political activism. Get an inside look at the small town at the center of the abortion rights movement in Maisie Crow's Jackson (2018); the negative impact of the "male gaze" in Nina Menkes's Brainwashed: Sex-Camera-Power (2022); discussions on the Black experience among women of African descent in Amandine Gay's Speak Up (2017); the role of women in comedy and how they are portrayed and received by audiences in Bonnie McFarlane's Women Aren't Funny (2014); and the fight against sexual harassment and unsafe work conditions in Yu Gu's A Woman's Work: The NFL's Cheerleader Problem (2019).   
Access titles featured in Current Events. 
Women's History Month gives us gives us all the opportunity to recognize the unique power of women and their role in history and society. Our hope is that each of the titles selected for this important month of education and reflection inspires thoughtful consideration and conversation among both library staff and patrons. We also hope this programming encourages patrons to continue the journey into women's history, both past and present, throughout the year. Whether it's diving into the work of female filmmakers or conversations on pay inequality, reproductive rights, and modern feminism, Kanopy's vast inventory of titles is always there for you to discover, explore, and learn.  
Browse blog and media articles