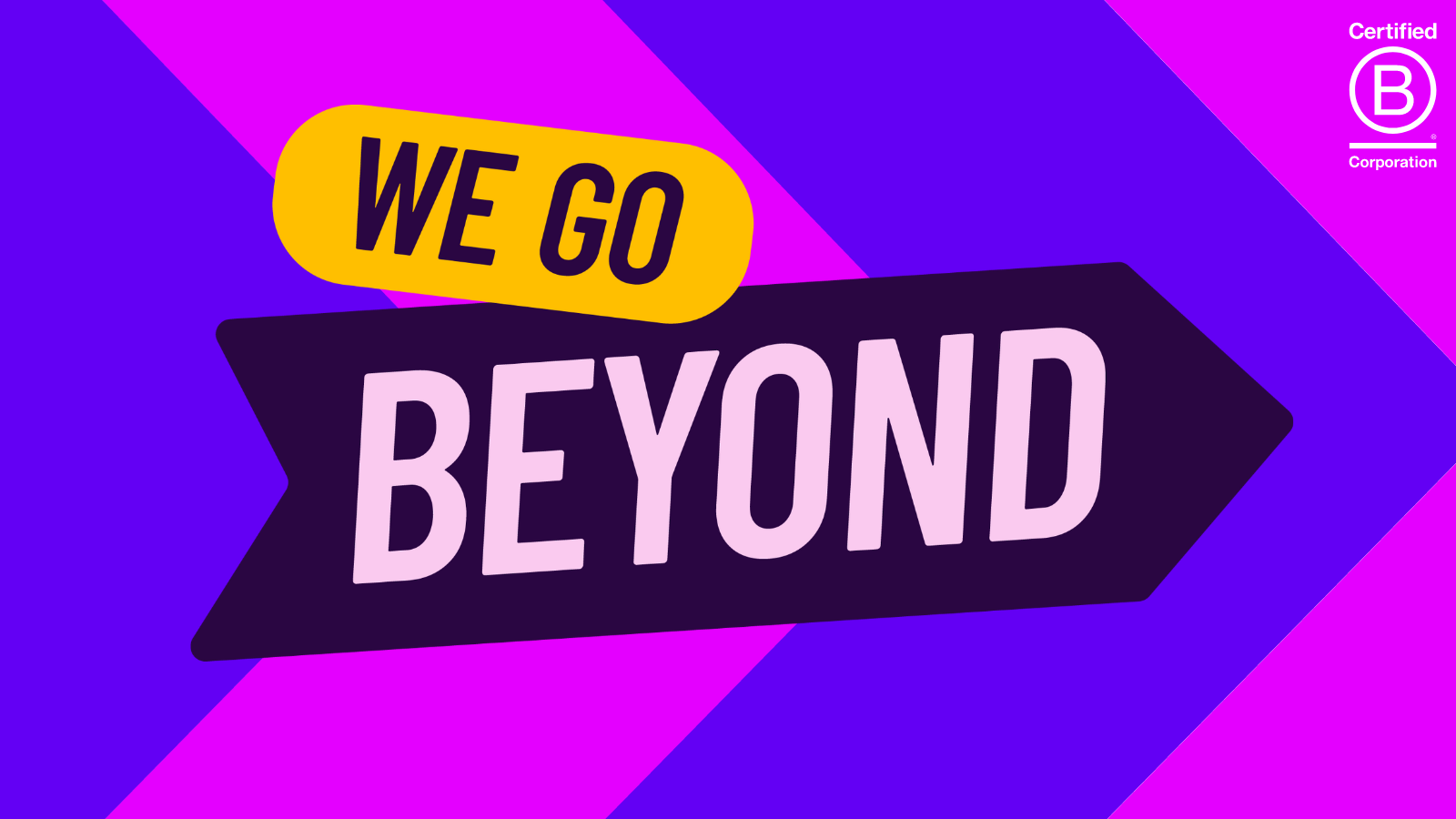 Team OverDrive's Favorite B Corps
The prestigious B Corporation certification recognizes a company's commitment to creating exceptional positive social and environmental impact.  In 2017, OverDrive became a Certified B Corp, joining companies such as Ben & Jerry's, Patagonia, The Body Shop and others leading a global movement of using business for good. This month, we're joining together to celebrate B Corp Month! 
#WeGoBeyond as a B Corp
This year's B Corp theme is #WeGoBeyond. Being a B Corp is about going beyond the status quo of businesses prioritizing profits over people. Instead, B Corps pursue a more impactful path that uses the power of business to build a more inclusive and sustainable economy for all people and our planet. 
Here at OverDrive, #WeGoBeyond by choosing to adopt policies and practices that can positively impact team members, library and school partners, communities and, of course, readers. Every day we strive to make the world better and meet our mission of creating a world enlightened by reading.  
Another way #WeGoBeyond here at OverDrive is by supporting the other 6,000 companies from 150+ industries across nearly 90 countries that are also B Corps! From the shoes we wear and the socks that go with them to eating ice cream even when it's 30 degrees outside (like today), the companies on this list are a small sample of the B Corps that members of Team OverDrive celebrate and use every single day in our efforts to be more ethical consumers 
Team OverDrive's Favorite B Corps
BEN & JERRY'S and JENI'S 
It's impossible to pick a favorite among these two ice cream brands. Luckily, you don't have to because both are B Corps!  
Socks, t-shirts and other basis designed for maximum comfort and movement. Thanks to our Professional Book Nerds podcast, you can use code BOOKNERDS for 20% off your first purchase! 
More than just a beauty company, Ethique creates cruelty free and vegan cosmetics and personal care products with a goal of reducing the amount of plastic bottles in the world that end up in landfills. 
Bakers the world over know the King Arthur flour brand. They have been providing bakers with flour for bread, cookies, cakes, pizza and more since 1790. 
With high quality apparel in sizes 3XS-6X, this queer-founded company provides comfort and confidence to all bodies. 
TOMS offers an array of shoe styles for both kids and adults, in addition to accessories like socks, sunglasses, and hoodies. (Personally I probably own way more pairs of TOMS than any one person truly needs, 
An online marketplace to connect makers and their creations with shoppers looking for truly unique goods. Artists are encouraged to use recycled and sustainable materials and products are always leather, feather, and fur-free. 
Eyeglass company founded with the mission of inspiring and impacting the world with vision, purpose, and style. 
Tags In
Browse blog and media articles