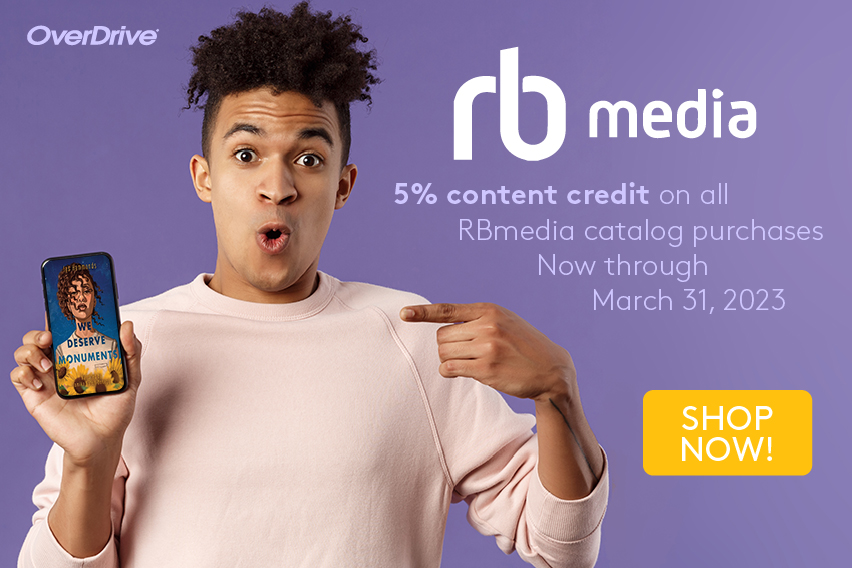 Give listeners the audiobooks they want (and get 5% content credit for yourself!)
Whenever I hear someone say audiobooks don't "count" as reading or are "cheating," I always wonder if they just haven't listened to the right audiobook yet. From making traffic on your way to work less annoying to being a great workout partner, audiobooks can be a reader's best friend. Even if the audio format is not your personal preferred way of accessing books, their popularity among book lovers is undeniable (and they definitely count as reading).  
Save up to 20% on RBmedia titles and get 5% content credit through March 31
st
Between now and June 30, you can save on thousands of audiobooks across all RBmedia catalogs, including Recorded Books, Tantor, GraphicAudio and more. In addition to these huge savings, we have another deal for you: through March 31st you'll also get 5% content credit on One Copy/One User and OverDrive Max lending model purchases. This is an extra 5% on top of the big savings you're already getting on audiobooks from RBmedia. Take advantage of this reduced pricing and content credit to grow your collection for less and reach more readers. But hurry – the content credit only applies to purchases made before March 31st. 
Shop most popular audiobooks now on sale

Shop adult fiction audiobooks now on sale

Shop adult nonfiction now on sale

Shop juvenile & young adult now on sale

Tags In
Browse blog and media articles