3 ways to read for free in Sora this spring & summer
Summer is on its way to the Northern Hemisphere! For many of us, that might mean warm sunny days, Saturdays on the beach and – best of all – vacation.
For your students, it's an exciting, busy time during which literacy-building habits like reading might fall by the wayside. That's why it's so important to have a digital library like Sora. Because when your students have 24/7 access to reading right at their fingertips, whether they're in school, at home, or off on summer adventures, they'll read more!
But what you might not have realized is that outside of your school's customized library, Sora also comes with lots of different options to read for free to keep students coming back to the app again and again all summer.
Check out all the no-cost digital book options available to schools in Sora this summer – and beyond.
(Not sure if you have Sora? Search for your school here. If your school isn't listed, you can also activate today!)
---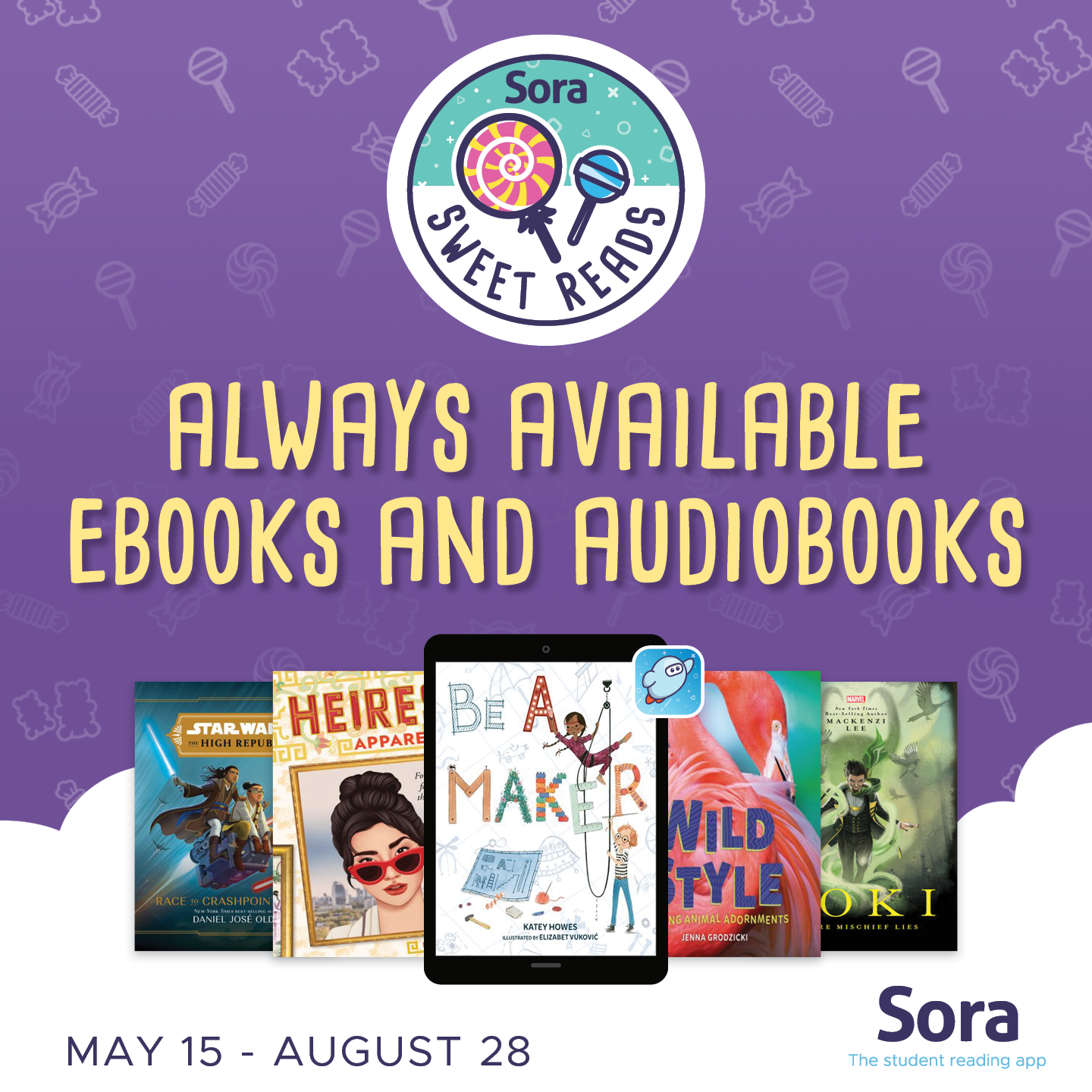 1. Sora Sweet Reads
Looking for reading treats this summer for your students? Try Sora Sweet Reads, our free, annual summer reading program. It's automatically available to schools with Sora so that you can keep students reading (and coming back for seconds!) all year long, even over breaks.
For 2023, Sora Sweet Reads launches May 15 and runs through Aug. 28, offering dozens of simultaneous-use juvenile and young adult ebooks and select audiobooks.
Interested in accessing Sora Sweet Reads? Find your school in Sora or fill out our activation form today to get started.
---
2. SYNC Audiobooks for Teens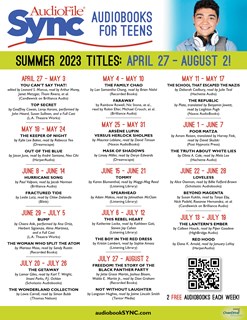 SYNC Audiobooks for Teens, sponsored by AudioFile Magazine and powered by Sora, works a little differently from some of the other ways you might borrow content in Sora. This free summer audiobook program isn't just available to schools with Sora, but to anyone who registers.
SYNC is targeted at teens aged 13 and older and provides program participants access to two thematically paired audiobooks for check out each week, for 14 weeks. The 2023 edition of SYNC begins on April 27.
To register for SYNC, simply sign up with a valid email address and follow these setup instructions to gain access to the titles once the program begins.
Interested? View the full list of titles available through SYNC here.
To learn more about SYNC, you can also attend AudioFile and OverDrive present: SYNC Audiobooks for Teens 2023. This free webinar will walk you through the benefits of audiobooks and offers a demo of how to borrow and read titles in Sora.
---
3. Always available books through the Sora Starter Collection
Did you know that in addition to your customized collection of ebooks and audiobooks, every school with Sora has access to 300+ free digital titles through the Sora Starter Collection? Featuring ebooks, audiobooks and read-along versions of popular titles, curriculum classics and nonfiction books from publishers like Sourcebooks, Jump!, Bellwether, Triangle, Lerner, Kaleidoscope, Rosen, Abrams and Duke Classics, there's something for everyone.
The best part? Every title is simultaneous-use, meaning as many students as need the title can borrow it at the same time. Plus, you can access free promotional resources to spread the word about these free titles across your school community.
To browse all of the titles available in our no-cost collections, take a look at the What's Available in Sora Starter Today page.*
Sora Starter Collection (280+ titles)
Spanish Titles for Young Readers Collection (60+ titles)
Social & Emotional Learning Collection (50+ titles)
Sora Starter Canada* (100 titles)
*Please note: Title availability may vary by region. Sora Starter Canada is not available to schools outside of Canada.

Interested in these Sora Starter titles? Find your school in Sora or fill out our activation form today to get started.
---
Plus, you can add a public library to read more for free!
For bonus free reading, use the Add library feature in Sora and access an age-appropriate view of your local public library's digital collection through Public Library CONNECT!
Simply choose "Add library" from the app menu, then search for and select your library to browse books. To borrow titles, students can use their school credentials (if both the school and public library have opted in) or an existing library card.
WATCH: Learn how to add a library | WATCH: Learn how to add a library with Public Library CONNECT
Learn more about Public Library CONNECT here, or visit this link for answers to frequently asked questions.
Browse blog and media articles