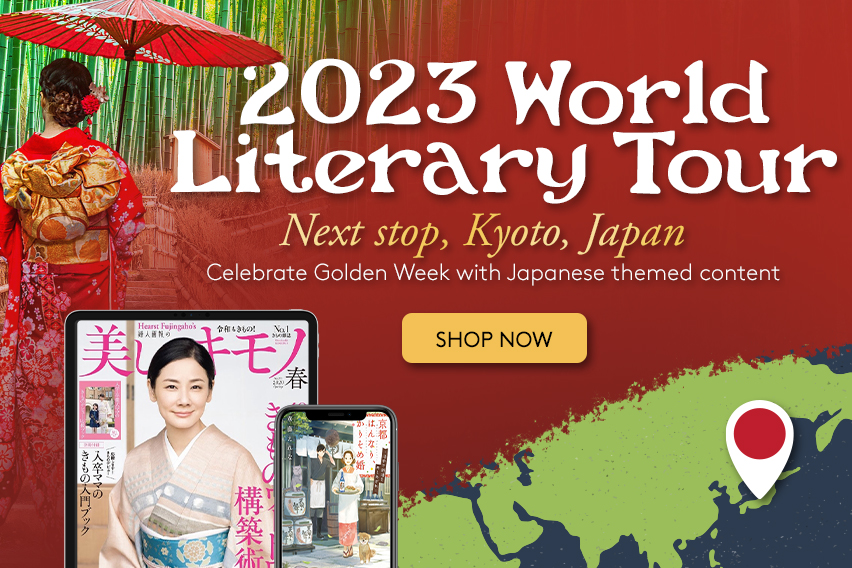 Next stop on our world literary tour: Kyoto, Japan
Welcome to the next stop on the World Literary Tour! Each month we will be highlighting a different destination with recommended lists, facts about the culture, languages, and literature from that location.  
This month we are headed to Kyoto, Japan for Golden Week, a collection of four national holidays that fall within seven days. Once the capital of Japan, Kyoto remains a popular tourist hotspot, thanks to its rich history, culture, and national beauty. Kyoto has also played an important role in Japan's literary history, producing one of Japan's most famous books, "The Tale of Genji." This 11th century book by Kyoto-born Muraski Shikibu is widely considered to be the world's first novel. 
Celebrate Golden Week with a golden sale

In 2022, circulation of Japanese-language titles at public libraries in North America increased 14 percent year over year. Between now and May 5th, you can shop and save 25-50% on thousands of Japanese-language titles. On-sale titles include manga, kids and teen reads, adult nonfiction, and so much more. Visit Marketplace to get started. 
Bring Japanese cinema to your community

Golden Week was introduced in post-war Japan, when the Japanese film industry saw a spike in revenue due to so many people being off work for the cluster of national holidays. It takes its name from golden time, or those prime-time hours when radio programs have their highest listener ratings.  
What better way to recognize Golden Week and golden time then with some Japanese-language films from Kanopy! Curated by our partners at Kanopy, this collection of classic and contemporary Japanese films includes anime, romance, drama and more.  
For libraries wanting to add more international films to their collection, be sure to check out the World Cinema Kanopy PLUS Pack. These new streaming video bundles feature hand-curated collections of unlimited use titles all for one fixed price. The World Cinema PLUS Pack is a selection of recent theatrical hits and critically acclaimed classics that span various cultures.  
Between now and April 10, 2023, if your library subscribes to two or more Kanopy PLUS Packs, you'll save 20% off the first year. Learn more here. 
Don't have Kanopy yet? Visit the Kanopy website to learn more about adding this streaming video service to your digital library. 
Tags In
Browse blog and media articles