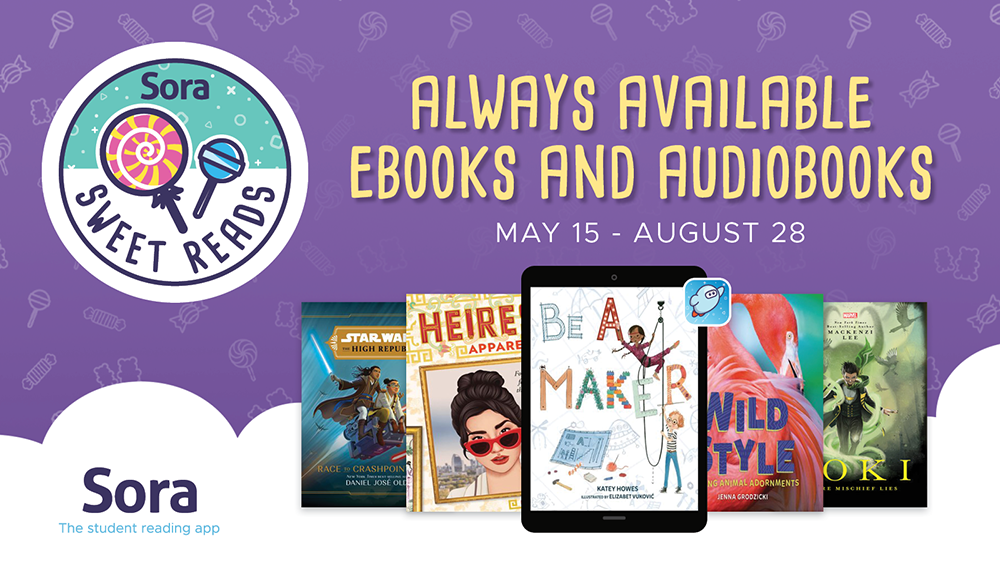 Save the Date: Sora Sweet Reads Returns May 15, 2023
---
By: Emily Balser, Integrated Marketing Specialist
Can you hear that? If you listen closely enough, you can almost hear the music of the not-so-far-off ice cream truck as it trundles down the street this summer.
The school year always seems to zip by in a flash once students return from spring break, and we know that with that comes the preparations for summer reading. We're thrilled to remind you that each year, Sora brings you a diverse collection of ebooks and audiobooks available for 10 weeks – at no cost! – to keep your students engaged in reading even once school is out of session.  
This year's Sora Sweet Reads program will be available to all schools globally and will include another robust collection of titles, ranging from juvenile to general adult interest. You can get a sneak peek at some of the titles in the graphic above!
The best parts? (Yes, plural, because I couldn't choose just one!) The titles will be simultaneous-use, so all students can read without a wait – plus, you don't have to do any extra work to add them! They'll magically appear at the top of your Sora explore page on May 15 and be ready to use right away.  (Unless you choose to opt out, in which case – please contact your Account Manager!)
We can't wait to share more – but in the meantime, save the date for 2023's Sora Sweet Reads program, which will run May 15 through August 28, 2023.  
Tags In
Browse blog and media articles