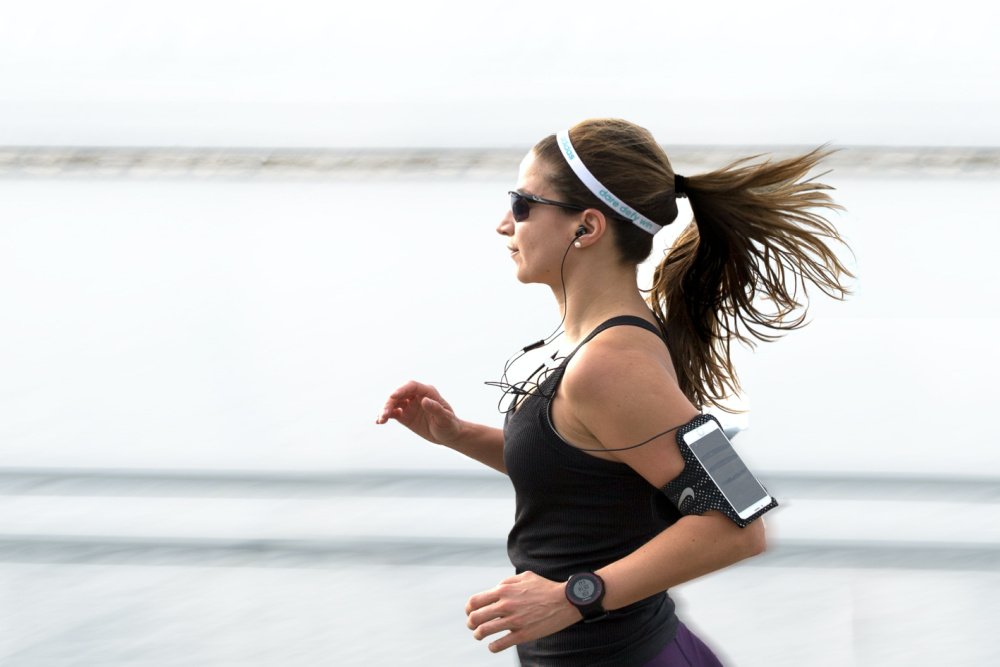 Reading for Runners
by Claire Weibel, Digital Content Librarian
It's that time of year – the winter ice has thawed from the sidewalks, the sun is peaking out behind spring clouds, and people all over the world are lacing up their running shoes and venturing out on the roads, trails, sidewalks, and tracks to start a new season. This year on April 17, runners and spectators from all over the world flocked to Massachusetts and tuned in to celebrate the 127th Boston Marathon, an iconic institution and the world's oldest annual marathon that inspires folks far and wide.
Many runners are also big readers; it makes sense that if you're training your body you'd want to exercise your brain, too! In fact, some runners in this year's Boston Marathon trained while listening to audiobooks.
You don't have to be training for the Boston Marathon (or call yourself a runner at all) to enjoy these books by and about runners. Whether you're trying to add a few more steps to your day, you're making the plunge from Couch to 5k, you're a seasoned runner gearing up for your next race, or you're a fan cheering your favorite runners on, you're sure to find something to love in our Reading for Runners list!
Reading for runners
---
Slow AF Run Club by Martinus Evans Preorder! 
Getting started on your running journey can be daunting – how fast should I go? What shoes do I need? Is this a normal amount of sweat? Beyond the logistics though, it can feel like a barrier for those who might not feel like they fit the "classic runner" mold. Slow AF Run Club breaks that mold. It is the world's largest inclusive online community to bring together and empower self-described "slow" runners and walkers, and now Slow AF founder and author Martinus Evans is bringing us the guide to put goals into action.
Ten years ago Evans's doctor instructed him to start walking, saying he needed to "lose weight or die." Since then Evans has since gone on to run over 100 races (including eight marathons), has been featured on the cover of Runner's World and has been a Boston Marathon finisher. Slow AF Run Club strives to change the perception that a runner is supposed to look, act, or feel a certain way and celebrates runners of all sizes and athletic ability. In this practical guide Evans details the incredible benefits of running and offers manageable steps to get started without feeling overwhelmed or intimidated. From scheduling your training to getting the right gear and nutrition, Evans shares all the most essential advice with humor and personal anecdotes to inspire readers to begin their own running journey and find the joy in it.
Purchase in Marketplace here.
---
Run: Races and Trails Around the World by DK Eyewitness Preorder! 
Everyone who has ever stepped foot on a treadmill has hit that point where boredom strikes. You can only stare at a wall for so long before your mind needs somewhere else to wander. Your imagination kicks in, and you start to imagine yourself somewhere beautiful, or challenging, or entirely new. DK Eyewitness's Run: Races and Trails Around the World provides the perfect inspiration you need to take your runs somewhere else entirely. From the Boston Marathon to the Great Wall of China, this book celebrates 100 routes around the world, with routes offering opportunities for fun or fitness, 5ks or ultramarathons, and classic paths or lesser-known trails.
With gorgeous photos and descriptions of the routes to useful maps and elevation details, along with notes on other great spots to explore if you're in the area, this travel book is sure to provide all the inspiration you need, whether you're seeking new material for your treadmill daytrips or starting to plan your next adventure.
Purchase in Marketplace here.
---
The Bright Side Running Club by Josie Lloyd
Not all books for runners are guides, memoirs, and training plans. Of course we have some fiction for you too! The Bright Side Running Club is a story of friendship, the strength of the human spirit, and community through running.
When Keira Beck's life is turned upside down with a breast cancer diagnosis, a chance meeting with a runner outside her clinic leads her to form a running club with three fellow patients undergoing treatment of their own. Her initial coping mechanism is to stay busy by diving further into work and family responsibilities, but running with other women with shared experiences, who are fast becoming close friends, she slowly starts to face her new reality.
Based on the author's own experience within the cancer community, the novel expertly balances heavy topics with lightheartedness and heart-filled moments with humor. This book is about more than cancer – it's about the value of friendships and community and reclaiming your life in the face of hardship. The audiobook, narrated by Danielle Cohen, was a 2023 Audie Awards Finalist, so maybe give this one a listen on one of your long runs!
Purchase in Marketplace here.
---
Becoming Forrest by Rob Pope
Whether you're a runner or not, you can picture it: a bearded man in red shorts and a hat running along a long flat road, arid scenes in the background. What's more Americana than Forrest Gump's cross-country run? Now imagine looking at this beloved character and saying, "I can do that." Such is the tale of Englishman Rob Pope, who became the first person ever to complete this epic journey. A veterinarian and marathoner who wanted to make a difference, Pope flew to Alabama and embarked on a journey of 15,600 miles. That'd be like running from the North Pole to the South Pole, and then some! If that's not enough to pique your interest, Pope came up against obstacles ranging from injuries to natural disasters of the course of 18 intense months. For anyone who has gone on a cross-country road trip and thought, man, that was a long trip – Pope embarked on this journey on foot, crossing the United States five times. Five! Hollywood has nothing on Pope.
The memoir does more than log Pope's miles; it records his experiences and reflections on the country he is crossing state by state. Pope set out from Alabama (fully dressed in his Gump-wear, of course) and became immersed in American life along the way. With each passing mile and state, Pope considers the world around him and the people he meets along the way with curiosity and openness.
This one has a wide appeal range – whether you're a fan of Forrest Gump, interested in this enormous accomplishment of fortitude, or looking for a different take on the travelogue, Becoming Forrest is bound to capture your attention
Purchase in Marketplace here.
---
Running With Sherman by Christopher McDougall
As someone who would love nothing more than to be able to run with a pet (my senior chihuahua has politely declined my invitations), I am captivated by runners who are joined by an animal partner to pass the time and form a deeper bond with every mile. Imagine my delight in the discovery that this partnership doesn't need to be limited to canine companions.
You may have already heard of Christopher McDougall for Born to Run, his exploration of the running secrets of Tarahumara Indians in Mexico, or his recently published Born to Run 2, a practical training guide for runners. But did you know that he also trained a rescue donkey to run the annual World Championship Leadville Burro Race in Colorado? When McDougall decided to rescue a donkey from a hoarding situation, he wasn't even sure if the poor creature would survive. But as he began to rehabilitate the donkey, newly named Sherman, he decided that what Sherman really needed to recover and thrive was a goal to work towards. Why not make that goal one of the most challenging races in the United States, a unique burro racing competition in which humans and donkeys run together, side by side, over mountains? McDougall knew how crazy it sounded, but backed by his belief in the power of movement to heal, he and Sherman embarked on an incredible journey to overcome obstacles, both internal and external.
This unbelievable and heartwarming story is about so much more than running. It's a perfect pick for animal lovers anywhere, or if you're curious to learn more about how humans and animals can work together to achieve something extraordinary. The author also narrates the audiobook with empathy, humor, and passion, so I highly recommend this one as a great book to listen to as well!
Purchase in Marketplace here.
---
Rise & Run by Shalane Flanagan and Elyse Kopecky
Runners know that running is only a small portion of running. Yes, you read that right. It's a larger process that also involves nutrition, hydration, properly fueling your body, rest and recovery, and more. That can sound pretty daunting, especially in the morning when you stumble out of bed and barely have the energy to lace up your shoes before you get rolling. But Shalane Flanagan and Elyse Kopecky make it easy with Rise & Run, a training manual and cookbook designed to help you revamp your routine, particularly how you start your day and set yourself up for success with all that comes after.
Shalane Flanagan is an Olympic medalist and New Your City Marathon champion and Elyse Kopecky is a nutrition coach and marathoner, so you know you're in good hands with these two offering up more than 100 recipes for nutritious breakfast, on-the-go snacks, recovery drinks, and more. Along with suggestions for kickstarting your morning by setting healthy routines, each recipe includes prep tips for busy families to help prepare meals ahead of time. The recipes include vegetarian, vegan, and gluten-free options and are designed for cooks with all levels of experience. Of course, these delicious recipes don't have to be reserved just for your morning – they can be enjoyed anytime throughout the day. I for one cannot recommend the popcorn trail mix highly enough – it's perfect for all your snacking needs!
On top of all these great, balanced recipes, the book also includes advice from trainers and professional athletes, morning tips and tricks, suggestions to prevent injuries, and even a fourteen-week training program designed by Flanagan. This all-in-one book is everything you need to feel prepared and excited to start your day, and your next training session.
Purchase in Marketplace here.
---
Running While Black by Alison Mariella Désir
Désir came into running after a period of depression; she began training for a marathon and discovered the physical and mental benefits that came with it, but as she became aware of how much time she spent negotiating her safety while running, she also began to learn more about the history of the sport that was largely built for white people. This powerful memoir-meets-expose examines why the seemingly straight forward act of running has never been truly open to Black people, comparing the timelines of running history and freedom of movement while blending in her own story as an endurance athlete and activist. Looking at Black runners who broke barriers yet are largely unknown compared to their white counterparts and analyzing systemic racism within the industry, Désir explores how the running world got to this point and advocates for reimagining the industry and creating a world where everyone is free and safe to run in public spaces.
Désir is the founder of Harlem Run and Run 4 All Women, co-founder of the Running Industry Diversity Coalition, and created a series of events called Meaning Thru Movement to provide education and practical steps for improving mental and physical health. The audiobook is read by the author, so be sure to listen to her tell this powerful memoir in her own words!
Purchase in Marketplace here.
---
The Race of the Century by Neal Bascomb
I can hardly contemplate running a four-minute mile without getting chills. Even today, for all of our advancement and technological support, it almost sounds like a fantasy, but in 1952, three world-class runners set out to break this barrier and turn fantasy into reality. At that time, running a four-minute mile was believed to be beyond human capability, but Englishman Roger Bannister, Australian John Landy, and American Wes Santee, each set out to achieve the impossible. Readers will learn the personal histories of each runner, the challenges they faced, and the training plans and strategies they followed in their journeys to break the four-minute mile wall. Full of suspense and thrilling breakthroughs, readers will be captivated by the thrilling and detailed stories that Bascomb weaves together.
Bascomb has brought the unparalleled research and fast-paced narrative of his highly acclaimed book The Perfect Mile and adapted the inspiring story for young adult readers.
Purchase in Marketplace here.
---
Older, Faster, Stronger by Margaret Webb 
It can sound like a platitude when people say, "It's never too late to start running," but what if it's simply the truth? Margaret Webb set out to answer this question. On a mission to enter the second act of her life in the best shape of her life, Margaret Webb started running with elite older women, following training plans set by experts and analyzing research on relationship between endurance training and delayed aging. Part personal memoir about running, part investigation of what women's running can teach athletes about becoming better as we age, this captivating story follows Webb's journey all the way to the World Masters Games, a multi-sport event for 30+ year old athletes. With millions of women taking up running in recent years, many are qualifying for races well after their 50s and even competing for World Masters Records in their 90s. What can we learn about longevity from running? How do we continue to train, thrive, and reach new goals "past our prime"? Webb delves into these questions with a straight-forward, honest voice as she trains, with her inspiring journey. Her book revels in the insight and sisterhood of older runners, providing the ultimate motivational guide for runners of any age.
Purchase in Marketplace here.
---
More books for runners
Whether you're passionate about running, reading, or both, I hope these books motivate, educate, and entertain you. If you'd like some more recommendations like these, check out a few other OverDrive Librarian-made lists:
Be sure to also visit the Resource Center to find even more recommended lists from our Digital Content Librarians!
Tags In
Browse blog and media articles