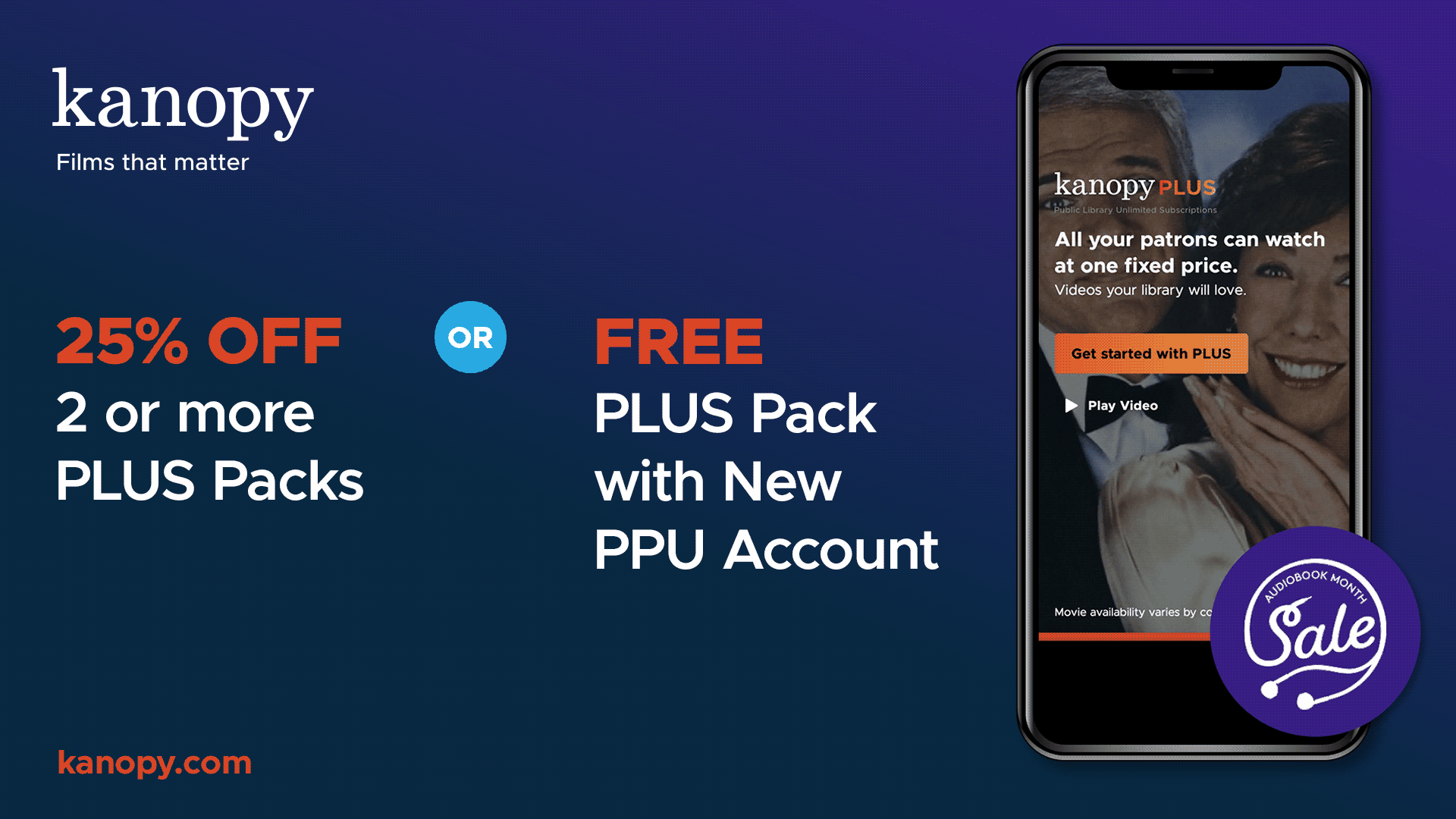 Stream and Dream: June Sale Unleashes Digital Delights for Less
As part of our Audiobook Month sale, libraries can benefit from unprecedented savings with Kanopy! Attract new, engaged patrons of all ages using the popularity of video with the library world's best award-winning catalog , all with a  limited time discount. Read on to learn more about these discounts and find a printable flyer here.
Choose your discount:
25% when you buy 2 or more Kanopy PLUS subscription bundles/packs 
Kanopy PLUS is Kanopy's newest subscription model, and an easy way to introduce a strong, thoughtful streaming catalog to patrons.  With pre-curated, themed PLUS Packs, you can unlock the library world's best videos sure to delight every patron. Choose from 6 PLUS Packs, each containing 200-300 movies and series: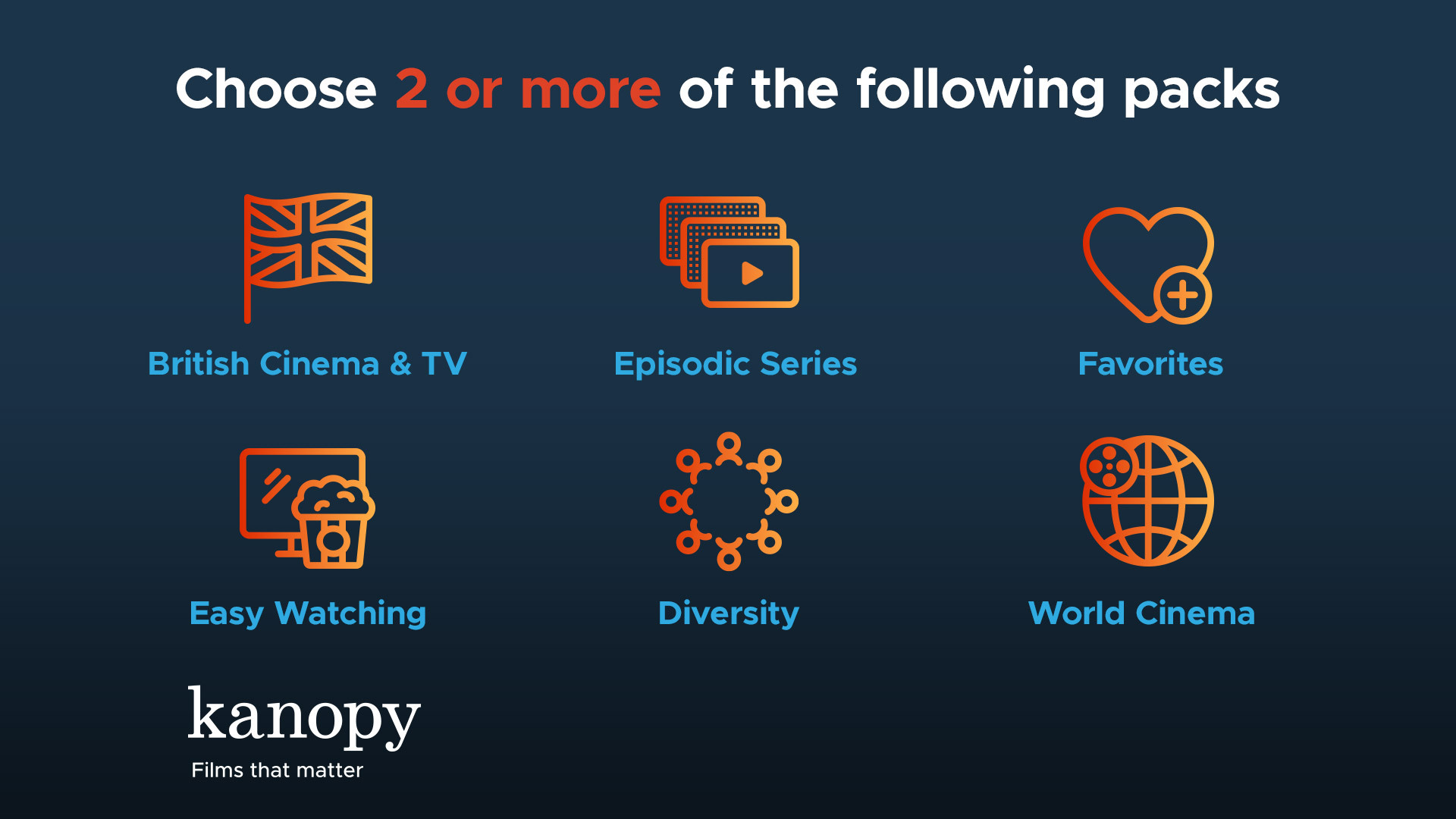 British Cinema & TV: A unique blend of intriguing mysteries, addictive dramas, and big-hearted comedies for your Anglophile patrons who relish proper British movies and TV series.
Episodic Series: A kaleidoscope of bingeable dramas, thrilling narratives, and documentaries with something for everyone: thrillers, classic theater, reality series, historical procedurals, and much more.
Favorites: Staff and patron picks featuring crowd pleasers and acclaimed actors. These dramas, thrillers, documentaries, and television series will please a range of audiences.
Easy Watching: Crowd-pleasing comedies, fun and entertaining documentaries, popular classic cinema, and family-friendly films. These stories will entertain and charm your community.
Diversity: A broad range of popular and compelling films and documentaries that focus on diverse stories and storytellers. These powerful titles broaden viewpoints and help enrich understanding.
World Cinema: A selection of international films that span various cultures, this Pack unlocks recent theatrical hits and critically acclaimed classics from variosu genres to your patrons. 
Pay upfront annually and we manage the rest. 
Contact us to learn more about Kanopy PLUS  
Launch a Pay-Per-Use account and receive our Easy Watching Pack FREE!
If you're interested in introducing the full Kanopy catalog, with over 30,000 hand-selected titles, then Pay Per Use is for your library. With flexible, predictable models, your library only pays for what patrons use.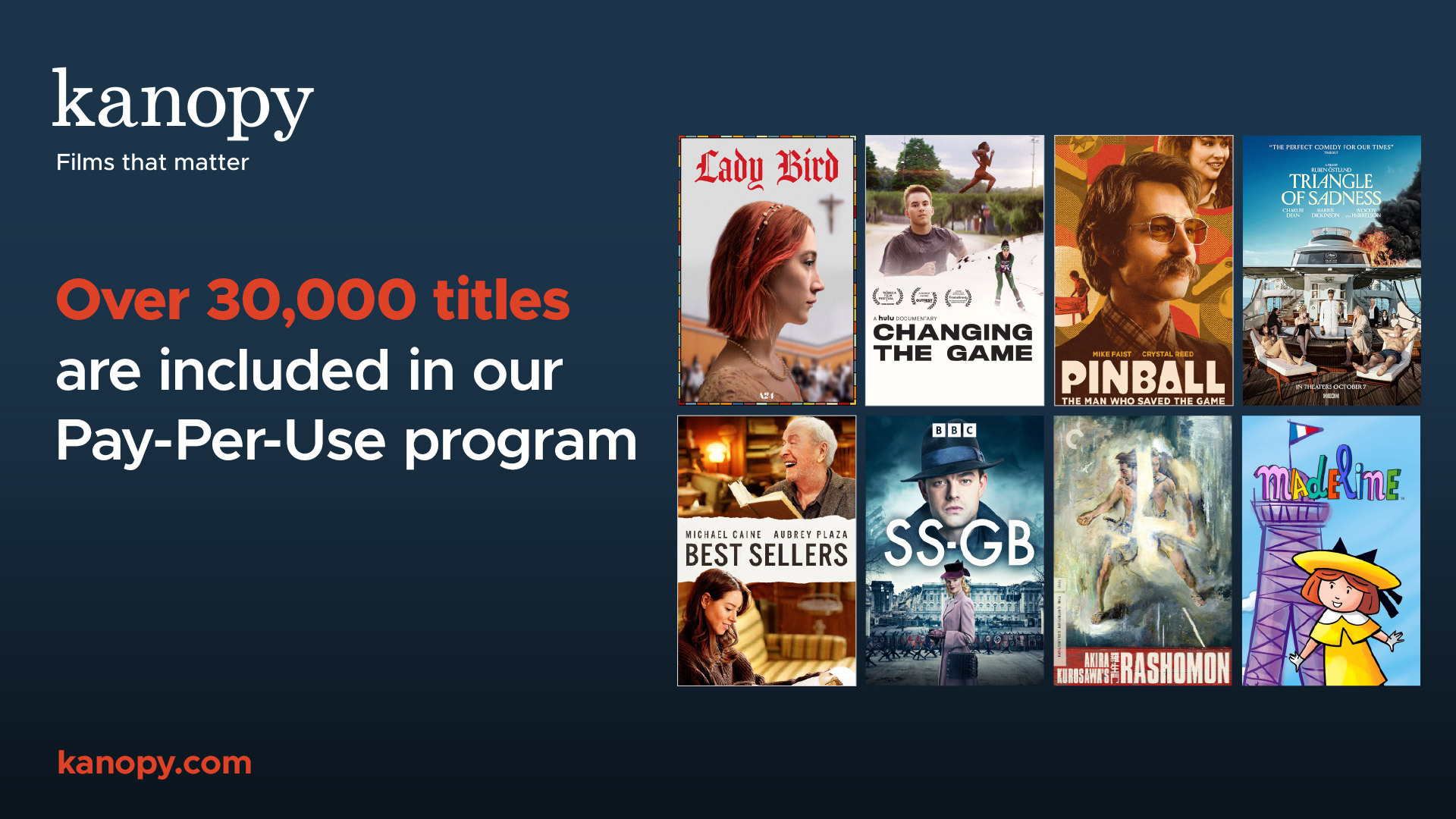 Our affordable pay-per-use model with simultaneous access helps libraries fulfill their mission of democratizing information for communities around the globe. 
Access to the full platform

 

No platform fees

 

No annual contracts

 

No minimum required spend

 
Contact us  to learn more about Kanopy Pay-Per-Use 
Learn how to engage and connect with patrons through streaming
Join us on Thursday, June 15 at 2 pm ET for our upcoming free webinar Strength in Streaming: How to Engage and Connect with Patrons Through Streaming Video. Kanopy's Senior Manager of Content Programming, Wendy Chamberlain, will show you how streaming video can be a powerful tool that complements your physical and digital materials—helping you reach new patrons in your community, helping promote your library and its many resources, and satisfying your current patrons' information and entertainment needs. We look forward to sharing the many ways that streaming video can help inspire, inform, and strengthen your community! Register today.
Browse blog and media articles