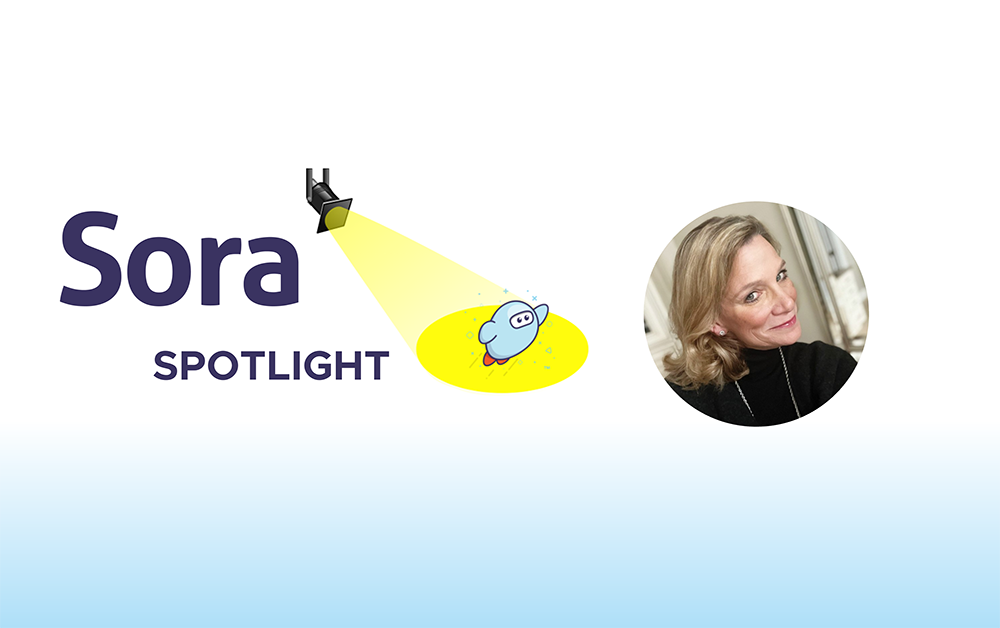 How one IL librarian works to "meet our students where they are" with reading. [Sora Spotlight]
By: Kristen Hein, Account Manager
The Sora Spotlight series showcases educators who've become Sora champions at their school, impressing us with their innovative strategies to implement the platform and engage students. Now, we're looking to them to share their stories so that we can all be inspired to find new ways to reach more students with reading. 
Today, we'll chat with Janine Asmus, Librarian at West Leyden High School (IL).
Educator Stats
Name:
Janine M. Asmus
Describe your position and your school. 
I am the West Leyden High School librarian. I work in a 9-12 school, in the Leyden High Schools District # 212. I have worked in the same school for 33 years, about to start my 34th. I am close to retirement. 🙂 I started off teaching English my first ten years at West Leyden, and then transitioned into the school library. I also run the Alumni Wall of Fame program, and that is near and dear to me.
How many years have you been active with OverDrive?
15
What are you currently reading?
In the Wild Light, by Jeff Zentner
Janine's Sora Story
What do you love most about Sora?
It is getting easier and easier to use. Students can easily access a book quickly.
What unique things have you done to help increase student engagement with Sora? 
I have done lots of book clubs (adults and students), book buddy programs, and Lunch and Learns to promote Sora and get everyone reading using the avenue of choice!
In what ways has this been successful?
The Class Sets have been great. They are easy to access; students can never "lose" the book. Teachers are pleased that everyone can be in sync, and the price is right!
In what ways have you utilized social media to reach your students?  What is the impact of this?
I use the #leydenpride hashtag to promote the library. I also speak about innovative school library programming at varied conferences. I enjoy meeting school librarians from all over the globe. It is a great pleasure to speak and share tips and tricks with colleagues.
Is there anything you are planning to do/to kick off the school year to introduce Sora to your students?
I introduce it to every student who comes in for the first few weeks of school. Students have SSR (silent sustained reading) time. I encourage teachers to allow ALL types of modalities with respect to reading to be allowed in class – ebooks, audiobooks and print.
In your opinion, why is reading digitally important, especially to student readers?
All reading is important. We need to meet our students where they are. Many are digitally connected and enjoy having books on their phones, tablets or Chromebooks. This should be an option for all.
What advice do you have for new educators/librarians with a digital collection?
Model reading with your students. Take the time to tell them what you read, how you pick books, and what you enjoy. Share that love of the written word with your students and find time during class to engage them about text and the value of good books. Allow them to share what they are reading with you and their peers.
Get to know Janine
If you could have your students read one book and one book only, what would it be and why?
That is a great question. One book? I would have them read The Distance Between Us by Reyna Grande. That book is a true story about a young girl trying to make her way to her family in America. It has lots of layers, and explains the hardships of immigration, what moving does to a family unit, and how many struggles are faced every step of the way. I loved it. I think about that book all the time.
What is your favorite book of all time, and why?
All time?  City of Thieves by Dave Benioff.  I listened to that book and I absolutely was drawn into all the richly drawn characters. I think it is my favorite because it was my first real enjoyable audiobook. Once I heard that one, I was looking for my next one.
What is your favorite "reading" moment with a student?
I like it when I get out of the car in the morning in the school parking lot, and a student will walk up to me, grab my lunch or coat to carry, and help me into the building– only to talk the whole way about a book I gave him/her, and how the student is looking for another just like it. And wants my recommendation, and mine alone. That is very satisfying; I would say that is a job well done. Making kids lifelong readers is my passion and my purpose. Reading is important to help raise student achievement.
What is the most important thing you hope your students take away from reading/education?
Finding their reading identity – books they love and want to read. Reading for a lifetime.
---
Get featured in the next Sora Spotlight! Contact us and briefly explain how you're making an impact with Sora in your school.
Want to learn more about Sora? Check out a live product walk-through to see it in action!
---
About the Author
Kristen Hein is an Account Manager working with schools to integrate digital into their libraries and classrooms. She herself has experience as a history teacher working with students grades 8-12 focusing on U.S. history and government. She generally spends most of her free time chasing around her hyper-active pup Romeo, hiking, practicing yoga and trying out the best Cleveland restaurants.
Check out how other educators are using Sora to increase student reading:
Tags In
Browse blog and media articles