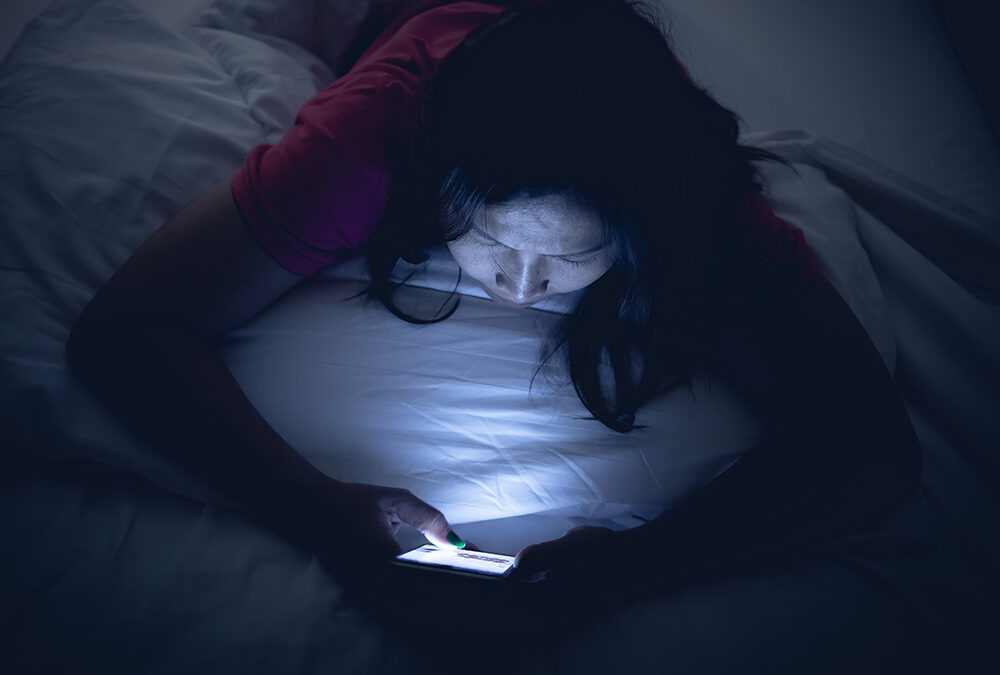 12 thrilling & chilling books to keep your teen readers on their toes
I admit it – I don't really like horror.
Movies, that is. I have an overactive imagination, and even the dumbest horror films are guaranteed to have me contemplating sleeping with the lamp on for a night or two.
Books, however, are a different story. For whatever reason, my tolerance for creepy books is much higher than it is for movies and TV shows, something I discovered the first time I read House of Leaves some years ago. (But make no mistake – I was still side-eyeing closets and dark corners for weeks after.)
Maybe your students are the same. Maybe they eschew horror viewing but love a good thriller of a read by the light of the harvest moon. Or maybe their favorite holiday of the year comes at the end of October, and they're just racing to fit in as many jump scares as they can before the month is over.
Either way, there's likely a book or two for them just waiting to be added to your Sora collection! And we can help you find it, with librarian-recommended lists of books that will keep your older teen readers on the edges of their seats till the very end.
Horror for high school & above
by Stephen King
Over his nearly 50-year career, Stephen King has been pretty famously prolific. So chances are good that your students have read, seen an adaptation of or at least heard of one of his books. But in this latest detective thriller from one of the most prolific authors of our time, he brings back a lesser-known character that they might enjoy getting to know.
When Penny Dahl calls the Finders Keepers detective agency hoping for help locating her missing daughter, [PI Holly Gibney] is reluctant to accept the case. Her partner, Pete, has Covid. Her (very complicated) mother has just died. And Holly is meant to be on leave. But something in Penny Dahl's desperate voice makes it impossible for Holly to turn her down.

Mere blocks from where Bonnie Dahl disappeared live Professors Rodney and Emily Harris. They are the picture of bourgeois respectability: married octogenarians, devoted to each other, and semi-retired lifelong academics. But they are harboring an unholy secret in the basement of their well-kept, book-lined home, one that may be related to Bonnie's disappearance. And it will prove nearly impossible to discover what they are up to: they are savvy, they are patient, and they are ruthless.
---
by Koyoharu Gotouge, SHUEISHA Inc.
According to the School Library Journal review, this supernatural series for students in grades 7+ is great for manga enthusiasts who already love "Fullmetal Alchemist" and "Hellsing."
Learning to destroy demons won't be easy, and Tanjiro barely knows where to start. The surprise appearance of another boy named Giyu, who seems to know what's going on, might provide some answers—but only if Tanjiro can stop Giyu from killing his sister first!
---
by Adalyn Grace
Orphaned as a baby, nineteen-year-old Signa has been raised by a string of guardians, each one more interested in her wealth than her well-being—and each has met an untimely end. Her remaining relatives are the elusive Hawthornes, an eccentric family living at Thorn Grove, an estate both glittering and gloomy. Its patriarch mourns his late wife through wild parties, while his son grapples for control of the family's waning reputation, and his daughter suffers from a mysterious illness. But when their mother's restless spirit appears claiming she was poisoned, Signa realizes that the family she depends on could be in grave danger and enlists the help of a surly stable boy to hunt down the killer.

However, Signa's best chance of uncovering the murderer is an alliance with Death himself, a fascinating, dangerous shadow who has never been far from her side. Though he's made her life a living hell, Death shows Signa that their growing connection may be more powerful—and more irresistible—than she ever dared imagine.
---
by Erin A. Craig, Emily Lawrence
Your fans of the supernatural are sure to love this "dark and atmospheric fairy tale" about 12 doomed sisters.
In a manor by the sea, twelve sisters are cursed.

Annaleigh lives a sheltered life at Highmoor with her sisters and their father and stepmother. Once there were twelve, but loneliness fills the grand halls now that four of the girls' lives have been cut short. Each death was more tragic than the last—the plague, a plummeting fall, a drowning, a slippery plunge—and there are whispers throughout the surrounding villages that the family is cursed by the gods.

Disturbed by a series of ghostly visions, Annaleigh becomes increasingly suspicious that her sister's deaths were no accidents. The girls have been sneaking out every night to attend glittering balls, dancing until dawn in silk gowns and shimmering slippers, and Annaleigh isn't sure whether to try to stop them or to join their forbidden trysts. Because who—or what—are they really dancing with?

When Annaleigh's involvement with a mysterious stranger who has secrets of his own intensifies, it's a race to unravel the darkness that has fallen over her family—before it claims her next. House of Salt and Sorrows is a spellbinding novel filled with magic and the rustle of gossamer skirts down long, dark hallways. Be careful who you dance with…
---
by Kalynn Bayron
Were any of your students fans of Netflix's Fear Street…or the R.L. Stine books that preceded the films?
If so, this "heart-pounding slasher" by New York Times bestseller Kalynn Bayron just might be for them.
At Camp Mirror Lake, terror is the name of the game . . . but can you survive the night?

Charity has the summer job of her dreams, playing the "final girl" at Camp Mirror Lake. Guests pay to be scared in this full-contact terror game, as Charity and her summer crew recreate scenes from a classic slasher film, The Curse of Camp Mirror Lake. The more realistic the fear, the better for business.

But the last weekend of the season, Charity's co-workers begin disappearing. And when one ends up dead, Charity's role as the final girl suddenly becomes all too real. If Charity and her girlfriend Bezi hope to survive the night, they'll need figure out what this killer is after. As they unravel the bloody history of the real Mirror Lake, Charity discovers that there may be more to the story than she ever suspected . . .
---
by Natasha Preston
I love a good theme park, but I also can't deny that in the right light, there's something just a little bit sinister about them. This "pulse pounding" book more than manages to capitalize on the creepy (plus, is there anything scarier than social media?).
Jagged Island: a private amusement park for the very rich—or the very influential. Liam, James, Will, Ava, Harper, and Paisley—social media influencers with millions of followers—have been invited for an exclusive weekend before the park opens. They'll make posts and videos for their channels and report every second of their VIP treatment.

When the teens arrive, they're stunned: the resort is even better than they'd imagined. Their hotel rooms are unreal, the park's themed rides are incredible, and the island is hauntingly beautiful. They're given a jam-packed itinerary for the weekend. 

But soon they'll discover that something's missing from their schedule: getting off the island alive.

---
Whispers in the Dark: Creepy audiobooks for moonless nights
by Holly Jackson, Patricia Santomasso, Shezi Sardar, et al.
Investigation…or obsession? The line is fine, and it gets even blurrier in this young adult thriller that draws comparisons to Serial and Making a Murderer – complete with twists, turns and an unexpected ending.
Everyone in Fairview knows the story.

Pretty and popular high school senior Andie Bell was murdered by her boyfriend, Sal Singh, who then killed himself. It was all anyone could talk about. And five years later, Pip sees how the tragedy still haunts her town.

But she can't shake the feeling that there was more to what happened that day. She knew Sal when she was a child, and he was always so kind to her. How could he possibly have been a killer?

Now a senior herself, Pip decides to reexamine the closed case for her final project, at first just to cast doubt on the original investigation. But soon she discovers a trail of dark secrets that might actually prove Sal innocent . . . and the line between past and present begins to blur. Someone in Fairview doesn't want Pip digging around for answers, and now her own life might be in danger.
---
by Angeline Boulley, Isabella Star LaBlanc
For fans of Angie Thomas and Tommy Orange, Angeline Boulley's debut novel is a groundbreaking YA thriller about a Native teen who must root out the corruption in her community.
Eighteen-year-old Daunis Fontaine has never quite fit in, both in her hometown and on the nearby Ojibwe reservation. She dreams of a fresh start at college, but when family tragedy strikes, Daunis puts her future on hold to look after her fragile mother. The only bright spot is meeting Jamie, the charming new recruit on her brother Levi's hockey team.

Yet even as Daunis falls for Jamie, she senses the dashing hockey star is hiding something. Everything comes to light when Daunis witnesses a shocking murder, thrusting her into an FBI investigation of a lethal new drug.

Reluctantly, Daunis agrees to go undercover, drawing on her knowledge of chemistry and Ojibwe traditional medicine to track down the source. But the search for truth is more complicated than Daunis imagined, exposing secrets and old scars. At the same time, she grows concerned with an investigation that seems more focused on punishing the offenders than protecting the victims.

Now, as the deceptions—and deaths—keep growing, Daunis must learn what it means to be a strong Anishinaabe kwe (Ojibwe woman) and how far she'll go for her community, even if it tears apart the only world she's ever known.
Plus, with a planned TV adaptation in the works with Netflix, there's plenty to get students excited about even once they've finished the book!
---
by Stephen King, Campbell Scott
Maybe it's cheating to have two Stephen King titles in one post, but hey – he's called the "King of Horror" for a reason. By the end of this classic (which inspired an equally terrifying movie of the same name), your students may have questions – but they certainly won't be about the meaning of "REDRUM".
Jack Torrance's new job at the Overlook Hotel is the perfect chance for a fresh start. As the off-season caretaker at the atmospheric old hotel, he'll have plenty of time to spend reconnecting with his family and working on his writing. But as the harsh winter weather sets in, the idyllic location feels ever more remote . . . and more sinister. And the only one to notice the strange and terrible forces gathering around the Overlook is Danny Torrance, a uniquely gifted five-year-old.
---
by Maureen Johnson, Kate Rudd
Described as "perfect for fans of Agatha Christie and E. Lockhart," this YA murder-mystery is the first book in a "striking" series from author Maureen Johnson.
Ellingham Academy is a famous private school in Vermont for the brightest thinkers, inventors, and artists. It was founded by Albert Ellingham, an early twentieth century tycoon, who wanted to make a wonderful place full of riddles, twisting pathways, and gardens. "A place," he said, "where learning is a game."

Shortly after the school opened, his wife and daughter were kidnapped. The only real clue was a mocking riddle listing methods of murder, signed with the frightening pseudonym "Truly, Devious." It became one of the great unsolved crimes of American history.

True-crime aficionado Stevie Bell is set to begin her first year at Ellingham Academy, and she has an ambitious plan: She will solve this cold case. That is, she will solve the case when she gets a grip on her demanding new school life and her housemates: the inventor, the novelist, the actor, the artist, and the jokester.

But something strange is happening. Truly Devious makes a surprise return, and death revisits Ellingham Academy. The past has crawled out of its grave. Someone has gotten away with murder.
---
Three Books to Chill Your Bones
by Alvin Schwartz, Patton Oswalt, Melissa McBride, et al.
Remember these? I certainly do. For some kids, the Scary Stories series might've been their first introduction to the kinds of stories that had them peering cautiously around dark corners and tensing up at unknown sounds.
But no matter what age you're reading them now, this audio anthology has withstood the test of time and has become an absolutely essential add for your emerging horror enthusiasts and old hats alike.
Walking corpses, dancing bones, knife-wielding madmen, and narrow escapes from death—they're all here in this chilling collection of ghost stories, collected and retold by folklorist Alvin Schwartz. These horrific tales are guaranteed to raise goosebumps. Let the faint of heart beware.

Pull up a chair, find a hand to hold, and prepare to be horrified.
---
by Karen M. McManus, Sarah Skaer, Kate Reinders, et al.
Any One of Us is Lying fans among your students? Then they won't want to miss this audio thriller from author Karen M. McManus.
Milly, Aubrey, and Jonah Story are cousins, but they barely know each another, and they've never even met their grandmother. Rich and reclusive, she disinherited their parents before they were born. So when they each receive a letter inviting them to work at her island resort for the summer, they're surprised . . . and curious.

Their parents are all clear on one point—not going is not an option. This could be the opportunity to get back into Grandmother's good graces. But when the cousins arrive on the island, it's immediately clear that she has different plans for them. And the longer they stay, the more they realize how mysterious—and dark—their family's past is.

The entire Story family has secrets. Whatever pulled them apart years ago isn't over—and this summer, the cousins will learn everything.

---
BONUS: Books for younger readers, too
Most of the books listed here are most appropriate for readers in high school and older. However, if your elementary and middle school students are looking to join in the fun, we have lots of books to choose from for them as well. Books like:
And so much more! Check them out in OverDrive Marketplace today.

Tags In
Browse blog and media articles