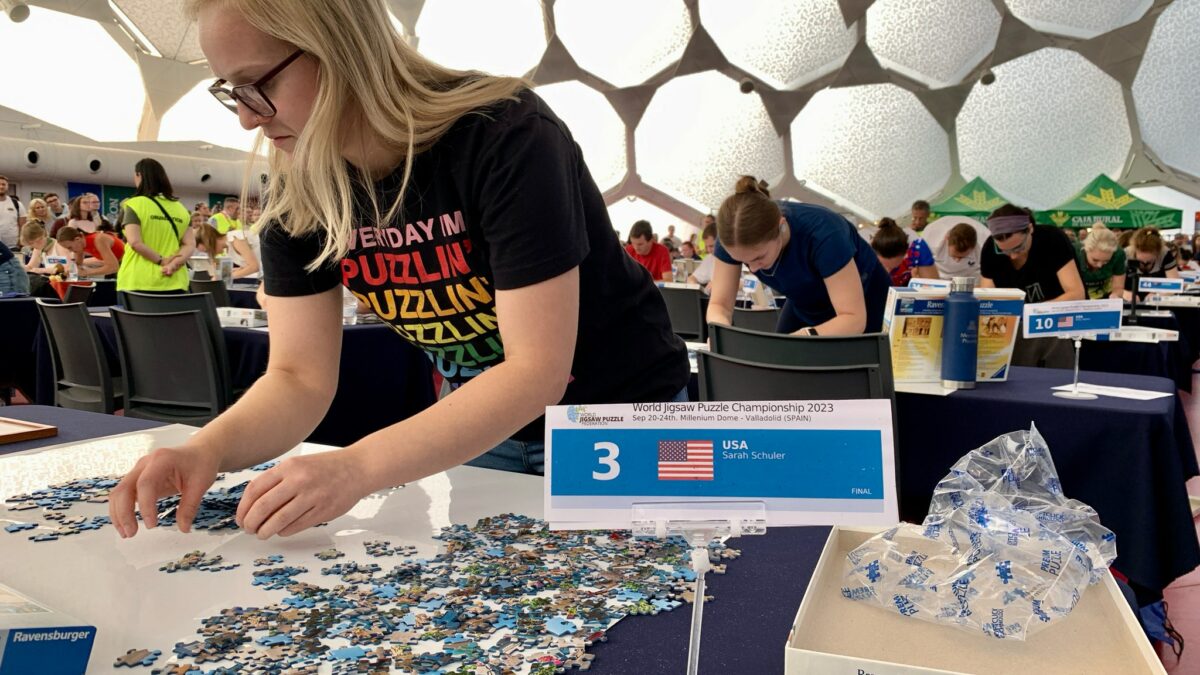 Putting the pieces together on library puzzle programming with competitive puzzler Sarah Schuler
According to family lore, when competitive puzzler Sarah Schuler was 4 or 5, she'd wake up early Saturday mornings before anyone else. By the time her parents woke up, the living room coffee table would be covered with all the 100-piece puzzles she completed while they were still sleeping. 
As an adult, Sarah continues to be a big puzzler, running the Instagram account Sarah Does Puzzles and entering puzzling contests both online and in-person. She also has managed to read over 200 books (so far!) in 2023. The secret to her success? Listening to audiobooks on Libby while completing her puzzles!
"I fell in love with the fact I could puzzle and read at the same time."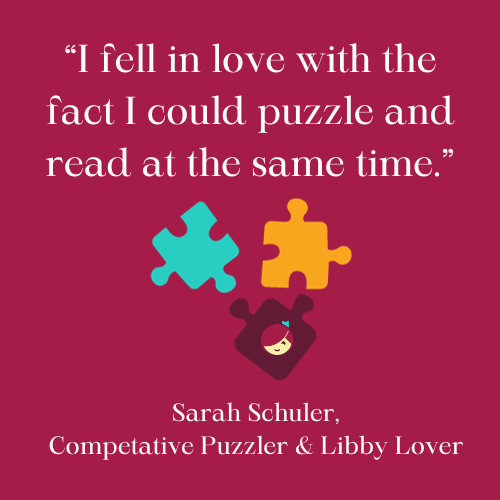 Like many people, Sarah rediscovered her love for reading at the start of the pandemic. "My local library system, Ramsey County Library (MN), did a really good job of making library services available even when patrons couldn't visit the physical building," Sarah said. This included promoting the online resources, which is how Sarah was first introduced to digital audiobooks through Libby. "I fell in love with the fact I could puzzle and read at the same time," she said.
One of Sarah's favorite Libby features is the ability to speed up the pace of an audiobook, which is how she is able to read so many books in a year. She also takes full advantage of the Tags in Libby, with over 500 books tagged as To Be Listened. 
"I also love that there are Smart Tags that show when you have checked out a book," she added. "Sometimes I will have checked out a book at one time and forgotten I had read it. I don't need to check another app or my list, the Smart Tag is already in there telling me." 
The new Notify Me option is another feature Sarah is excited about: "I love that I can hit the little bell icon and three weeks later, it pops up with a notification that the library has purchased the book and it's ready to check out or put on hold." 
A regular library user, Sarah was excited to share ideas for libraries looking to make puzzling more accessible to their communities. National Puzzle Day is January 29, 2024, giving you plenty of time to start prepping! Read on for some ideas on incorporating puzzles into your programming calendars:
Library Puzzle Programming Ideas
Community puzzle
This passive programming idea involves putting a big puzzle out on a community table in the library that folks can work on at their own time and pace when they are in the library. "A lot of puzzle companies will donate puzzles to libraries for that kind of usage," Sarah said.
Host a puzzle exchange
This is a great way for puzzle enthusiasts to get a new-to-them puzzle through a swap! Libraries can set up a day and time for folks to bring puzzles in their boxes and trade with other puzzlers. Another option is to have a dedicated area in the library that people can leave puzzles they no longer want for asynchronous exchanging, like a Free Little Library for puzzles.
Have a puzzle contest as a fundraising option
For Friends groups looking for unique fundraising options, consider a puzzle contest! For a fee, that goes towards the library, teams can compete in a timed competition to see who can solve a puzzle the fastest. Once the event is over, teams can either take home the puzzles, libraries can circulate them, or Friends can add them to book sales. 
Sarah encourages libraries with questions about fundraising through puzzle competitions to contact her through her website.
Virtual puzzle program
 Have several boxes of the same puzzle? Turn it into a virtual take-and-make program! Participants can take a copy of the puzzle home and everyone can meet up on Zoom to work on their puzzles virtually together. 
According to Sarah, in addition to sometimes donating puzzles to libraries, many puzzle companies also offer discounts if puzzles are purchased in bulk. 
Hobby club paired with an audiobook club
From folks doing puzzles together or individual knitting projects to even scrapbooking at the library, this is a great way to get people together for an evening of listening to the same audiobook while working on their hobbies.
Game board night
If you're a library who regularly hosts board game nights at your library, or you want to get started, consider adding puzzles to the list of available activities alongside traditional board games and other table top games.
Tags In
Browse blog and media articles