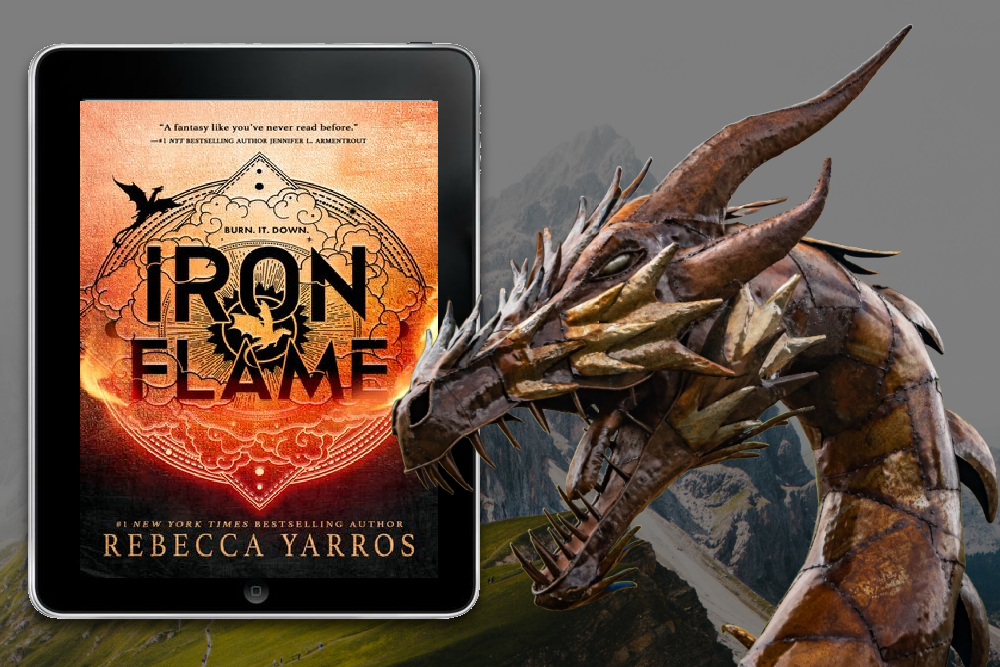 End of Year Sale Spotlight: "Fourth Wing" and "Iron Flame"
Quick: what is one of the most popular book circulating at your library right now? If you answered either Fourth Wing or Iron Flame by Rebecca Yarros, you are not alone. The first two books in the Empyrean series are flying up both the bestseller lists and circulation lists at bookstores and libraries everywhere.  
I feel like the only person left in the world who hasn't read Fourth Wing, and mostly that's because the holds list is so long. Lucky for you (and for readers like me) the audiobook versions of these books are included in our End of Year sale, making now the perfect time to fill some holds for less!  
Save on Fourth Wing here. 
Save Iron Flame here. 
(And if you can't get enough of Rebecca Yarros, listen to her conversation with our own Professional Book Nerds podcast here.)
Save up to 50% on these in-demand titles during our End of Year Sale
Fourth Wing and Iron Flame aren't the only popular titles included in our End of Year Sale. Between now and Dec. 31, you can save up to 50% on thousands of ebooks and audiobooks. It's our biggest sale of the year with something for everyone. Here are a few of our top picks: 
The Covenant of Water
by Abraham Verghese
Selected for Oprah's Book Club, The Covenant of Water spans 70 years and tells the story of three generations of an Indian Christian family living in India. 
Buy here. 
Wool
by Hugh Howey
Recently adapted into the Apple+ series Silo, Hugh Howey's Wool is a dystopian story of a community living in a giant silo due to the toxic environment outside, but things may not be what they appear. 
Buy here. 
Diary of a Wimpy Kid: No Brainer
by Jeff Kinney
The latest installment in Jeff Kinney's long-running juvenile series, No Brainer has Greg faced with saving his crumbling school before it's shuttered for good – and he is sent to a different school than his best friend. 
Buy here. 
Becoming Free Indeed
by Jinger Vuolo
In her memoir, the sixth child in the famous Duggar family of TLC's 19 Kids and Counting and Counting On, recounts how she began to question the unhealthy ideology of her youth and learned to embrace true freedom in Christ. On the heels of the recent Amazon docuseries Shiny Happy People, this is sure to be popular among readers who want to see more into the Duggar family. 
Buy here. 
Explore more in our End of Year Sale
To help you get started shopping our End of Year sale, we have put together some lists for you: 
Are your patrons more interested in visual storytelling? Don't miss out on our Kanopy offer happening now: Libraries* that add Pay Per Use (PPU) will get the 1st full month FREE. But hurry – this offer is only good through December 22nd, 2023!  
Looking for even more ways to maximize your budget at the end of the year? View all of our options to diversity your collection for less here. 
*Kanopy offer valid for new customers and PLUS only customers in the United States and Canada. 
Browse blog and media articles