7 Game of Thrones read alikes: one for each kingdom
Come April 14th, we'll return to Westeros one last time to discover who will win the Game of Thrones. The White Walkers have breached the wall, there is chaos across the Realm and, somehow, it's all coming to a head in the final season of what has become a cultural touchstone like few other shows in history.
Since that trailer recently, we've been as excited as Ben Wyatt on his Iron Throne so we had to create a list to tide us over until season 8 finally arrives. You can find the complete list of Game of Thrones read alikes here. Below you'll find 7 of our favorite choices among the group. One for each realm. Perhaps if the Night King had some of these on audiobook he wouldn't be so grumpy.
Game Of Thrones Read Alikes
Black Leopard, Red Wolf by Marlon James
Described by the author himself and several reviewers as African Game of Thrones this first installment of James' Dark Star trilogy mixes African myth, fantasy, and history together in a tale of mercenaries searching for a missing child. It's a breathtaking saga that will leave you questions who is telling the truth.
The Priory of the Orange Tree by Samantha Shannon
This spellbinding story of dragons, powerful queens, and a battle with an ancient enemy will leave you wondering if it's possible to read an 800+ page book in a single sitting. What Shannon has done with her world building through history and mythology is truly unique. Hear her on a recent episode of our Professional Book Nerds podcast below.
Kill the Farm Boy by Kevin Hearne and Delilah S. Dawson
This irreverent series takes what you think you know about fantasy and flips it on its' head. This Python-esque quest story is perfect for fans of scenes including Brienne and Pod or Tyrion and Bronn. You'll smile and laugh all through this journey to a faraway kingdom. There's always a faraway kingdom.
A Darker Shade of Magic by V.E. Schwab
Fans of the mysterious magic of Qarth will adore V.E.'s creation of multiple Londons, blood magic, and smuggling. Equal parts heist and adventure, the journey through these various lands will properly prepare you for Warlocks and the House of the Undying.
The Fifth Season by N.K. Jemisin
The groundbreaking introduction to The Broken Earth trilogy will usher you into a world of mysterious Earth magic, a complete lack of mercy, and storytelling style that will make you gasp at each major reveal.
Queen of the Tearling by Erika Johansen
If you're rooting for Arya to win the game, you'll adore Queen Kelsea. She is constantly overlooked and underestimated, even while besting her enemies at every turn. She is the definition of a strong, female lead character and her quest to save her kingdom and meet her destiny will have you cheering throughout this journey of self-discovery.
Fire and Blood by George R.R. Martin
It may not be the next book in the series, but this history of the Targaryens is a must read if you want to fully grasp the stakes at hand in the war for Westeros. Can you truly consider yourself a Maester without knowing the history of one of the Realm's greatest houses?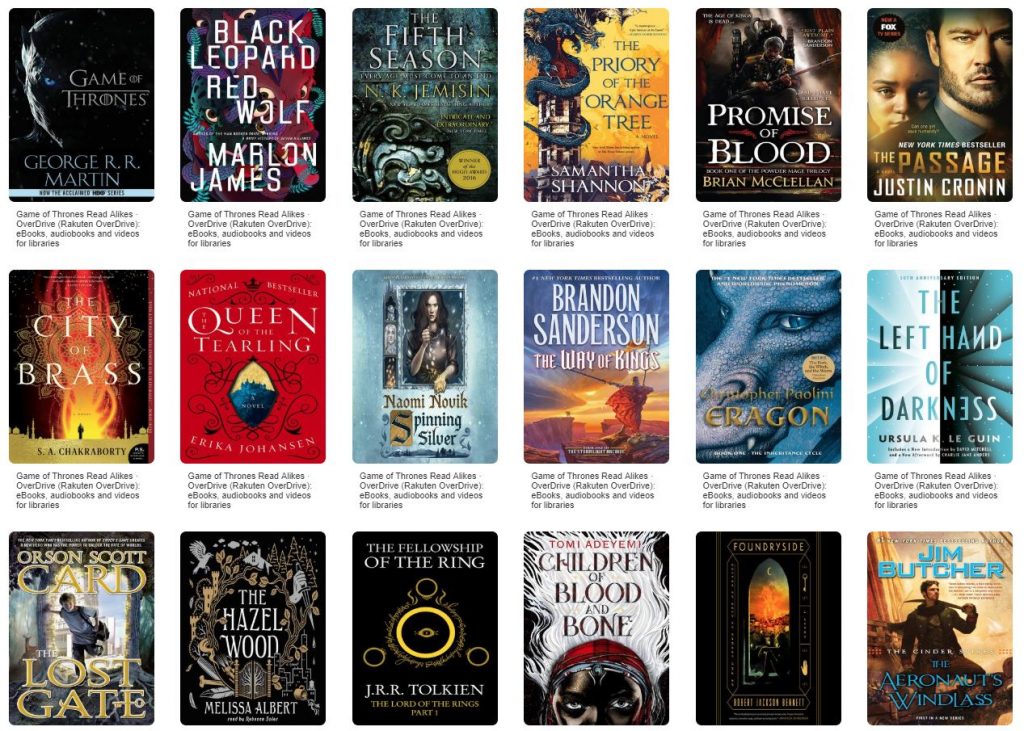 Tags In
Browse blog and media articles