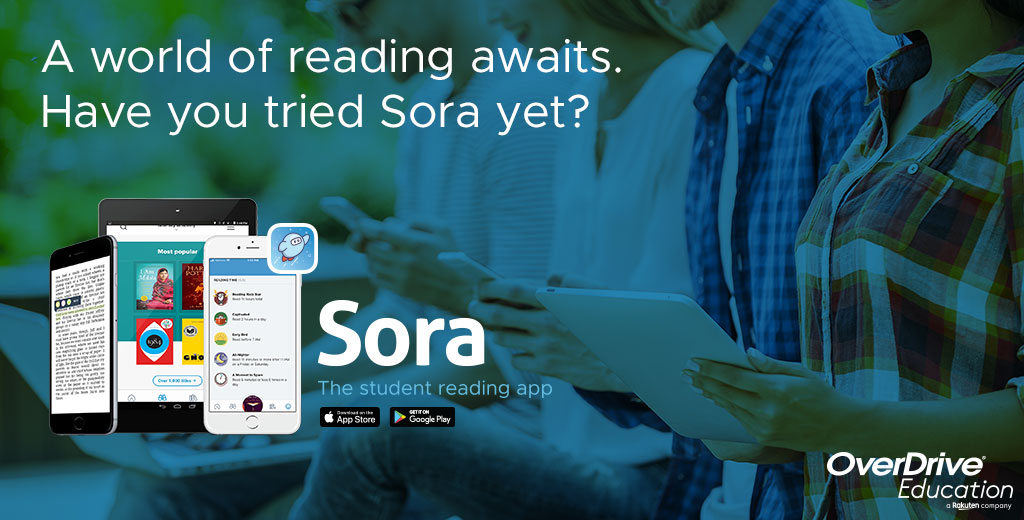 Happy birthday! Celebrating 1 year with Sora
By: Kristen Griesmer, Product Support Specialist
A first birthday is a significant milestone. There is a lot of development, growth and learning that takes place. There are accomplishments and positive moments to reflect on. For our student reading app Sora, the first year was no different! Sora has been impacting schools for a year now, and what an impact that has been! Here are some highlights of the last year with Sora:
The Facts:
5.5M total Sora checkouts!
More than 600,000 users worldwide- and growing!
More than half of school checkouts from OverDrive were made in Sora, after just one school year!
As of April 2019, Sora users were spending almost twice as much time reading per month as they were in September 2018.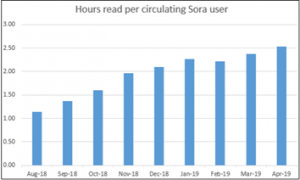 The Features:
As Sora is constantly improving to meet the needs of our students, here are some new features from the last year:
Offline reading in the browser
Deep linking to specific titles and curated collections
Sora Activity to track student reading growth
What to watch for next: Multilingual support!
Events: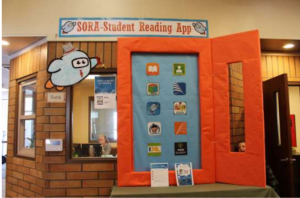 From Feb. 4-March 15, OverDrive ran its School Stars competition, which allows schools to enter their ideas for increasing Sora engagement and promoting digital reading. This year, we had 95 entries for 7 different categories including: Most Creative, Most Original, Best Visual Display, Best in Social Media, Best in Student Participation, Best Video and Best Overall. This competition was a great showcase of teachers and librarians making Sora their own and getting students involved!
The Digital Bookmobile, our high-tech 53-foot-long Toterhome that has interactive learning stations for schools to promote their digital collections, hosted 29 school events around the country and had over 6,500 students on board! These students got to climb aboard the Bookmobile, learn about Sora and practice borrowing books on different devices!
Through Sora, schools were able to partner up with their public libraries to give students access to their public library and school library in one place! This helps promotes lifelong reading and has increased student reading overall! This past year, we were able to facilitate partnerships between 52 library and school partners.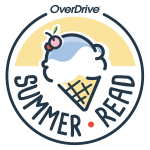 OverDrive Summer Read 2019 has been our most successful summer reading program yet! Through Sora and the increase in titles available, we are approaching 77,000 checkouts! This far surpasses previous years.
Partner Testimonials:

"After the adoption of Sora, our ebook circulation has exploded. My students love Sora. Its badges that create gamification with reading, its user-friendly interface and its overall eye-catching, colorful design — all are features that make reading online accessible and fun for my students. Additionally, when students request a particular title for our media center collection, I ask if they would prefer paper (which will take a week to receive and process) or an ebook (which they can get by the end of the day or by the next morning); many will enthusiastically chose a Sora ebook.
My teachers love Sora's book assignment feature. When a visually impaired student needs an ebook copy (in which text and graphics can easily be enlarged), with a few clicks, the book is reserved for that student. When students quickly finish the first book in a series and are wanting to read the second book, but there aren't enough available in the classroom library, again, within a day, I am able to order and reserve books for students.
Overall, because of Sora, our students are reading more than ever!"
Sarah Sansbury, Media and Educational Technology Instructor, Fulton County Schools (GA)
A few Success Stories:
With the introduction of Sora early last school year, St. John's College in Houghton, South Africa, saw dramatic increases in checkouts — 595% in just one month! The following month saw an additional 111%! Read about it here.
Bend-La Pine Schools (OR) trained ALL of the teachers in their district in Sora in the fall. When comparing year over year, month over month, checkouts have increased. For example, in September 2018 students read 24% more books over September 2017, and in October 2018 26% over October 2017. From 2017 to 2018, they have seen an almost 30% increase in checkouts.
The South Portland School Department in Massachusetts saw a 200% increase after introducing Sora in September!
Sora in the Press:
Here's to many more years of Sora!
Browse blog and media articles