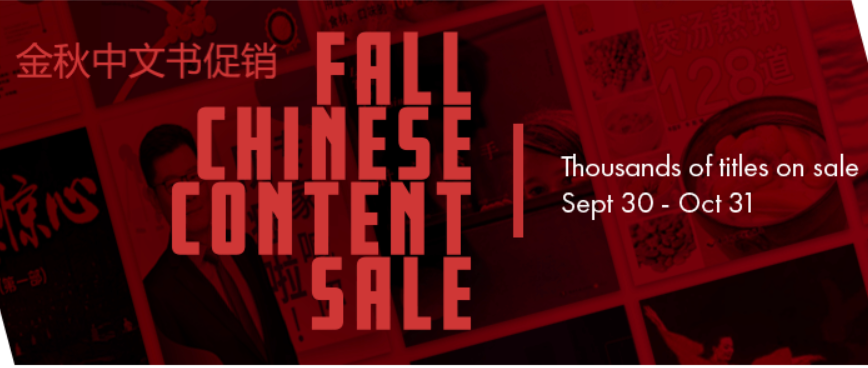 Shop our Chinese Content Sale and be entered to win a free Chinese book club from OverDrive
October 1 is National Day of the People's Republic of China, and 2019 marks the 70th anniversary of the founding of the People's Republic of China. In celebration, we have our Fall Chinese Content Sale! Between now and October 31, you can save up to 50% on thousands of Chinese language titles.
Not sure where to start? We've put together some lists for you, starting with the new releases list. There is also the most popular adult, bestselling juvenile & young adult, and Read-Alongs, offering a taste of contemporary Chinese literature and re-discovering stories that inspired and influenced generations of Chinese readers.
Along with creating categories for you to shop from, we have also broken out the sale items into simplified and traditional Chinese for easier shopping. For those patrons who prefer audiobooks, there is a Mandarin audiobook list as well.

Libraries who shop the sale will be entered into a raffle. We will award three winners with a free Chinese book club for their OverDrive site (winning libraries will be allowed to choose from six titles). The title will be added to your OverDrive site for one month with sim use lending at absolutely no cost to you. This is the first time OverDrive has ever sponsored a Chinese Book Club like this, but you can only win if you shop the sale.
If you win, you will be allowed to choose from one of the following books:
唐诗
Discover Chinese poetry in its golden age and some of the greatest Chinese poets from the Tang dynasty. Available as Read-Along and a must-read for all Chinese learners.
宋氏三姐妹
China's history adores the Soong sisters. While they were not celebrities, the three daughters of Charlie Soong were the most beloved and influential female figures of the early 20th century.
晓肚知肠:肠菌的小心思
Popular science reading on the impact of microorganisms on human health. Awarded 2018 Best Book of China by the Chinese Book Review Association and CCTV.
我是中国节(中英对照)
Bilingual Read-Along that introduces children of all ages on 12 traditional Chinese holidays.
狼国女王(影像青少版)
The raging blizzard continued for four days and nights, the Payadin wolves living near the Riquka Snow Mountain were at the end of their ropes. On the verge of death, a female wolf ascended the throne and the fate of the wolf pack was changed ever since.
亲亲爹娘
A story about Yuanyuan's reunion with her husband in the city, leaving behind her elderly parents, revealing traditional value of supporting the elders and conflicts in modern family relationships in an aging society.
Shop the collection today for your chance to win a free Chinese book club from OverDrive!
Tags In
Browse blog and media articles