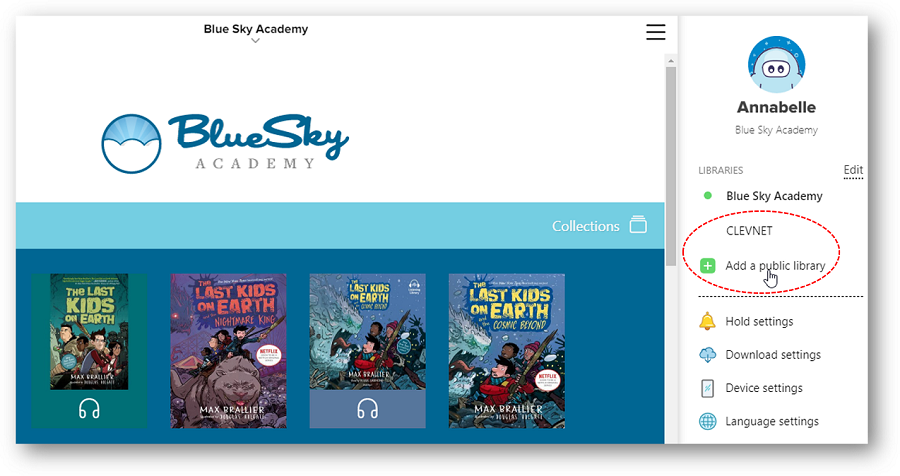 Public library access in Sora just got an upgrade
By: Tiffany Wincek, Product Liaison
Have you heard the news? Thanks to feedback from our partners, the Sora reading app can now dynamically display public library content based on a student's assigned audience level. This update expands the availability of titles from the public library for older students and staff while ensuring that your youngest readers only have access to age-appropriate books.
Adding a public library in Sora
If you're not yet familiar with this feature, Sora enables students to borrow free ebooks and audiobooks from their public library's digital collection.
Students simply select Add a public library from Sora's in-app menu and sign in with a library card or their school credentials (depending on the school's setup) to gain instant access to an expanded collection of content.
According to company data, ebook and audiobook reading increased over 240% when students connected to their public library in Sora (versus students accessing only their school's collection).
Filtering public library content
Sora supports three audience levels for public library ebooks and audiobooks. Users marked as Juvenile can view and borrow only juvenile titles from the public library, while those who are marked as Young Adult can view and borrow both young adult and juvenile titles. General/Adult users can view and borrow general adult, young adult, and juvenile titles.
Public library filtering settings operate independently from any content access levels your school might already have in place, so you'll need to work with your OverDrive team to facilitate an update. If your school opts not to assign user types for the public library, the current Sora experience won't change. Your readers will continue to have access to all juvenile and young adult books from the public library's digital collection.
Contact your Account Manager today to update your settings! And if you'd like to learn more about library and school sharing, please register for our upcoming webinar. Be sure to also check out how Harlandale ISD is teaming up with San Antonio Public Library and Fresno County Public Library is partnering with local schools to expand their access to digital content.
---
About the Author:
Tiffany Wincek, the Product Liaison for OverDrive Education, taught in New York public schools for 10 years prior to joining Team OverDrive. She holds degrees in English, education, and literacy and loves making authentic connections with and providing solutions for OverDrive partners. In her spare time, she enjoys reading, baking, lifting heavy things, and listening to nothing but Nothing But Thieves.
Browse blog and media articles