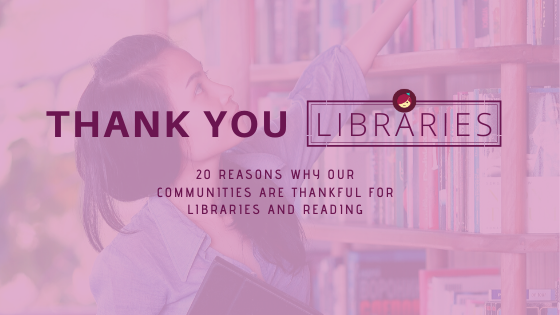 20 reasons our communities are thankful for libraries and reading
By: Rickie Mascia, Social Media Specialist
"This is why I wanted to write this book, to tell about a place I love that doesn't belong to me but feels like it is mine, and how that feels marvelous and exceptional. All the things that are wrong in the world seem conquered by a library's simple unspoken promise: Here I am, please tell me your story; here is my story, please listen."― Susan Orlean, The Library Book
If you have not read The Library Book by Susan Orlean, we strongly recommend you add it to your TBR list. It is the ultimate testament to library love. She seamlessly discusses every caveat of how our libraries strengthen and support our communities. I think it goes without saying, but the OverDrive team is eternally grateful for each and every one of our library and school partners. Our libraries provide communities with a safe space, answers to some of life's most difficult questions and house our favorite stories. We want our partners to know how much not only we love them, but how much their communities do, too. Below are 20 reasons why readers are thankful for reading and the libraries in their communities:
1: "I have loved reading since I was in grade school. I used to read with a flashlight under the blanket when it was lights out time. I find that it is relaxing and no matter what the theme is it carries you away to another dimension no matter if it is fiction or non-fiction. There is just not enough time to read all the exciting books out there."
– Alice Mcateer
2: "Living w/a chronic illness & in a rural area, I can't do most things I used to for enjoyment— hiking, trips to the city, kayaking… I was on virtual bed rest for 6+ mo. W/a constant stream of library materials, I can keep myself engaged & mentally (if not physically) active."
– @SarahEVMorrison
3: "I'm thankful because it was one of the places my mom and I could walk to during the summer that required no money. As a single parent, I'm sure my mom was grateful. As a child, I was grateful for the time spent with my mom. I hope I'm passing along the tradition @ppld." (Pikes Peak Library District)
– @Loverserially
4: "I love reading! My mother loved reading and she encouraged us to read for fun. It's wonderful to sit on my porch and relax with a great book. As an elementary librarian, my super power is I get to share my love of reading with hundreds of children each week. What's your super power!"
– Stormy Cooper
5: "I'm thankful to my library because working part time when my kids were young turned into a lifelong career/obsession! Ty @MattesonLibrary for hiring me way back when! And for all the great reads, audiobooks, programs, movies, friends and everything else!"
– @HCMSreads
6: "Our school libraries give students voice, choice, and access to the materials they need! We strive to represent ALL students in our collection. @RHSBookHangout @Cindythelib @PatriciaaAdkins @Yungahn5 @wlighty @MsMonegatoLib"
– @RoushRoushy
7: "Libraries are a place for communities. It's a place to gather and learn. I love my library. @hsplshigov"
– @dduck59
8: "I love libraries because in my tiny community (less than 500 people) it gives everyone the chance to have access to the rest of the world!"
– @dgreenlynn
9: "Libraries are one of the few ways that disabled people can access audiobooks on a limited budget. When the ability to read print is taken away it leaves a huge void, but Overdrive allows me to access eAudiobooks from the RNIB, Listening Books, and my local library. It may be more difficult to visit my lovely city library now, but thanks to these online services I could escape into stories again!"
– @mlhearingthings
10: "I love the library because it is a safe space to wonder and explore the world without leaving your hometown. ♥️?"
– @zagereads
11: "I love libraries because they are windows to the world! I am so thankful for the free services our local library provides for the community. Additionally, I am very grateful for Overdrive and Libby; these online services offer audiobooks and ebooks to my students who are unable to travel to their local library. ?"
– @chelsey.layne.smith
12: "I loved libraries as a teen because my local library has a teen room to meet with friends or work on school projects. As a college student, the library was a quiet place to study when I came home for a weekend. Now as a mom, the library is where my kiddo and I go to socialize and play. My library hosts weekly themed toddler times with books, dancing, and crafts. They have a therapy dog that visits a few times a month and the kids get to read him books. They also plan free events for every holiday open to everyone in the community. Not to mention all the free books, movies, and video games."
– @sunshower_reads
14: "Adventure awaits in the pages of a book. Libraries do so much for our communities. I love our @livermorelibrary! @jennifermreads is a fantastic YA librarian who made a lasting impression on my then-6th grade daughter (now adult). I love and depend on @overdrive_libs. Thank you for keeping me in books and allowing me to save for retirement.?"
– @a_bookish_monster
15: "Reading opened my mind to adventures I couldn't afford, and our local branch of @columbuslibrary allows me to share my love of books with my two young daughters. Our weekly (sometimes tri weekly ☺️) trips are a highlight. We especially love the book bundles in the children's area that have helped our family open up conversation about diversity, inclusion and self-confidence. Looking forward to taking advantage of the culture passes that offer visits to local museums free of charge! We can not wait for the holiday open house tonight at Main branch! Thank you for being an invaluable community resource."
– @kikigoodvibes
16: "As a child, my parents had limited resources and child care so a safe place like @palosheightspubliclibrary was invaluable to our family. As an adult I love all of the community resources and outreach my neighborhood library @aclibrary provides! My Castro Valley branch always has a space to donate food in the front ❤️"
– @readtotheend
17: I'm thankful for libraries because there is no expectation for me to buy, engage, or do anything. My libraries are really a judgment free zone, plus all the free materials and services!
– @ljmartin
18: "I always loved reading because of the knowledge and escape, but seeing my children develop their own love of reading has been the biggest accomplishment of mine."
-Bobby Decker III
19: "The Southeast branch of the Montgomery county Dayton Metro Library is a good place to go to use the computers and check out books and DVDS. The staff will help with getting you movies or books on interlibrary loan. They are nice and helpful."
– Terry Lee McDaniel-Gilroy
20: "I can use my own imagination. Picture the characters and settings for myself. One reason I try to make sure if there's a movie, I read the book myself. As adults, we rarely get to use our imaginations anymore. In a book, you get to do just that."
– Adrian Bryant Casey
READERS: Don't have a library card (bet ya want one now ) – Download the Libby app to see if your library offers an Instant Digital Library Card. If not, check their website or visit your local branch to sign up for one to start browsing (and borrowing) from their digital collection.
LIBRARY PARTNERS: Be sure to say "Hello good buy" with our end of year sale! It's our BIGGEST sale of the year with savings of up to 50% on over 150,000 titles
Looking for your next great read – Try Libby!
Tags In
Browse blog and media articles