Sora honored with 2019 Academics' Choice Smart Media Award
By: Alecia Mouhanna, Marketing and Communications Specialist
OverDrive is pleased to announce that the Sora student reading app has been honored with a 2019 Academics' Choice Smart Media Award in the mobile app category!
The award is a prestigious seal of educational quality, reserved for top mind-building media and toys. The independent Academics' Choice Awards program and its seal of excellence are recognized worldwide by consumers and educational institutions as a mark of genuinely effective learning tools that stimulate the mind and provide potential for student to fully develop higher-order thinking skills.
Award winners are determined by product-appropriate volunteer reviewers, combined with input from the Academics' Choice Advisory Board. Entries are judged by category (e.g. mobile app, toy, book, website, magazine, etc.), subject area and grade level, and evaluated based on standardized criteria rooted in constructivist learning theory.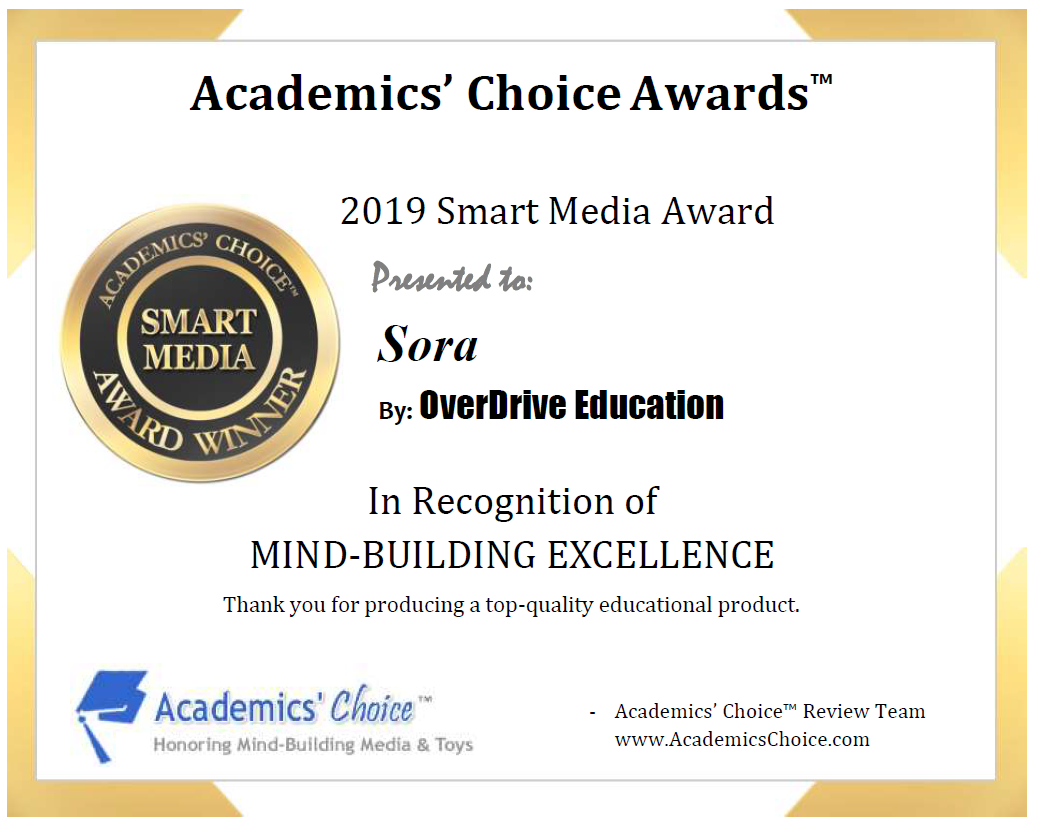 The award marks yet another achievement for Sora, which is now available to 23,000 schools worldwide and was recently named to TIME's 2019 list of Best Inventions. Since 2018, Sora has been responsible for millions of ebook and audiobook checkouts from schools' digital collections, as well as from local public libraries via a groundbreaking in-app feature. Furthermore, data shows that Sora's engaging user experience and inclusive tools have helped not only increase the number of books students read per year, but double the amount of time they spend inside the book reading.
Here's what Academics' Choice Award Reviewers had to say about Sora:
"Borrow, read, and grow! This app and device-agnostic platform gives your students access to thousands of libraries full of books on demand! It promotes reading, making good choices, goal setting/attaining, and develops computer navigational skills."
"This is a neat app to get kids interested in books in that kids can be in charge of the books they read and choose with their own personal app. They can pick from different genres, try new titles that they may have never noticed on the shelves at the library, and they can have a library at home, essentially, with the app on the phone or on a PC…For kids who love to be on computers, this is one way to get them reading again. The screen on a PC for reading is really big and easy to read and navigating the pages is easy. And, you have access to audio books as well as ebooks. The app tracks the student's activity and gives awards for completion of certain goals."
"Sora is a hub for K12 reading and audio books. It was well organized, easy to navigate, and hosts a broad array of books. As a teacher that is currently struggling to balance online reading with material books, I think Sora would be a great addition to my school's learning apps. The site is easy enough to navigate for an elementary aged student, teachers can track reading time and students have their own shelves. It also would be great to have this app loaded on a phone in case you wanted to check in on your students when a computer wasn't available."
---
If you haven't yet discovered Sora, start your free trial today!

Tags In
Browse blog and media articles