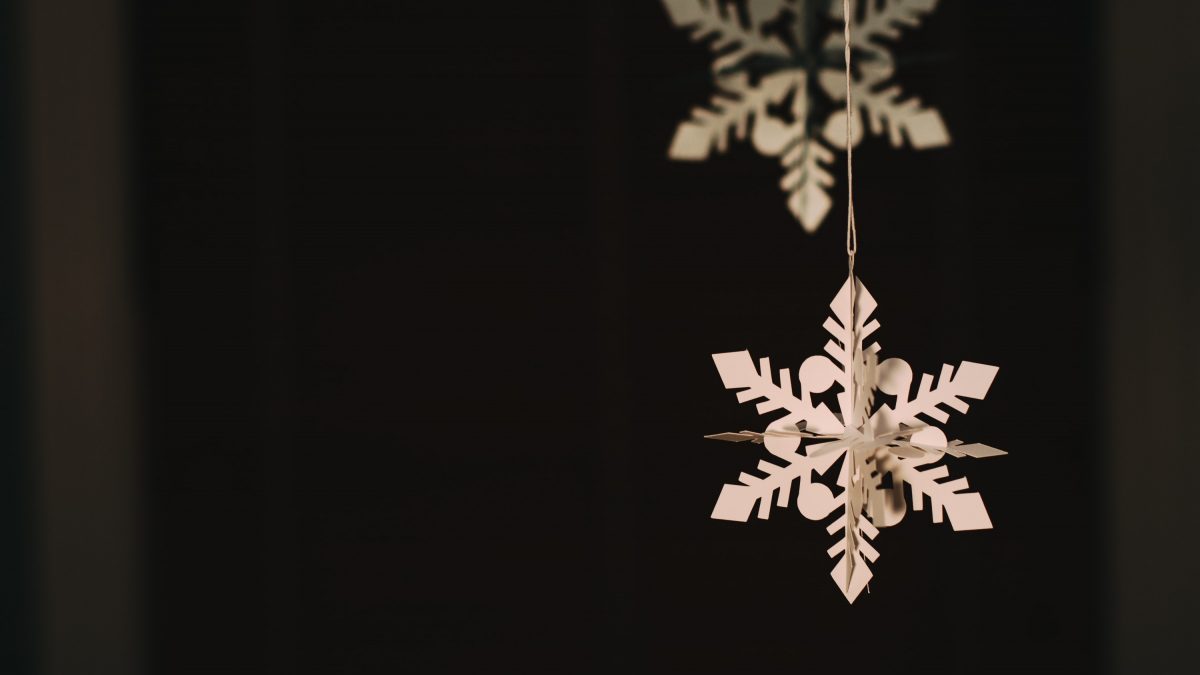 16 reads to spark your holiday spirit
By: Alecia Mouhanna, Marketing and Communications Specialist
The holidays – all of them, and seemingly all at once – have arrived!
With so much daily hustle and bustle surrounding this time of year, it can often seem like it's over before it even began. That's why it's important to remember to carve out smaller, quieter moments to enjoy the things that really matter. Friends, family – and perhaps even a favorite holiday tale.
Some of the best holiday traditions often involve the annual reading of a classic book. But if you're just starting a tradition or two of your own, it can be daunting to try to choose from the seemingly infinite pool of holiday fiction and nonfiction.
That's why, to start you off, we've assembled this list of 16 family-friendly holiday reads to keep your spirits merry and bright long after the sweets have been devoured, the gifts unwrapped and the candles blown out.
---
by Dr. Seuss
"Every Who down in Who-ville liked Christmas a lot . . . but the Grinch, who lived just north of Who-ville, did NOT!"
Not since "'Twas the night before Christmas" has the beginning of a Christmas tale been so instantly recognizable. This heartwarming story about the effects of the Christmas spirit will grow even the coldest and smallest of hearts. Like mistletoe, candy canes, and caroling, the Grinch is a mainstay of the holidays, and his story is the perfect gift for readers young and old.
---
by Jan & Mike Berenstain
In The Berenstain Bears and The Joy of Giving, Brother and Sister Bear can't wait for Christmas and all the presents they'll open. But during the Christmas Eve pageant, something special happens! The Bear cubs learn a very valuable lesson about the joy of giving to others.
---
by Barbara Robinson
Laughs abound in this bestselling Christmas classic by Barbara Robinson! The Best Christmas Pageant Ever follows the outrageous shenanigans of the Herdman siblings, or "the worst kids in the history of the world." The siblings take over the annual Christmas pageant in a hilarious yet heartwarming tale involving the three wise men, a ham, scared shepherds, and six rowdy kids.
---
by Eric A. Kimmel (Author) & Trina Schart Hyman (Illustrator)
A Caldecott Honor book. On the first night of Hanukkah, a weary traveler named Hershel of Ostropol eagerly approaches a village, where plenty of latkes and merriment should warm him. But when he arrives not a single candle is lit. A band of frightful goblins has taken over the synagogue, and the villagers cannot celebrate at all! Hershel vows to help them. Using his wits, the clever trickster faces down one goblin after the next, night after night. But can one man alone save Hanukkah and live to tell the tale?
---
by Angela Shelf Medearis (Author) & Daniel Minter (Author)
In an African village live seven brothers who make life miserable with their constant fighting. When their father dies, he leaves an unusual will: by sundown, the brothers must make gold out of seven spools of thread or they will be turned out as beggars.
---
by Gary Soto (Author) & Ed Martinez (Illustrator)
Christmas Eve started out so perfectly for Maria. Snow had fallen and the streets glittered. Maria's favorite cousins were coming over and she got to help make the tamales for Christmas dinner. It was almost too good to be true when her mother left the kitchen for a moment and Maria got to try on her beautiful diamond ring…This is the story of a treasure thought to be lost in a batch of tamales; of a desperate and funny attempt by Maria and her cousins to eat their way out of trouble; and the warm way a family pulls together to make it a perfect Christmas after all.
---

by Jan Brett
Remember how the Gingerbread Boy is eaten by the fox? Well, not this Gingerbread Baby in a delicious twist to a favorite old tale. It all begins when Matti opens the oven too soon and out jumps a cheeky little Gingerbread Bay. He leads Matti's mother and father, the dog and the cat. And a whole colorful cast of characters on a rollicking chase through the village and into the forest, staying just out of reach, daring them to catch him along the way.
---
by Jeff Guinn
It all started when Jeff Guinn was assigned to write a piece full of little-known facts about Christmas for his paper, The Fort Worth Star-Telegram. A few months later, he received a call from a gentleman who told him that he showed the story to an important friend who didn't think much of it. And who might that be? asked Jeff. The next thing he knew, he was whisked off to the North Pole to meet with this "very important friend," and the rest is, well, as they say, history. An enchanting holiday treasure, The Autobiography of Santa Claus combines solid historical fact with legend to deliver the definitive story of Santa Claus.
---
by Beatrix Potter
The Tailor of Gloucester tells the story of a poor tailor trying to survive in his freezing workshop over a hard winter. He has a terribly important commission to complete for the Mayor of Gloucester's wedding on Christmas Day but is ill and tired, and before long is running out of food and thread, as well as time! How will he possibly complete the beautiful coat and embroidered waistcoat? Luckily, there lives in the dresser, some very kind and very resourceful mice who set about helping the poor tailor with his work. Not only are they exceedingly helpful, but they are also, luckily, far far too clever for the tailor's sly cat, Simpkin.
---
by Uri Shulevitz (narrated by Sean Schemmel)
Snow is a 1998 New York Times Outstanding Book of the Year and a 1999 Caldecott Honor Book. No one thinks one or two snowflakes will amount to anything. Not the man with the hat or the lady with the umbrella. Not even the television or the radio forecasters. But one boy and his dog have faith that the snow will amount to something spectacular, and when flakes start to swirl down on the city, they are also the only ones who know how to truly enjoy it.
---
by Laura Krauss Melmed (Author) & David Slonim (Illustrator)
Kind-hearted Moishe is given a magical frying pan that will produce all the latkes you could wish for—latkes by the dozen, latkes by the hundreds—but only Moishe must use it. Alas, his short-tempered wife, Baila, does not heed the warning.
---
by Juwanda G. Ford
Kwanzaa is Kayla's favorite time of year. But this year, it looks as if a heavy snowstorm will keep her big brother, Khari, from getting home in time for the festivities! Will Khari miss the celebration completely? Or will Kayla and her brother somehow find a way to be together for Kwanzaa?
---
by Edward Hemingway
When a cookie discovers he does NOT taste delicious, he has to find a new identity in this clever picture book twist on a holiday classic. Once upon a time, while Fox was visiting the land of Holiday Treats, a little cookie—still warm from the bakery oven—burst out the front door looking sweet and ready to be devoured. But, as it turns out, Cookie is not as fast as he thinks and when Fox finally catches him, they're both in for a big surprise: Sugar Cookie does not taste delicious—and he's certainly not fit to be eaten. What's an unsavory cookie to do? Is there another option for this not-so-sweet treat?
---
by Chris Van Allsburg
Since its publication in 1985, Chris Van Allsburg's holiday classic has sold millions of copies and has come to signify the essential spirit of Christmas for countless readers. Readers young and old are sure to treasure this inspiring book, which brings to life the magic of Christmas for all who believe.
---
by Ellen Fischer (Author) & Tiphanie Beeke (Illustrator)
Rescued from an animal shelter on the first night of Hanukkah, Latke has trouble learning the house rules. Despite a series of mishaps, he is one Lucky Dog!
Tags In
Browse blog and media articles