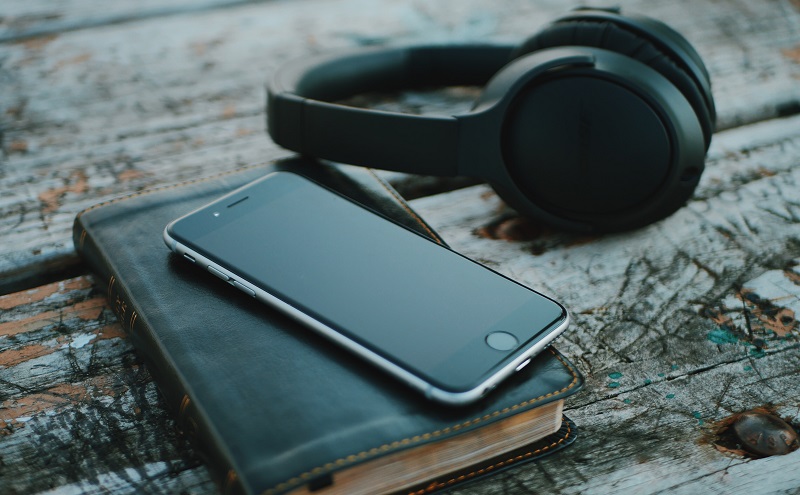 Digital reading: Past, present & future
By: Christina Samek, Outreach Specialist
Almost every single night for the past three months or so, I've read Make Believe Ideas' Five Little Dinosaurs to my son, Sawyer. Sometimes we deviate from the norm and read Lost and Found (my preferred option), but we always end up going back to Dinosaurs in the end. My son is nearly 18 months old, and while I'm not entirely sure he's actually following the hi-jinks of the mischievous dinosaur pals (really, green dinosaur? You can't zip your suitcase so you're just going to bail?), I do know that he curls up in my lap, sits still for a moment and pays attention. It's the best few minutes of my day.
My dad read to me as a little girl. When we exhausted my bookshelf, he made up his own stories. Eventually, he grew tired of maintaining hundreds of different narratives about a knight/princess/girl named Christina, so he (and my sweet mom) took me to the library — opening a whole world of stories and changing my entire life. Reading has shaped who I am, is what led me to pursue writing as a passion and is what lead me here to OverDrive, a company wholly committed to spreading the joys of reading and the magic of libraries. So, as someone who has read exhaustively (and whose son will hopefully do the same), what do I think of digital reading? What do I think of the impact it's had on me, on the world?
Well, like any good storyteller, I'll start at the beginning.
---
Digital reading – Then

THE 1900s: DIGITAL MEDIA IS BORN
All the way back in 1949, Angela Ruiz Robles invented the world's first automatic reader, the precursor to the ereader. Angela, a teacher, saw her students lugging textbooks back and forth and worried for them. In Angela's prototype, sadly never patented, smaller amounts of text were printed onto spools that were operated by compressed air.
Some 20+ years later, the next big thing to follow was, of course, the internet — though not as we know it today.
In 1971, University of Illinois student Michael Hart was credited with inventing the world's very first ebook. Through the university's Materials Research Lab, he'd had access to a huge Xerox mainframe computer, which was connected to ARPAnet (the predecessor to the present-day internet). One day, bored and inspired by the upcoming July 4 holiday, Hart typed and uploaded a downloadable version of the Declaration of Independence to the net and voilà – the world's very first ebook was born. (Hart would later go on to launch Project Gutenberg, an electronic library of thousands of plain text books that still exists today and has been incorporated into OverDrive Marketplace!)
Subsequent to these groundbreaking tech developments, OverDrive was founded in 1986 as a business that converted analog media – including law textbooks – to digital formats saved on diskettes and CD-ROMS – the building blocks for the company we are today.
In 1993, Bibliobytes launched the first website to sell ebooks over the internet. Simon & Schuster followed in 1999 with their imprint, iBooks, making them the first publisher to simultaneously publish print books and ebooks.
THE 2000s: THE DIGITAL REVOLUTION
In 2000, OverDrive established Content Reserve (what we now call OverDrive Marketplace), an ebook and audiobook repository that became the backbone of our digital download platform, which would be launched for public libraries two years later in 2002. Schools received their own exclusive platform in 2007. OverDrive continued to acquire digital content for library and school lending, growing to a collection to millions of titles by the early 2010s.
By early 2014, the percentage of adults who had read an e-book in the past year rose to 28%, up from 17% at the end of 2011, with 50% of Americans owning a dedicated handheld device for reading e-content.
In 2014, to celebrate the rising popularity of ebooks and raise awareness about reading on digital devices, OverDrive created "Read an Ebook Day," recognized across the globe on Sept. 18.
---
Digital Reading – Now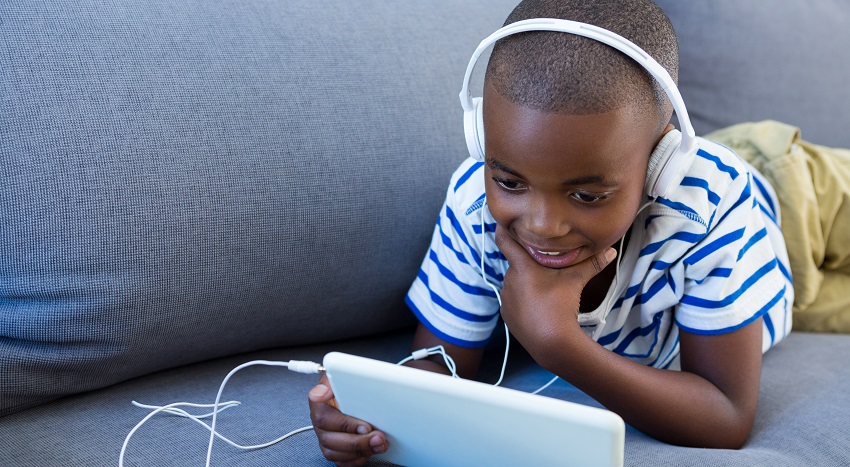 2020: FORGET SCREEN TIME – JUST READ
Today, digital media is so prevalent that concerns about the amount of time kids are spending in front of their devices – "screen time" – are common. But the conversation has begun to shift in light of new research differentiating between active and passive screen time, with some experts suggesting we do away with the term altogether to avoid the associated stigma.
OverDrive's vision is that of a world enlightened by reading. That means we champion reading in all forms, whether the words are on a screen, on a page, or through a speaker.
This is important now more than ever, because reading itself is in crisis. Over 30 million adults in the U.S. can't read, write or do basic math above a third-grade level. Of the 16 million children living in poverty, only one in three has a book in the home. Those children often read at levels four years behind their wealthier classmates and are more likely to join the 8,000 children, on average, who drop out of school every day.
Reading is crucial to our development. Reading aloud to young children strengthens the part of their brain responsible for visual imagery, comprehension and context. Studies have shown that children who were read to at least three times a week showed greater phonemic awareness than their peers who were read to less often. Another study found that reading to very young children lead to decreased levels of aggression, hyperactivity and attention difficulties.
THE FUTURE OF DIGITAL READING
We need reading, in any form. We could argue the pros and cons of print vs. digital all day but the fact is, reading is reading. Whether it's on a screen, on paper or through headphones. All the advancements since 1949 have simply given us another way to foster a love of reading.
For the children who don't have books in their homes, the school library is critical. And the digital library collection is accessible 24/7 from the device in their pocket or the one they access at school.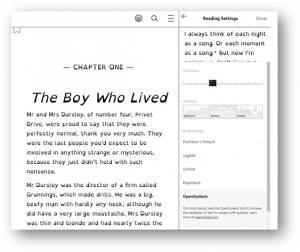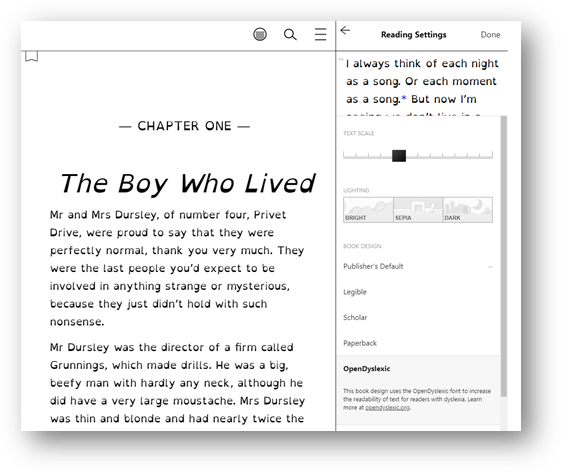 Ebooks and audiobooks offer new ways to discover books for reluctant readers. Digital offers options print books do not — with one tap, readers can enable OpenDyslexic font, highlight sections, make a note and define words all without leaving the book or having to raise their hand. It gives students at any reading level the space to fall in love with reading, with their own settings, in their own time.
No one knows what the future will bring. Since its first iteration, digital reading has changed radically. It will continue to. Whether you're reading the same book aloud every night, the book propped up on your lap or brightly displayed from your Chromebook, or listening to the talented voice actor sounding through your speakers, keep exposing children to reading. It matters.
And me? I'll keep reading any book my son wants to him, however he wants. His future depends on it.
---
About the Author:
Christina Samek is an Outreach Specialist at OverDrive. She develops resources that help K-12 educators grow engagement among their students, faculty and parents. Prior to coming to OverDrive, she worked in the magazine industry. She has a degree in journalism and English literature from Miami University (OH). She loves reading, writing, running, her adorable little boy, her husband, cherry turnovers and her dog, Willow.
Tags In
Browse blog and media articles