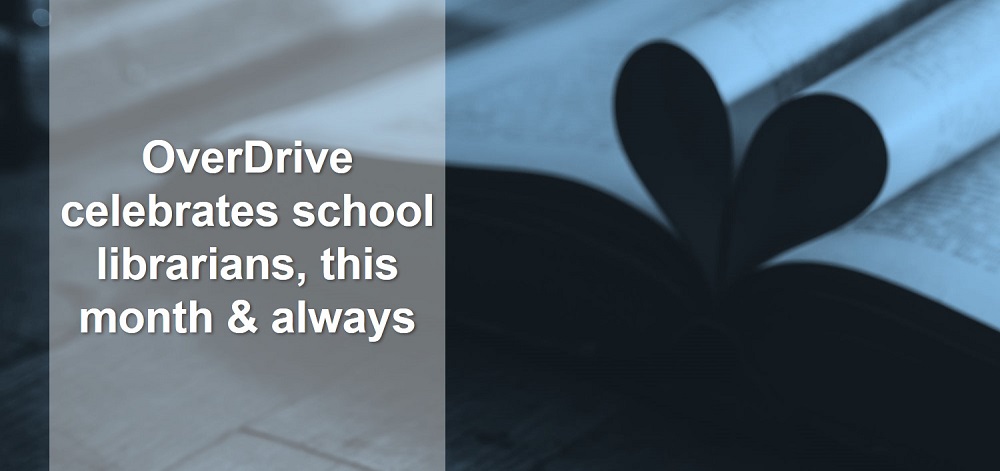 Celebrate school librarians, this month & always
By: Alecia Mouhanna, Marketing & Communications Specialist
I don't think it's an exaggeration to say that the first quarter of this new decade hasn't gone quite like anyone expected. With the world at large in such a state of upheaval, it can sometimes be tough to find a light in all the dark.
However, as winter turns to spring and the sun peeks out from behind the clouds (after a lengthy period of hibernation in some corners of the world…), we hope that it's becoming a bit easier to see – and appreciate – all of the people and things that are important.
At OverDrive, we're incredibly thankful for libraries and librarians – so it feels appropriate that April is National School Library Month, during a time when the importance of school librarians has never been more evident. Because even though the doors to your schools may be closed, that doesn't mean classes aren't in session – which makes a strong, remotely accessible collection managed by expert librarians more vital now than ever before.
Why we love school librarians
When I was in elementary school, the school library represented an escape from the (admittedly very banal) woes of everyday life. Our every-other-week sojourns into the small, book-stuffed school basement quickly became my favorite half-hour – and I could have spent much longer than that rifling through each bookshelf, discovering new worlds to explore.
My school's librarian took note of this, and was always ready with helpful hints and recommendations based on what she knew about my reading habits – which was quite a bit. That, in turn, laid the groundwork for a lifelong love of books and reading. (In fact, she was the one who suggested that I try the first few books of a fairly new – at the time – fantasy series about a boy who discovers that he's a very famous wizard on his eleventh birthday…perhaps you've heard of it?).
My story is just one of many here at OverDrive. We all have a deep appreciation for the significant impact that school librarians can have on students' lives, because we witness your hard work and dedication in action every day.
From striving to build collections that will attract even the most reluctant reader, to supporting your students through their unique challenges and circumstances, to scrambling to meet the sudden and unprecedented obstacle of serving your students' learning needs remotely – we see it all. And because we know how much effort and care you put into nurturing the next generation of readers, it means we're all the more grateful that you've chosen to spend your time and resources with us.
So, as a small token of our appreciation for all that you do, here are a few members of Team OverDrive on why school librarians are so important.
In their own words: Team OverDrive members on school librarians
"This crazy time we're all experiencing has reinforced the fact that school librarians are some of the hardest working – but in many cases underappreciated – educators out there. They're the ones that schools are turning to now for guidance in how to best implement remote learning, and they're the ones making sure students have all the resources they need. We often hear that librarians struggle to secure funding and that theirs is one of the first budgets to be cut. But they fight for everything they have because they know how important it is to offer great books to their students to promote literacy and learning. Their jobs are more important now than ever, and I've never felt more appreciative to be working alongside them in this effort."
– Ben Kowalczyk, Account Manager
---
"It's amazing to me to think of how much the school library has evolved since I was a kid. A constant through these changes has been the dedication of school librarians to ensure their students are exposed to the reading resources they need to thrive. Thanks for being reading champions for generations past, present and future."
– Brian Byrne, Communications Manager
---
"School librarians don't often get the credit they deserve. They're on the front lines advocating for literacy and helping kids realize that reading is fun! In a world of fake news, they're on hand to provide reliable information and help kids to identify misinformation. The librarians serve the entire school – students, teachers, admins and parents!"
– Bailey Hotujac, Account Manager
---
"I'm in awe of school librarians. Their creativity in teaching about and engaging students with digital books never ceases to impress. They bring a tireless dedication, patience and enthusiasm that cannot be appreciated enough!"
– Andi Barnett, Public Relations Specialist
Tags In
Browse blog and media articles