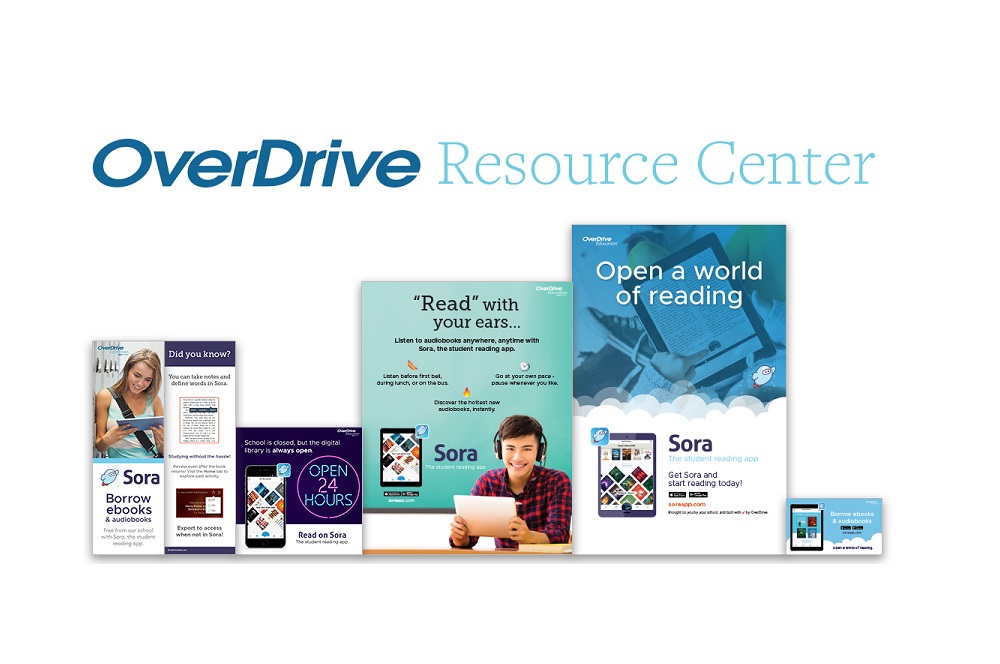 Don't miss these most-downloaded resources for schools
By: Christina Samek, Outreach Specialist
These past few months have been quite an adjustment. I won't say much more than that, as I'm sure you're quite aware. But through it all, we've seen extraordinary things. Our partners have stepped up, as always, to deliver resources to students facing a very strange new normal. It's always been an honor to be your digital content provider, but now more so than ever.
OverDrive's Resource Center saw a significant amount of traffic as we all transitioned to remote working and learning. We were thrilled to see new users discovering the site and finding resources to support their promotion and instruction. We update sections regularly and plan to continue to provide compelling content to support learning, wherever that might be, now and next school year.
Here are the resources that resonated most. Check them out today!
School's closed – but Sora isn't!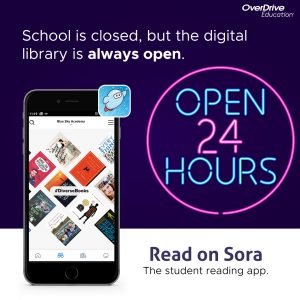 Our School's Closed Kit saw a whopping 1,400 downloads. The kit contains several graphics aimed at promoting Sora's 24/7 availability and unique features. The graphics are particularly engaging because they are evergreen and can be added to websites and social channels now and through out the year.
Another favorite was the Sora Sweet Reads Marketing Kit. The kit features resources promoting the Sora Sweet Reads program, running now through July 31. This annual program is designed for schools in the U.S. and Canada (for our global program, click here) to encourage students to keep reading all year long. Student can enjoy 30 free and simultaneous use juvenile and young adult ebooks (and select audiobooks) like Black Panther, The Strange Case of Oragami Yoda, Big Nate from the Top, The Way You Make Me Feel and more!
Getting back to basics, we saw an influx in downloads of the original Sora Marketing Kit. This kit contains all the essentials you need to promote Sora to your school community: print pieces like posters, a flyer and bookmark, and multi-sized graphics for websites and social channels.
At-home learning
While our promotional kits definitely got some love, our partners also gravitated to our learning tools expertly crafted by our Training Team. The Getting Teachers & Staff Started training kit was a huge hit, with nearly 1,600 downloads! It's an excellent resource for educators and media specialists looking to instruct new staff about Sora with minimal effort and time required. The kit includes one PowerPoint presentation, one checklist and one set of instructions for anyone looking to get started.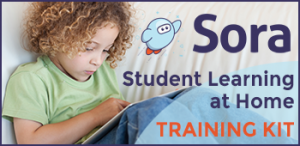 Another much-loved resource was the Student Learning at Home training kit. Much like the staff kit, this one is a great resource to introduce new students to Sora or students using Sora as part of their remote learning for the first time. It contains four student lessons (one early, one middle and two high school), one instructional video link and one getting started handout.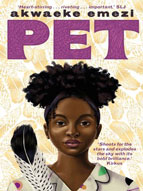 Speaking of at home learning, I have to mention the Student Reading Assessment section of the Resource Center. While new titles are featured monthly, many partners felt inclined to download the recent addition, Pet, by Akwaeke Emezi. The discussion guide provided by Penguin Random House includes themes on LGBTQIA, identity and social commentary.
Updates for June: Audiobook Month, Pride Month & Celebrate Black Authors
If you haven't visited the Resource Center recently, you might have missed all the new updates for June! Be sure to check out kits in honor of Audiobook Month (psst, there's also a sale) and Pride Month.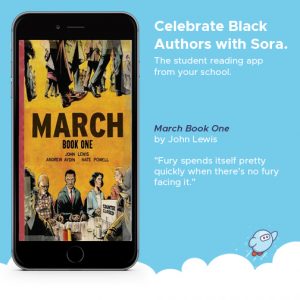 Plus, you can celebrate and amplify Black authors and voices with the Celebrate Black Authors kit, which includes several ready-to-share social graphics – you can download the whole set, or select from the images you'd like to download.
Thank you for continuing to make the job we do so rewarding. We hope the resources above and those to come can continue to assist in all your promotional and instructional needs now and in the future.
---
About the Author:
Christina Samek is an Outreach Specialist at OverDrive. She develops resources that help K-12 educators grow engagement among their students, faculty and parents. Prior to coming to OverDrive, she worked in the magazine industry. She has a degree in journalism and English literature from Miami University (OH). She loves reading, writing, running, her adorable little boy, her husband, cherry turnovers and her dog, Willow.
Tags In
Browse blog and media articles