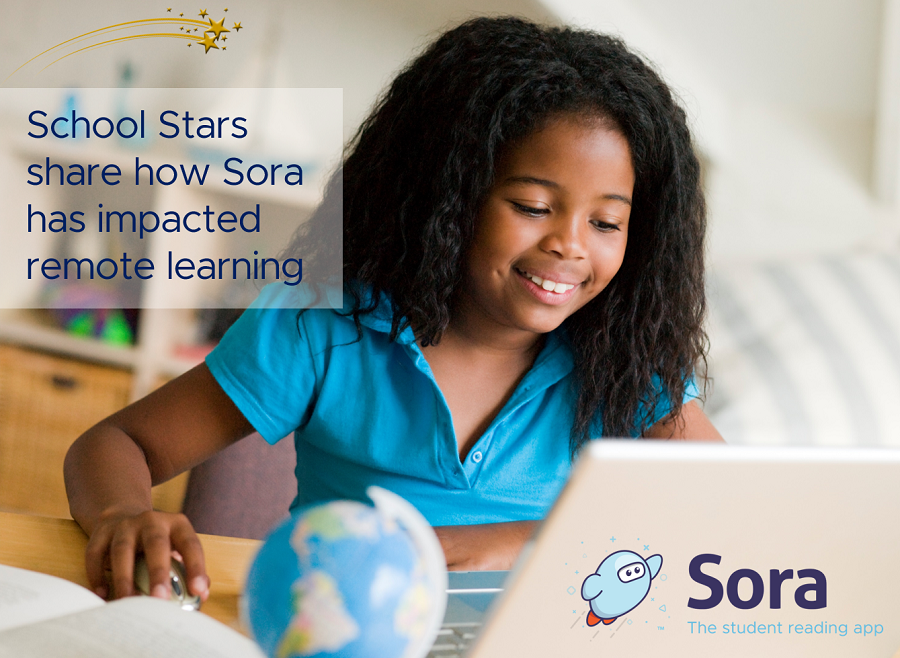 School Stars share how Sora has impacted remote learning
By: Christina Samek, Outreach Specialist
We've talked a lot about remote learning over the past few weeks, whether it's sharing ideas to keep your students engaged or putting together free resources to get you through closures. But as we all adjust to our new normal, we're most interested in hearing from YOU – the educators who have had to rapidly adapt to this new distance learning landscape. We want to hear your stories – how you're coping, how you're overcoming remote teaching challenges with your students and, of course, how the Sora student reading app has played a role in that transition.
We figured the best place to start would be by checking in with our most recent crop of School Stars winners. And they, of course, didn't disappoint.
Check out some of their amazing testimonials below.
Nicole Wohlrab – Eric S. Smith Middle School (NJ)
"Eric S. Smith Middle School launched the Sora app just about one week after our district went into the remote learning format. Needless to say, everyone was in for a big adjustment period. It was not the ideal time to try to teach students how to navigate a new system – especially remotely! Knowing that digital books would be the only way to get books into the hands of our readers for the foreseeable future, we went ahead and launched video tutorials and step-by step instructions to get our students connected and logged in.
Thanks to the easy interface of the Sora app, we were able to get our students set up and checking out books within a few days! The added bonus of connecting our public library consortium (Bergen County Cooperative Library System) to our Sora app has given our students access to thousands more titles…I can tell you about the positive impact Sora has had on our school community, but I thought it would be better to hear it straight from the students and teachers themselves!"
Check out some of their comments and feedback:
"I think Sora is a wonderful app that helps me read without physical books. I can write and highlight directly on the pages so I can see where my jots were without flipping through a notebook. I can even switch what theme I want the book formatted in, which really helps when I'm reading at night. I love that all the books I'm reading are in one place so I don't have to search (the app) every time I want to read. One of my favorite features is being able to search for a word in a book so you can see all instances a word comes up. I've already read like five books without leaving the comfort of my own home. I think Sora is a great app and I will continue using it even after quarantine. I am reading more books now with Sora than I have with regular (print) books."

– Julia Costa
"Sora makes it incredibly easy to read during the quarantine. It acts just like a real library, with the ability to place holds, return books, and renew books, all in an organized manner. While reading, Sora lets students highlight and make notes of the text in the book, just like jotting Post-its in a real book. One of my favorite features of Sora is the badges that it gives to readers once they accomplish something. This motivates me to read more, and makes me happy. Sora is a great app for people who don't have access to their libraries, but still like to read."

– Reyva Poage
Brooke King – Atascocita Middle School (TX)
"I'm so thankful that our district already had Sora before this pandemic. Our students were already familiar with using the app and were able to continue reading without any pause. For the campuses who were not as familiar with Sora, we have had webinars to get them started. I'm also thankful for our partnership with Harris County Public Libraries, which allows our students access to many more books.
The "Always Available" and Sora Sweet Reads titles have helped tremendously. They have allowed me to continue my "Lunch & Lit" book club virtually. Every student has a copy to read before we meet. With Harry Potter and the Sorcerer's Stone always available, our middle schools have joined together for a Harry Potter book club thanks to Alisa Cancino, one of our middle school librarians. It has been a fun collaboration. With all of the wonderful ways we are using Sora, our district has seen the benefits and just announced they will be providing additional funding for class sets, summer reading and more copies of popular titles. We are very excited!"
Barbara Chappell Brown – Sweetwater High School (CA)
Brown keeps it short and to the point: "I promote Sora because it is easy!" And promote it she does! Brown frequently engages with staff and students on Twitter (@Suhilib).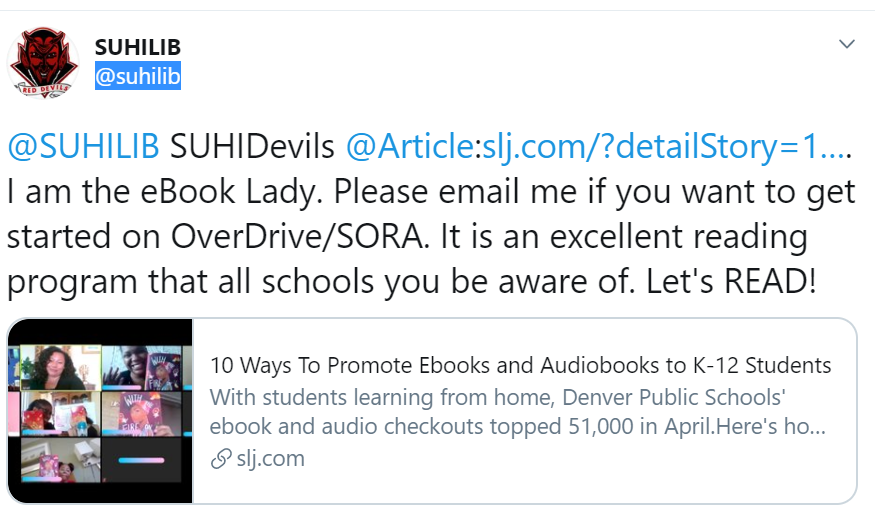 Yung Ahn – Fairfield-Suisun Unified School District (CA)
"We love Sora and especially love the Sora Sweet Reads collection. As soon as shelter-in-place began (mid-March), the first things that teachers were all trying to access were digital class sets of books."
Ahn has been sharing information about Sora Sweet Reads with students and staff, and even added her own bitmoji to the promotion (see below). Cute and informative, all in one!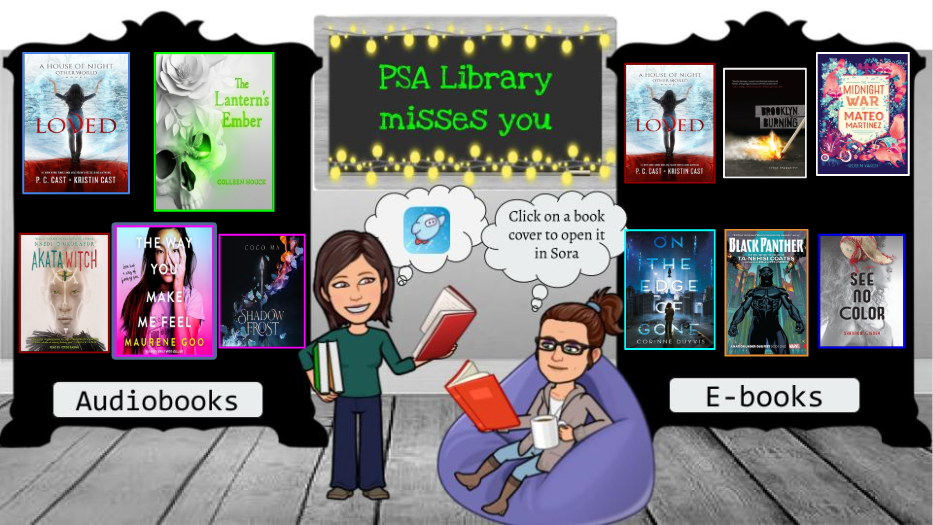 Daniela Prando – World International School Torino (Italy)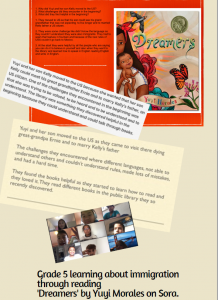 "Sora has helped our teachers and our school during this period of lockdown. We created some "Read Along" and "Our First Books" collections for our younger readers (early year and primary). Sora was also used during classroom activities. (For example,) in the unit for grade 5 about immigration, students and teachers would read the book together via Zoom and share thoughts.
Together with their parents, our younger students would also take pictures with their pets/teddy bears while they were reading their favorite/favourite book in Sora, while older students wrote books on different subjects and published them on Sora (using the Local Content feature). Our students love to see their creations recognized by their families and by all our community.
We love Sora and we are happy to see our collection growing!"
Read more about World International School Torino's remote learning story here.
Keira Pride – Stratford School (CA)
"Throughout the transition to Stratford's distance learning program and the implementation of our story times and readers book club, we have seen a renewed interest in recreational reading through Sora. Since March 15, 2020, more than 8,373 books have been checked out, and Stratford students have spent an incredible 7,221 hours reading in just the past eight weeks! Recreational reading continues to engage our young readers and helps alleviate boredom for students. Thank you, Sora, for being our partner and inspiring the joy of reading in Stratford students."
Want to learn more about Stratford School's transition to distance learning? Check out the full story here.
Sarah Sansbury – River Trail Middle School (GA)
"Without Sora, we could not connect all these students together – and human connection is so vital these days as we continue with social distancing and remote learning."
Sarah is a huge Sora advocate on Twitter, and we couldn't close this story without a tweet from her. I think this one sums it up best: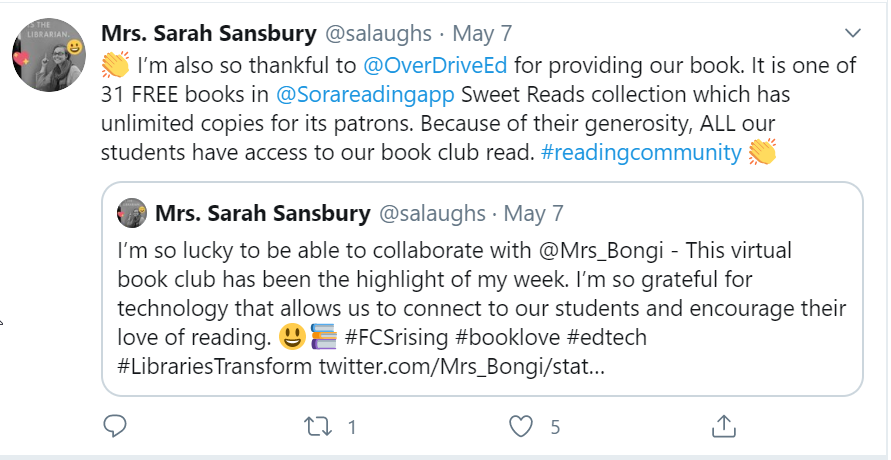 We're so thankful for you, Sarah – and for ALL our school partners. We hope Sora is bringing you some peace of mind and hours of reading enjoyment during these difficult times.
---
About the Author:
Christina Samek is an Outreach Specialist at OverDrive. She develops resources that help K-12 educators grow engagement among their students, faculty and parents. Prior to coming to OverDrive, she worked in the magazine industry. She has a degree in journalism and English literature from Miami University (OH). She loves reading, writing, running, her adorable little boy, her husband, cherry turnovers and her dog, Willow.
Tags In
Browse blog and media articles