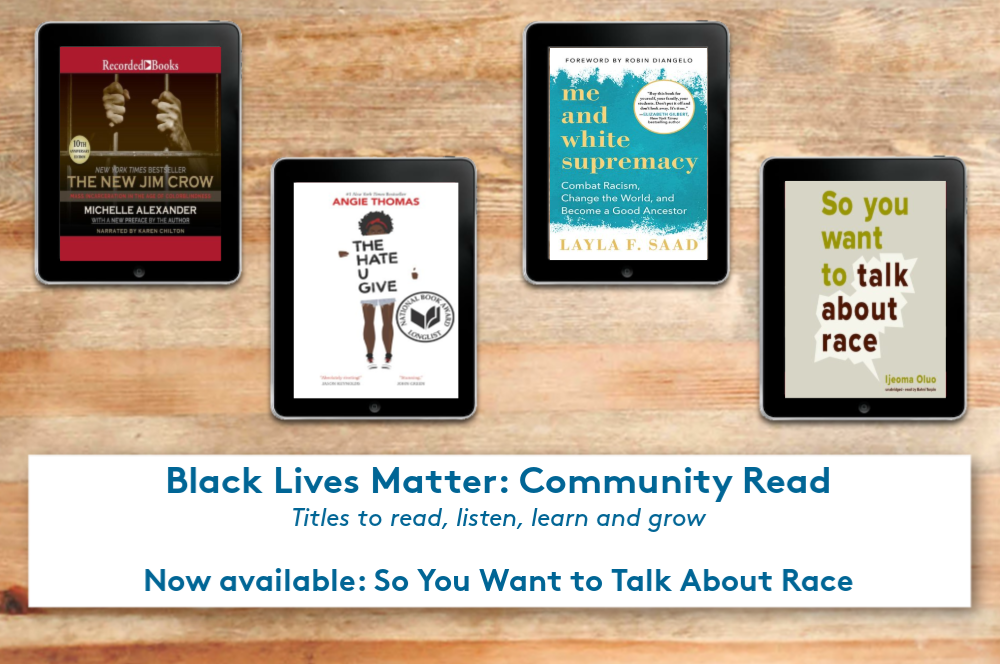 Now available free to libraries without waitlists or holds: audiobook of So You Want to Talk About Race by Ijeoma Oluo
By: Jill Grunenwald, Marketing and Communications Specialist
New: So You Want to Talk About Race by Ijeoma Oluo now available
Knowing that our library partners want to provide antiracism and social justice titles to their patrons, we are launching a new program called Black Lives Matter: Community Read. The titles included in our Black Lives Matter: Community Read program are focused on #ownvoices and are intended to help patrons read, listen, learn and grow as they expand their knowledge of race relations. Donated by OverDrive, titles will be made available to United States and Canada libraries at no cost and patrons will be able to check these books out without waistlist or holds.
Current titles:
Monday, June 15 – July 15
The New Jim Crow: Mass Incarceration in the Age of Colorblindness by Michelle Alexander
Audiobook simultaneous use
Named one of the Most Influential Books of the Last 20 Years by the Chronicle of Higher Education and winner of the NAACP Image Award for Nonfiction, Alexander's critically acclaimed book examines racial disparities through the lens of mass incarceration.
Monday, June 22 – July 19
The Hate U Give by Angie Thomas
Ebook and audiobook simultaneous use
This bestselling young adult novel follows Starr, a Black teenager caught between the poor neighborhood where she lives and the fancy suburban prep school she attends. The uneasy balance between these two worlds is shattered when Starr witnesses the fatal shooting of her unarmed best friend Khalil at the hands of a police officer.
Monday, June 22 – July 12
Me and White Supremacy: Combat Racism, Change the World, and Become a Good Ancestor by Layla F Saad
Ebook simultaneous use
This New York Times bestseller published in January 2020 is based on the viral #meandwhitesupremacy Instagram challenge and provides a framework for readers to dismantle the privilege within themselves.
Monday, June 29 – July 26
So You Want to Talk About Race by Ijeoma Oluo
Audiobook simultaneous use
Ijeoma Oluo guides readers of all races through subjects ranging from intersectionality and affirmative action to "model minorities" in an attempt to make the seemingly impossible possible: honest conversations about race and racism, and how they exist in almost every aspect of American life.
About Black Lives Matter: Community Read
The titles included in Black Lives Matter: Community Read are provided at no cost to your library and you will be able to use these like any other OverDrive titles for curation or promotion in various reading rooms, featured lists, and other programs at your discretion. Be sure to also visit the Resource Center to get a marketing kit that you can use to promote these titles to your community.
Library partners looking to add more Black Lives Matter and social justice-related titles to their digital collections can visit Marketplace, where our team has put together lists for you to shop from. These lists include age-appropriate titles for kids and young adults so you can help everyone in your community read, listen, learn and grow.
We are actively working with publishers to seek other low or no-cost options, including price reductions for bestsellers, low cost cost-per-circ options to fill holds, and other ways to help you meet demand. As content is added to support the Black Lives Matter: Community Read program we'll keep you updated through this post and social media. Please follow OverDrive on our blog, Twitter and Facebook to stay up-to-date.
Tags In
Browse blog and media articles