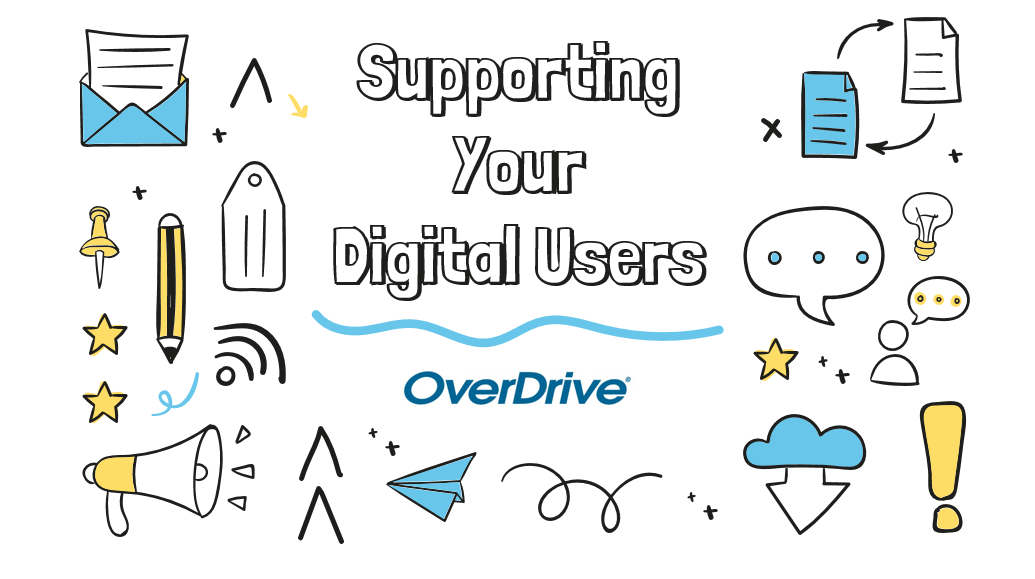 How to Support Your Digital Users
by Lauren Bajda, Training Specialist
On June 30th, OverDrive hosted a live webinar, Supporting Your Digital Users. What began as a partner request (shout-out to Timberland Regional Library, WA), turned into an interactive webinar with best practices to support your digital users. In case you missed it, here are the top takeaways from the session. To watch the full webinar on-demand, visit OverDrive's Resource Center.
Libby
Our Technical Support team gathered the top questions from end-users in Libby. Use the solutions below to assist your users with the top three questions today. To learn about the rest, be sure to watch the full webinar.
1. Why can't I sign in?
Library cards can appear invalid for a variety of reasons. A user may enter the incorrect library card number or pin/password, their library card may be expired, or there may be a block on their account due to overdue materials or late fees.
Solution – End users need to contact your library directly. Some users will take this error message to OverDrive's Support team, but it is the library that is able to look up this information. This can come from an online form, link on your library's site to pay fees/fines, etc.
2. How do I manage my library card and libraries?
In Libby, users can add multiple libraries and library cards. A user may ask how they can find more libraries, how they can switch between libraries, how they can add multiple library cards, and how they can remove old library cards.
Solution – Go to Libby menu > Your Libraries, everything can be found there!
To manage library cards, tap See Library Cards. Here, users can add additional cards or tap Actions on the card to rename or remove the card from the app.
To search for additional libraries, tap Add A Library. Users will be prompted to enter a valid library card when they go to borrow or place a hold.
Once the user has added all their libraries and cards, they can switch between libraries by returning to Libby menu > Your Libraries, and tapping the library they'd like to visit from the saved list.
For more information, watch our how-to video.
3. How can I suggest a feature in Libby?
One of the most common reasons a user will contact OverDrive's Support team is to share their ideas about Libby. Some ideas that have made their way into the app include dark mode, native language, and notifications!
Solution – Go to Libby menu > Help & support > Get Some Help > Here's an idea for a feature! then tap Suggestion Box. We love hearing suggestions from our users and are always looking for ways to innovate.
Marketplace
Our Product Support team reviewed Marketplace tools that you can use on the back end to support your digital users (Marketplace permission: End-user support).
1. Merge User IDs
When a user loses their library card or is issued a new one, staff can merge their checkouts, holds, and wish list so they don't have to start from scratch. Success!
Solution – Go to Support > End-user support > Merge User IDs and input the user's original and new ID. Note – some form of activity must be on the new user ID for it to appear in our system (loan, hold, recommendation). Click Merge and the user will automatically see their original account activity when they sign in with their new card. For more information, watch our how-to video.
2. View User Support Requests
Curious about the types of questions your users have submitted to OverDrive? With the View User Support Requests feature, staff can see just that.
Solution – Go to Support > End-user support > View User Support Requests and click Run new report. Narrow down your results by time period, issue category, or request status. The report will provide you with valuable insights that you can take back to your team. (User data is anonymized.)
3. Support Cases
If you're unable to solve an end-user issue, or you have a question about invoicing or authentication, you can contact us directly.
Solution – Go to Support > Contact us.
Technical support will help with just about any issue, including end-user questions and problems with Marketplace.
Invoicing support will help with payments, content credit, and other invoicing issues.
Authentication support will help you solve problems with signing into your OverDrive collection and authenticating your end users.
If you have any questions regarding your OverDrive service as a whole, you can always contact your Account Manager.
Help Resources
Bookmark these websites to quickly resolve your digital users' questions.
To learn more, watch the full webinar today. You'll gain valuable insights from OverDrive experts, build your confidence in answering end-user questions, and save time in the long run.
Tags In
Browse blog and media articles