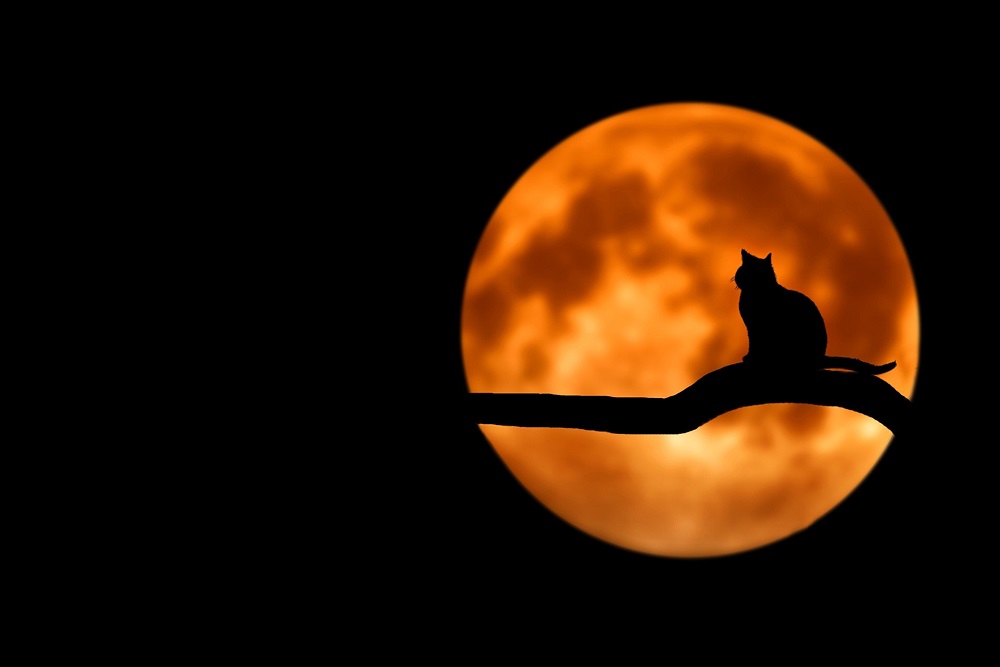 Something wicked this way comes: 13 Hallo-week reading recs from Team OverDrive
By: Sydney Kalnay, Training Manager and Demon Hunter…and Gatherer
This has been a tough year for spooky get-togethers. We are stuck inside, away from friends and family, and it turns out cats are notoriously bad at light as a feather, stiff as a board. What's a social witch to do? Solo Ouija board time is never a good idea and there's always that one guy on Zoom who forgets to mute his mic when the coven leader is calling the corners. Rude.
My suggestion is a spine-tingling virtual book club. Read a new release or old favorite with your best witchy buds, and then gather round the ol' virtual cauldron (or virtual faerie circle or…wait, are you contagious during astral projection?) and dish the dirt.
Here's what some of my favorite OverDrivers suggest this SPOOKY SZN (as the kids are calling it).
---
Howl's Moving Castle by Diana Wynne Jones! I was originally interested in reading it after watching Studio Ghibli's 2004 animated movie. I had enjoyed the movie, but felt the ending was rushed and knew there had to be more. I was so right! The movie followed the story somewhat, but the book had more magic and mystery and intrigue to it! It gave a rich backstory to Howl and his motivations to be a wizard, plus Sofie's character was much more well-rounded.
Sarah January – UI/UX Developer and Zombie Hunter
---
The Rules of Magic by Alice Hoffman. I loved this prequel to the Practical Magic, because I fell in love with the characters. It's really a sweet coming-of-age story of love wrapped in the slightly spooky trappings of witchcraft.
Children of Blood and Bone by Tomi Adeyemi. This book isn't technically about witches, but there is lots of magic in it, and a few very witchy, strong female characters learning to control their powers. I fell in love with the exciting, magical world where this book is set.
Hillary Brown – Product Support Specialist and Fae Queen
---
I have high expectations when it comes to novels about witches. I feel this stems from my early exposure to the Owens and Halliwell sisters. The Worldwalker series by Josephine Angelini may not be a novel about witch sisters, but it does not disappoint! Lily Proctor (yes, there's relation to the historical family) finds herself in New Salem (an alternate Salem to the one that we know), which is run by Lillian Proctor (Lily's identical other self in this alternate universe). New Salem is a mixture of the historical, modern, and futuristic, where science is outlawed and punishable by hanging. It's also overrun by monsters, and Lily may be its only hope for avoiding nuclear destruction.
Andrea Sieracki – Product Support Specialist and Mad Scientist
---
I like the Old Kingdom YA series (Garth Nix), about dead people who refuse to stay dead! The series' young female protagonists take on the duty to battle ghosts and spooky magical creatures in world where it's always Halloween.
Angela Arnold – General Manager of Education Sales and Oracle
---
One of the very first witchy books I fell in love with was Little Witch by Anna Elizabeth Bennett. I remember being in second or third grade and discovering it on one of the shelves of my elementary school library. That library is where I first fell in love with libraries, and where my desire to work with books stems from. One day, I decided not to go outside for recess, and instead spent it inside reading "Little Witch." I can recall identifying with Minx, the nine-year-old little witch, because she was so different from everyone else. As the rest of the students were outside playing, I was reading this magical little book that made me feel like it was okay to be different. I reread it occasionally, and it still makes my inner-little witch glow with self-appreciation.
A more recent witchy book I fell in love with is Magic for Liars by Sarah Gailey. This book is so important because it covers very difficult topics that often don't get their fair amount of room on the page. "Magic for Liars" is a noir detective story that takes place at a modern-day high school for magical students, referred to as mages. As Ivy, a non-magic detective, works her way through a murder case at the school, she rekindles a friendship with her estranged magical sister, finds love and discovers that being magic doesn't make everything easier through the lives of very tormented teenagers. This book touches my soul; I truly feel like it is a friend, and I have found myself hugging the hardcover I purchased after listening to the audiobook. I highly recommend it to anyone who values truth, even when it is hard.
Shannon Carroll – Product Support Specialist and Demogorgon Tamer
---
Like a lot of people, the Harry Potter series by J.K Rowling introduced me to love a witchcraft and magic. After that, it was Willow Rosenberg in the acclaimed cult-classic TV series Buffy the Vampire Slayer, for whom my sweet lab mix is named. But, it's Morgan leFay (and her various iterations) who has my heart. She is shrouded in mystery. In almost all the stories she appears in, she's a grey character—sometimes good, sometimes horribly bad—but Arthurian legend cannot exist without her. I love a modern take on Morgan, a feminist icon with more power than any man with a puny sword and suggest The Mists of Avalon by Marion Zimmer Bradley. In it, she begins as all powerful women do, as just a girl who was sick of hearing "no".
Christina Samek – Outreach Specialist and Banshee of the Western Wood
---
I'm going to go with Wicked by Gregory Maguire. I thought it was fresh and imaginative to show things from the Wicked Witch's point of view. Like the tagline says – "So much happened before Dorothy dropped in."
Dan Sanek – Marketing & Communications Specialist and Hellraiser
---
Oooooo, girl. Can I take you back to the 1990s, when a young girl and her best friend became obsessed with the works of one Lisa Jane Smith? If you were to head to the basement of my parents' home, you could find yourself some very well-worn, broken-spined L.J. Smith novels, including one series, The Secret Circle. The romance, the magic, the New England setting– as a young, confused teen, I loved it all. These books got me into crystals and astrology and spending way too much time staring at the moon, hoping there was some connection to the supernatural buried deep inside me. For me, books with magic and witches gave me a chance to imagine that I could be something more, too. Many of the characters are women, which gave me a chance to see strong female characters stretching themselves beyond the limits to get what (and sometimes who) they desired. I love L.J. Smith and all her books, and the fantastical worlds that she created for me. I also refuse to talk about any television adaptations of any of the books. Hard. Stop.
Meghan Volchko – Collection Development Manager and Chimeric Czarina
---
I am currently rereading the Throne of Glass series by Sarah J. Maas, which introduced me to some serious witches. Immortal, impossibly beautiful, and deadly. Teeth and nails of iron that can be brought to the surface and used at will. Terrifying. One of the most fearsome witches of all has a wildflower sniffing, stargazing (so not fearsome beast-like) wyvern to fly on, which I immediately fell in love with. (The wyvern, that is. Not the witch.)
Lisa Mullins – Training Specialist and Headless Horsewoman
---
With all these recommendations, I am sure to spend a lot less time devouring souls and a lot more time devouring my TBR pile. Next up for me? A Deadly Education by Naomi Novik.
What about you, fellow creatures of the night?
---
About the authors:
Sydney, the Training Manager at OverDrive, is deeply engaged with technology and education as a creator, developer, and instructor. She has designed and delivered classroom training and e-learning experiences for diverse audiences since 2002. She loves pretending she's already a famous YA novelist, spending time with her cat-familiar, and listening to nothing but Nothing But Thieves.
Tags In
Browse blog and media articles