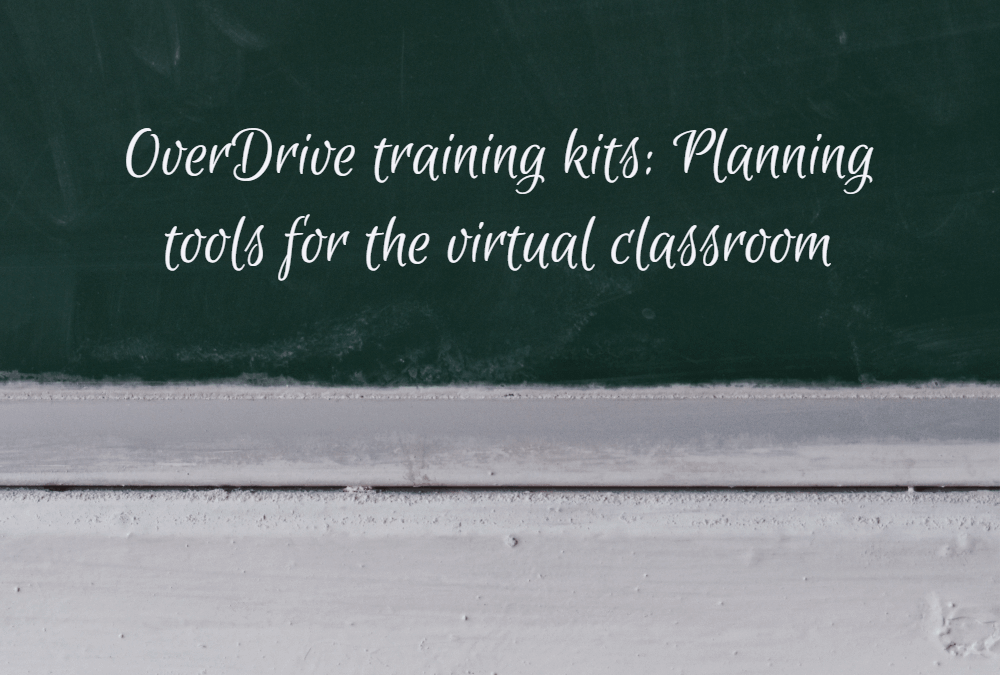 OverDrive training kits: Planning tools for the virtual classroom
By: Gabby Cregan, Training Specialist and Sydney Kalnay, Training Manager
Is this the new normal? The 2020 school year has been like nothing we've seen before in our careers as educators. Virtual trainings, digital materials, social media updates — we're constantly innovating to try and meet the needs our students, our curriculum and our testing (and safety!) requirements. Having to be present and fluid in and out of the classroom – and on- and off-screen – can take its toll, and many of us are scrambling to provide the best learning opportunities for our students in this new environment.
Your OverDrive trainers are here to help! In response to the growing needs of our K-12 school partners, we've been hard at work developing training kits to use in your classrooms and school libraries. Our kits are for educators across all tech skill levels, whether you're already building your own class websites or still looking for the "mute" button in Zoom.
Each kit contains a variety of resources: lesson plans, graphics, videos and more to help you bring digital content into your live lessons, homework, assessments or library units.
What are some ways you can use an OverDrive training kit?
Get more students and staff "up to speed" with the Sora student reading app or Marketplace
Introduce or leverage Sora and ebooks and audiobooks in the classroom
Learn ways to adopt Sora for your classes
Provide resources for teachers to implement Sora
Discover fresh ideas for how students can get the most out of your digital collection
Offer quick activities for students or emergency lesson plans when you're out of the office
We hope our kits will provide a much-needed boost or time-saving option for those who need it.
Here are a few of our favorite kits:
Need quick access to full training plans? Our Virtual Learning Kit – Sora and Marketplace contains easy-to-follow e-learning modules for educators AND students, a PDF of instructions and five accompanying promotional graphics.
Looking for lessons? The Comics Across the Curriculum kit contains a plan for using comics and graphic novels in the classroom, while our Annotations with Sora kit shows students how to create and export notes from Sora and ways to incorporate them into assignments. Both kits have accompanying graphics, instructions and more.
Want to learn more about digital reading tools? The Curriculum Kit – Reading to Learn with Sora is a fantastic resource for diving deep into Sora as a reading tool with students of all ages, containing five instructional video links with accompanying PDF handouts.
Hosting your own Sora training for staff or students? We have fully customizable PowerPoint presentations for each audience, along with suggested demonstration outlines in our PowerPoint Kits: Sora for Students and Sora for Educators.
OverDrive is thrilled to offer these kits for you to use with your whole school community, whether you're virtual or conducting in-person classes. Be sure to bookmark our training kits page on the OverDrive Resource Center so you can check back and download all the new kits as they become available.
One final note: Unsure how to download and open a .ZIP file, the format in which these kits appear? Here is a blog post containing a quick tutorial video on how to download, extract (or "unzip") the file and use all the great materials contained within.
---
About the Authors
Gabby is a Training Specialist at OverDrive, where she creates and implements trainings for K-12 school partners. Her experience in education includes teaching middle school math and studying the processes of learning and motivation in the field of educational psychology. Spending time near the water, attending concerts, and laughing with friends are her favorite ways to spend a day.
Sydney, the Training Manager at OverDrive, is deeply engaged with technology and education as a creator, developer, and instructor. She has designed and delivered classroom training and e-learning experiences for diverse audiences since 2002. She loves pretending she's already a famous YA novelist, spending time with her cat-familiar, and listening to nothing but Nothing But Thieves.
Tags In
Browse blog and media articles