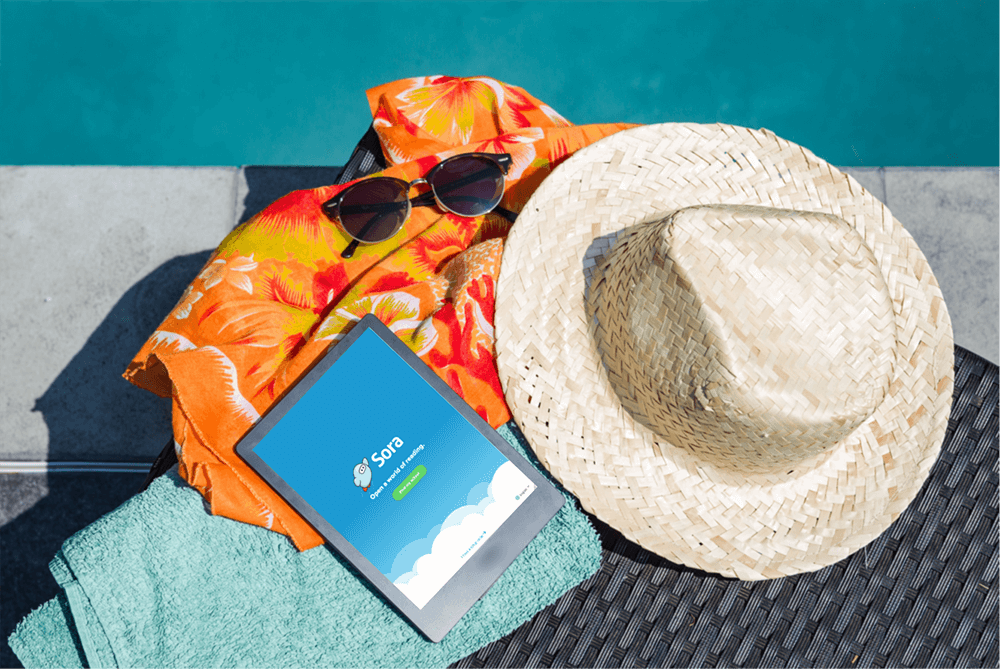 PD by the pool: Easy lesson planning for maximum summer fun
By: Sydney Kalnay, Training Manager
For those of us in the Northern Hemisphere*, it's getting hotter and many schools are on break (or about to be). After a school year like no other, the last thing we want to be thinking about is tackling next year's challenges. These summer months should be reserved for thick paperbacks, damp with pool water, and tall, icy glasses of iced tea or lemonade, dripping with condensation. Interrupting that summer vibe with rubrics and benchmarks and seating charts is, frankly, rude.
Never fear: the unofficial motto of OverDrive's Training team is "we do the work so you don't have to", so we've compiled a list of simple ways to go digital this fall, using products you already love and resources you won't have to modify. We want you to enjoy your well-deserved time off while looking ahead to next year with little to no stress. In fact, we hope reading this post is something you can finish before your next layer of SPF 50 soaks in.
(*PS – if you're on the other side of the world, we've got you! Save these tips for when the warm winds roll your way again or use them to plan for your snow days or school closures, or anytime you need a brain break!)
Brush up on your Sora skills – anywhere!
Did you know we offer monthly, recurring live webinars on getting started with Sora, the student reading app? These 60-minute sessions are full of tips, tricks and great ideas about using Sora as a discovery, curriculum or classroom management tool. Getting Started with Sora is great for beginners and advanced Sora users alike, and we offer live Q&A with our K-12 experts at every session. Our webinars are recorded, too, so if you can't make it to a live, you can watch on-demand—from any device. Who doesn't love PD from the patio?
Turn an analog plan digital
Looking to refresh an existing lesson plan and align it with your school's technology requirements? Download one of our Training Kits. These kits are great for getting your students started with Sora or for deeper engagement with digital reading. We've got options for using digital comics and graphic novels, switching from traditional notetaking styles like Cornell notes to digital annotations, and there's even an option for getting your youngest students up to speed with our Sora for PK-3 Readers kit. We even make the planning process easy with this short-and-sweet blog post: OverDrive training kits: Planning tools for the virtual classroom.
The sweetest reads are on Sora
And speaking of easy, have you checked out the Sora Sweet Reads program* yet? Running from May 5 through Aug. 20, discover an incredible collection of free and simultaneous-use juvenile and young adult ebooks (and select audiobooks). You can even tweet about the program poolside! Scroll down the page to Resources and use any of our pre-made social media graphics, then follow up with one of our student worksheets for an easy lesson plan this fall! Sora Sweet Reads is great for encouraging students to keep reading all year long.
(*Global friends, we have a program for you, too!)
Whatever your plans this summer—spending time with your family, taking a staycation, or discovering your next great read—we want to make sure you have time to enjoy it. Leave the stress behind and let us help you plan for back to school—digitally.
---
About the author:
Sydney, the Training Manager at OverDrive, is deeply engaged with technology and education as a creator, developer, and instructor. She has designed and delivered classroom training and e-learning experiences for diverse audiences since 2002. She loves pretending she's already a famous YA novelist, spending time with her cat-familiar, and listening to nothing but Nothing But Thieves.
Tags In
Browse blog and media articles