Event preview: The Sora app at #ISTELive 21
ISTELive 21 (June 26-30) is just around the corner, and we can't wait for you to see what's in store!
Attending this year's virtual event? Be sure to stop by our booth to learn all about Sora, OverDrive's student reading app. You'll learn how our partners are using ebooks and audiobooks both inside and outside the classroom to engage their students and staff. Plus, each session offers a chance to win a Samsung Galaxy Tablet – so don't miss out!
Keep reading to get a sneak peek at our partner presentations, then view the full lineup and add sessions to your calendar here.
How my district is expanding access to reading
Sunday, June 27, 2:30 p.m. EST
Cherokee County School District's (GA) Keara Rubin will share her success expanding student reading options by utilizing the Metered Access Concurrent User and Class Set lending models and Sora's "Add a library" feature. She'll also share how her district highlights student work by publishing it in their digital collection.
Introducing Sora with a 1:1 implementation & managing digital demand
Monday, June 28, 1:30 p.m. EST
Don't miss Angela Daigle (Millard Public Schools in NE) recount how she introduced Sora as part of her district's 1:1 implementation process. Angela will explore how she has leveraged librarian input and usage data to inform her digital collection development, and how the district is budgeting to meet increasing demand.
Building equitable & inclusive collections
Tuesday, June 29, 1:00 p.m. EST
Denise Hull of the Aurora Public Schools (CO) will provide best practices for building equitable and inclusive collections through curation. Attendees will learn how to leverage curated collections to promote diversity, as remote learning and curriculum support tools, to encourage pleasure reading and facilitate special interests including professional development.
Creative ways we're promoting Sora
Tuesday, June 29, 4:30 p.m. EST
Bathroom barcodes. Themed social media posts. Integration with the morning announcements. Chagrin Falls Exempted Village Schools (OH) Library Media Specialist Angie Jameson will explore all this and more as she shares the creative ways she's promoting Sora to her students and boosting reading engagement.
Establishing a successful statewide digital collection
Wednesday, June 30, 1:30 p.m. EST
What goes in to creating a successful statewide digital collection? Join Joanna Dunn, Shelley Lau and Dianne Pang of the Hawaii Department of Education to find out. They'll cover the set-up process, funding, how the digital collection's incorporated into the library, promotion, the benefits of district-level collections and much more.
---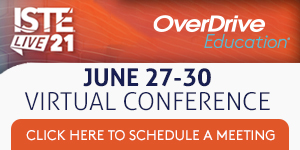 To learn more about our partner presentations at ISTELive 21, follow this link. Or, schedule a meeting to chat with the Sora team!
We can't wait to see you there!
Tags In
Browse blog and media articles