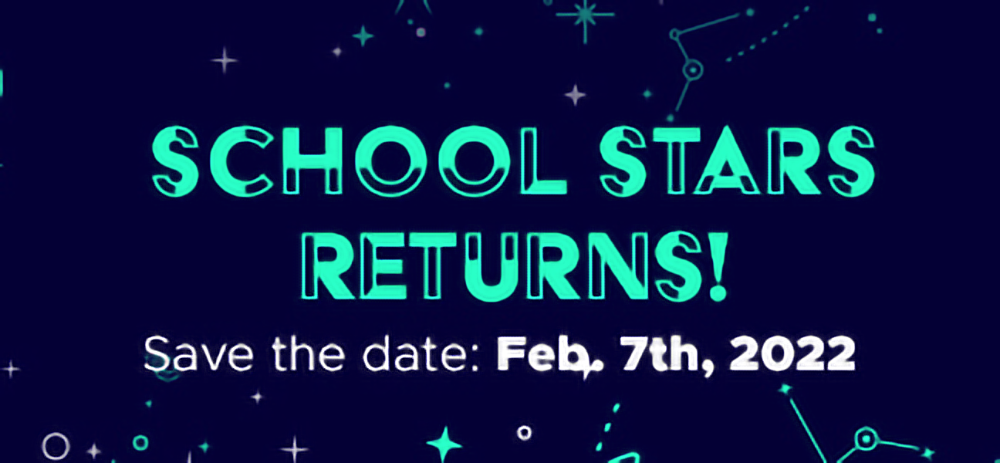 School Stars Returns Feb. 7, 2022!
By: Christina Samek, Outreach Specialist
I always look forward to the new year. It brings new beginnings and new commitments. Often, new shows launch (and that's great for me, because I think over the last two years I've watched all of Netflix. All of it).
It also means that School Stars is right around the corner — and that's one of my favorite things.
Unfamiliar with School Stars? It launched in 2018 as a means to celebrate how school partners across the globe share the joys of reading with their school community. It returns in 2022 with the same mission: How do YOU promote Sora in your school?
The program launches Feb. 7, 2022 and runs through Mar. 31. For this year's contest, we're looking for how your school has promoted Sora during the 2021-2022 school year (August 2021 – Time of entry). Past entries have included videos, visual displays and bulletin boards, social media campaigns, and student created resources. We hope you aim for the stars, but know that no promotion is too small!
Categories & Prizes
This year we're looking for entries in the categories below:
Best in Visual/Virtual Display or Bulletin Board – Share your best visual or virtual Sora display! This could be anything from a compelling Zoom background, a unique bulletin board or a towering display case.
Best in Social Media – Share how you promoted Sora across your social networks (Facebook, Twitter, Instagram, etc.) to engage your school community.
Best Community Engagement – Have you spread the word about Sora beyond the classroom? Share how you've achieved the buy-in of your community; whether it's through partnering with the local library (Public Library CONNECT), encouraging parent/guardian engagement, increasing faculty and administrator support, etc., we want to hear about it!
Best use of Sora in Supporting Learning Objectives – Show us how you've integrated Sora into the classroom to support your learning objectives with lessons, activities or assignments.
Best Student Ambassador – Sora's impact on your students fuels our work. Share how your students have shown their love for Sora and spread that love to their classmates. Maybe it was a fun video, presentation or even a song! We welcome all mediums.
And of course…Best Overall.
We'll be rewarding you for your efforts. Here are the 2022 prizes (awarded in content credit):
Grand Prize (one winner) : $2,500 USD
Best in Category (five winners): $500 USD
Best in Category – Runner Up (five winners): $250 USD
Additionally, we'll select five lucky entrants to receive $100 USD simply for entering!
Check out the School Stars website for more, including a countdown to launch day and last year's winning entries!
Good luck! You're all stars to me.
---
About the Author:
Christina Samek is an Outreach Specialist at OverDrive. She develops resources that help K-12 educators grow engagement among their students, faculty and parents. Prior to coming to OverDrive, she worked in the magazine industry. She has a degree in journalism and English literature from Miami University (OH). She loves reading, writing, running, her adorable little boy, her husband, cherry turnovers and her dog, Willow.
Tags In
Browse blog and media articles