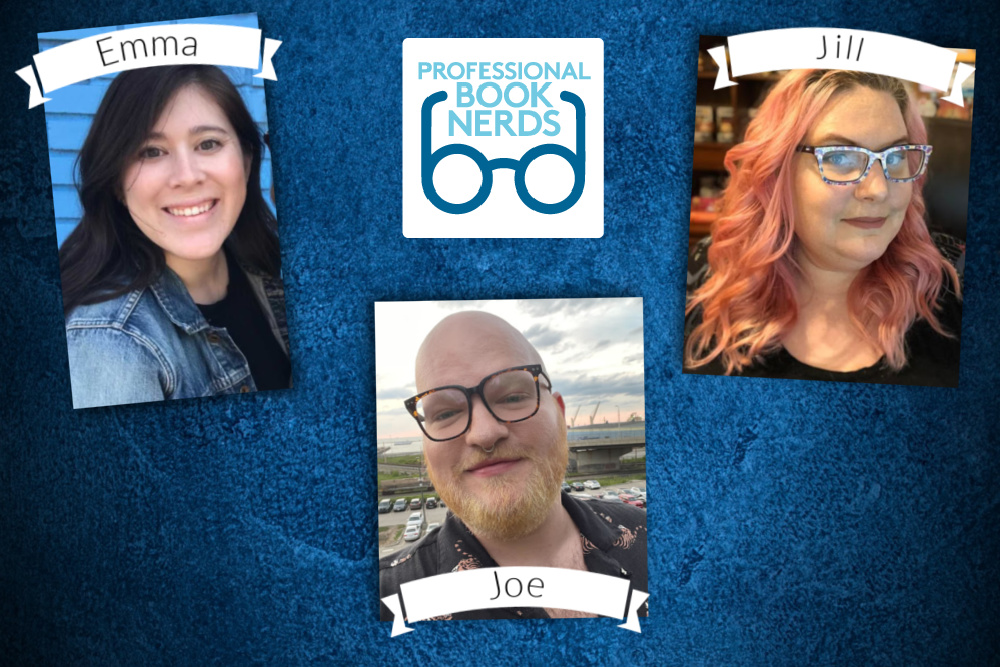 Meet the new Professional Book Nerds!
Since its inception in 2015, OverDrive's podcast Professional Book Nerds (PBN) has produced over 600 episodes and 1.8 million downloads, and has interviewed hundreds of authors ranging from debut authors to Pultizer Prize winners. PBN records, edits and produces two episodes a week: Mondays are author interviews and Thursdays are book chats where we discuss recent reads or focus on a genre. Once a month we also have a books preview episode where we feature upcoming titles from the next month that we're most looking forward to reading.
We are excited to announce PBN is starting a new chapter with the addition of our newest podcast co-hosts, Emma Dwyer and Joe Skelley. They will be joining PBN creator and long-time co-host, Jill Grunenwald.
For more information about the podcast, visit www.professionalbooknerds.com
Meet the Professional Book Nerds
Emma Dwyer
Emma is a Product Trainer at OverDrive, where she provides support to Public Library partners. Prior to joining the Training team, Emma was an OverDrive Content Specialist and she brings a great deal of library, publishing, and book knowledge to her current team. She enjoys reading British fiction, mystery, thriller, romance, and young adult. Her favorite book is House of Earth and Blood by Sarah J. Maas. When Emma is not working, she enjoys reading, Love Island (UK), travel (to warmer climates like her home state of California), coffee, and hanging out with her family and dog.
Jill Grunenwald
Jill is the creator of the Professional Book Nerds podcast and currently works as a Marketing and Communications Specialist for OverDrive. In her role, she produces communication support for public library, OverDrive Professional, OverDrive Academic, and international partners. She also manages the OverDrive blog and writes longform content for Perspectives on Reading. She received her MLIS from University of Kentucky and worked in public, academic, special, and a prison library before joining OverDrive. When she isn't working, Jill enjoys writing romance novels, reading books across all genres, binge-watching Mad Men for the millionth time, and hanging out with her husband and their four cats.
Joe Skelley
Joe manages the tour route for OverDrive's Digital Bookmobile and helps introduce new users to Libby through virtual training sessions. In college, Joe majored in promotional communications, and Literature reading everything from the classics to local authors in his hometown of Cleveland, Ohio. Joe has always been a lover of reading and passionate about the library, and his first job was as a library page, shelving books at the Cuyahoga County Public Library. He enjoys reading African American literature, Mystery & Thriller, True Crime, Magical Realism, a touch of fantasy, Dystopian reads, and the broad genre of young adult fiction. Joe's favorite book is Beloved by Toni Morrison. When he isn't working, Joe loves to listen to audiobooks and podcasts, watch YouTube, get too involved in a DIY project, and play with his Boston Terrier, Roscoe.
Listen in
Get to know Joe and Emma and their reading tastes a little bit more in our Jan. 24 episode, and see what books the whole team is looking forward to reading in our February Book Picks episode.
Tags In
Browse blog and media articles