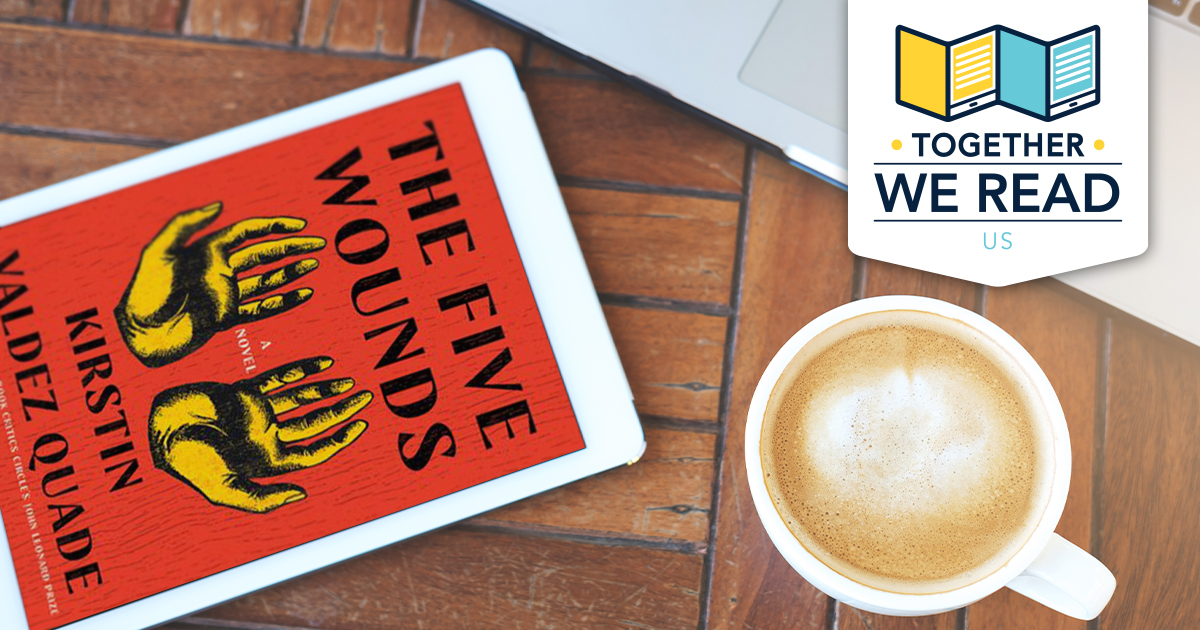 The next Together We Read US is almost here!
It's time for another Together We Read for our United States libraries! This digital book club is an opportunity for users at United States libraries to read the same book at the same time. From Feb. 7 – 21, 2022, readers will be able to checkout the ebook and audiobook of The Five Wounds by Kirstin Valdez Quade without waitlist or holds.
US libraries looking to promote The Five Wounds can visit the TWR US website to download our marketing materials, including a discussion guide. There will also be a discussion board on the website where readers can go to discuss The Five Wounds after they finished the book!
About The Five Wounds
It's Holy Week in the small town of Las Penas, New Mexico, and thirty-three-year-old unemployed Amadeo Padilla has been given the part of Jesus in the Good Friday procession. He is preparing feverishly for this role when his fifteen-year-old daughter Angel shows up pregnant on his doorstep and disrupts his plans for personal redemption. With weeks to go until her due date, tough, ebullient Angel has fled her mother's house, setting her life on a startling new path.
Vivid, tender, funny, and beautifully rendered, The Five Wounds spans the baby's first year as five generations of the Padilla family converge: Amadeo's mother, Yolanda, reeling from a recent discovery; Angel's mother, Marissa, whom Angel isn't speaking to; and disapproving Tíve, Yolanda's uncle and keeper of the family's history. Each brings expectations that Amadeo, who often solves his problems with a beer in his hand, doesn't think he can live up to.
The Five Wounds is a miraculous debut novel from a writer whose stories have been hailed as "legitimate masterpieces" (New York Times). Kirstin Valdez Quade conjures characters that will linger long after the final page, bringing to life their struggles to parent children they may not be equipped to save.
Tags In
Browse blog and media articles