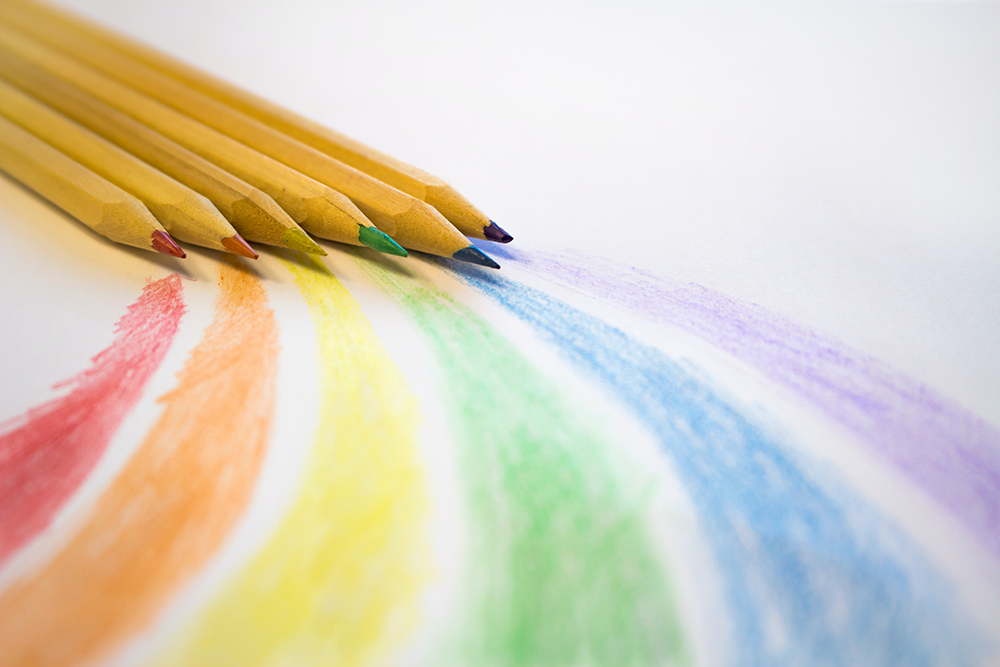 Move full STEAM into spring!
By: Emily Tara, Product Support Specialist
Some say March comes in like a lion and goes out like a lamb. To me, March has always been a time for first glimpses of spring: snow starting to turn to rain, and on special days, you can look up and start to see rainbows in the sky.
Rainbows are such a fun way to incorporate art (and a little magic) into STEM learning at any age. Older students may see a rainbow in science class and learn about light refraction and prisms, while younger students may see a rainbow during class centers and learn about color names and mixing colors.
As the air around us warms and summer break begins to beckon, I invite you to open up a window and incorporate some color into your classroom.
Do your students have a favorite color? A crayon they pull out of the box over and over (and over) again? This adorable picture book takes on the perspective of the crayons as we learn that they would love some diversity in their life! Blue is tired of being just used for water and sky, white longs to be seen on the paper, while red just needs a break!

Project – Challenge your students to color a picture using every color in their crayon box.
Discuss – Do you have a favorite color? Which crayon do you use the most when you color? Explain your picture to us. Which color was the most challenging to use?
Sometimes when we're sad, it can feel like all the color has left our world. In How the Crayons Saved the Rainbow, the Sun and the Clouds get into an argument and slowly, all the color leaves their town. That is, until a box of crayons appears in a classroom and works together to bring light and color back once again.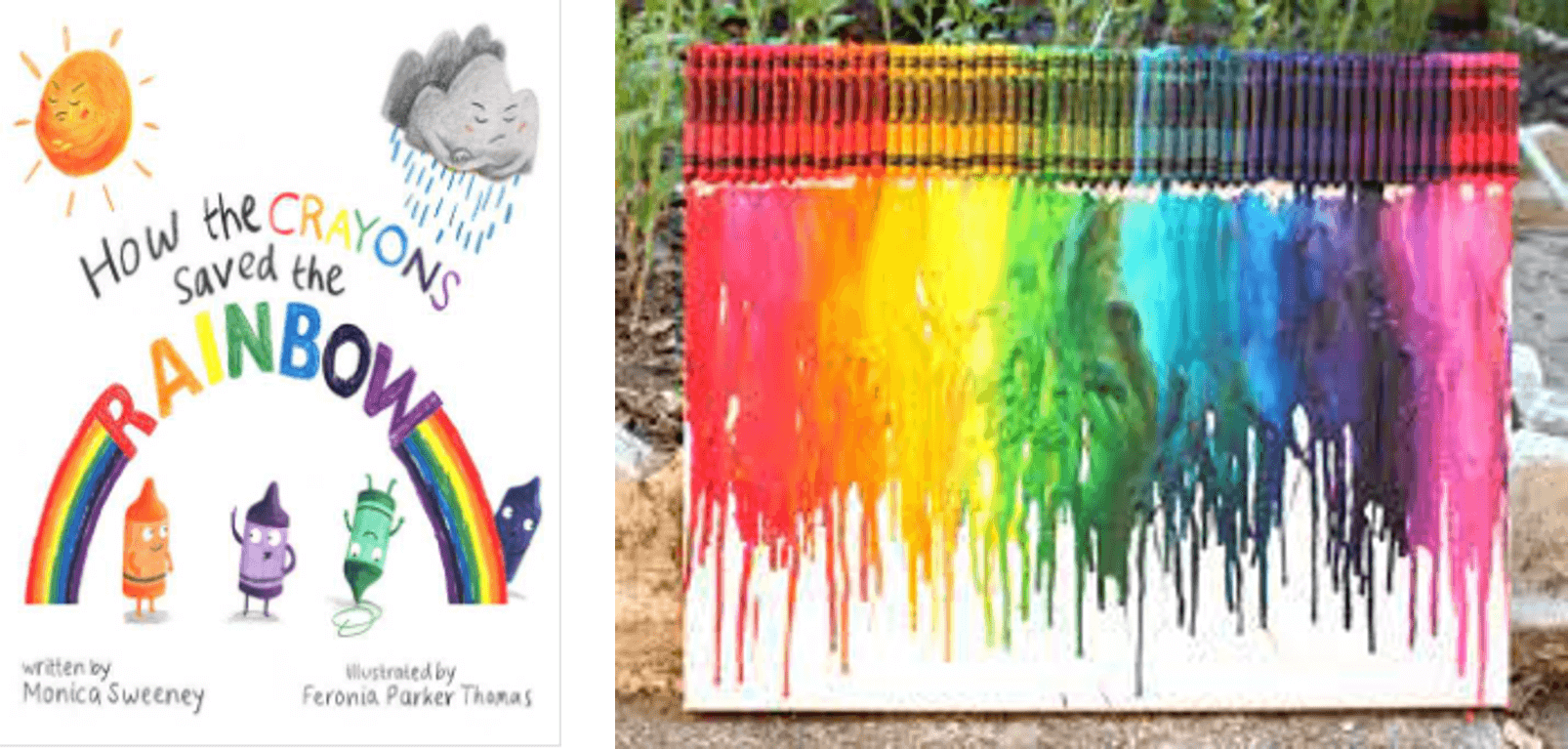 Group Project – Students work together to create one big rainbow. First, they'll glue their favorite crayon colors to the top of a poster board vertically. Then, a teacher (or older students with teacher supervision) will use a hair dryer to melt the crayons so they drip down the page.
Discuss – Did the colors mix? Why did they melt? What else melts when we add heat? Is that the role the sun plays outside? How did it feel to work together to create the rainbow? How else can we work together to add color to our day?
Middle School – Share Your Rainbow – Various, R.J. Palacio
A rainbow is scientific – it has a reason, an explanation that can be studied and quantified. Though deep down, a rainbow also feels a bit magical. There's something reassuring and warm about a rain-filled day breaking to show a stream of colors in the sky.
When we know that a ray of light must hit a water droplet at a precise angle to broadcast the show of colors, the scientific facts meld even further with wonder as we realize how lucky we are to be in the right place, at the right time. Share Your Rainbow showcases small vignettes in daily life that spark joy through the mundane.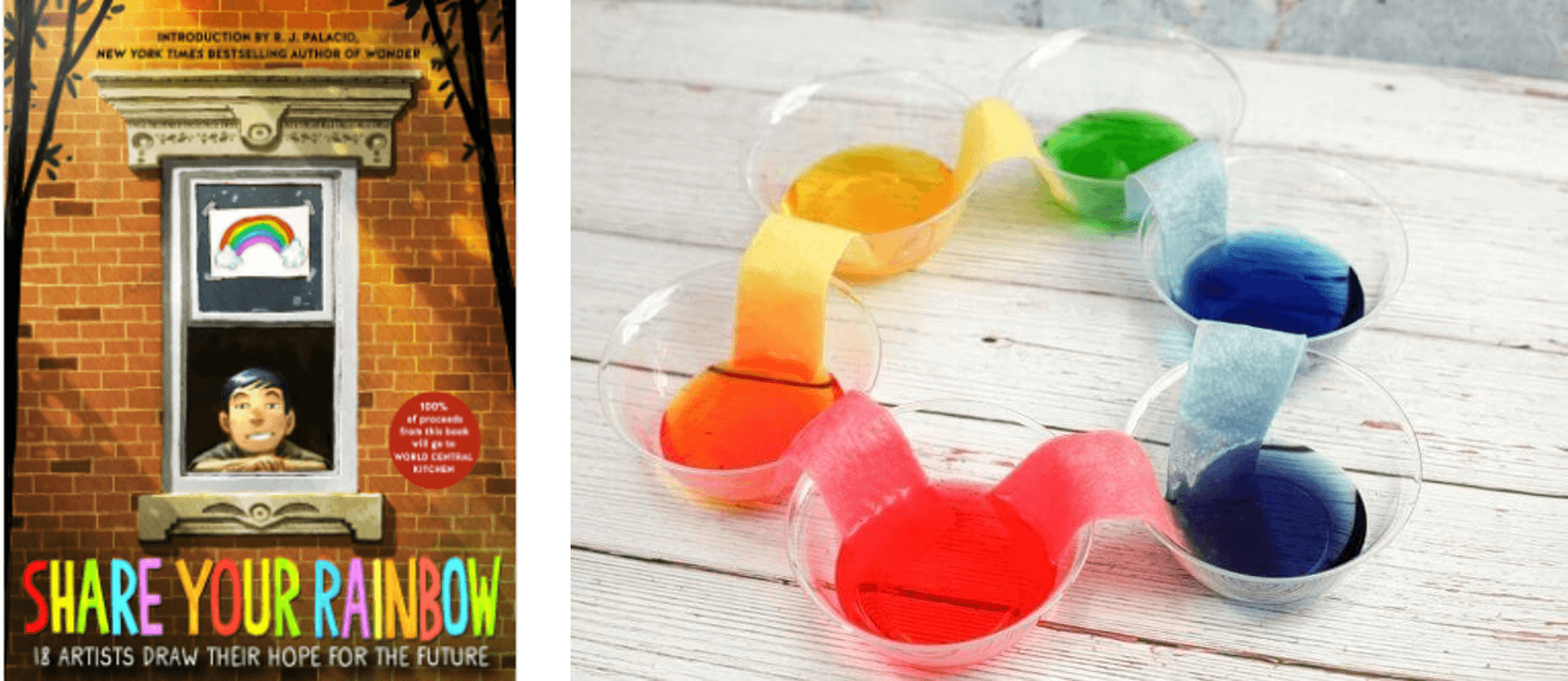 Group Project – Work together to create an absorption rainbow. Fill clear cups with water and food coloring. Each cup is a different color of the rainbow. Form the cups in a circle. Fold paper towels to create long strips. Put one end of each strip in a cup to create bridges between the cups. As the water absorbs up the paper towels, they will meet in the middle, mixing together. The circle will form a large link of paper towels absorbing the colors of the rainbow.
Discuss – How do our actions absorb into each other's lives? How can we spread positivity instead of negativity? Thinking back on the story, what is your own personal rainbow?
High School – Journey – Aaron Becker
Have you ever wished you could create your own world around you? Have you ever wondered what it would be like to walk through a mysterious and magic doorway? Do we have the power inside of us to create our own happiness? Aaron Becker manages to push his readers to search for answers to these questions without once adding his own text to the page. Journey is a wordless picture book and would work great as a group read with discussion along the way, or as an individual read with self-reflection and timing. While picture books tend to yield a younger audience, I would encourage your older readers to study the pages and investigate the more analytical questions and discussion.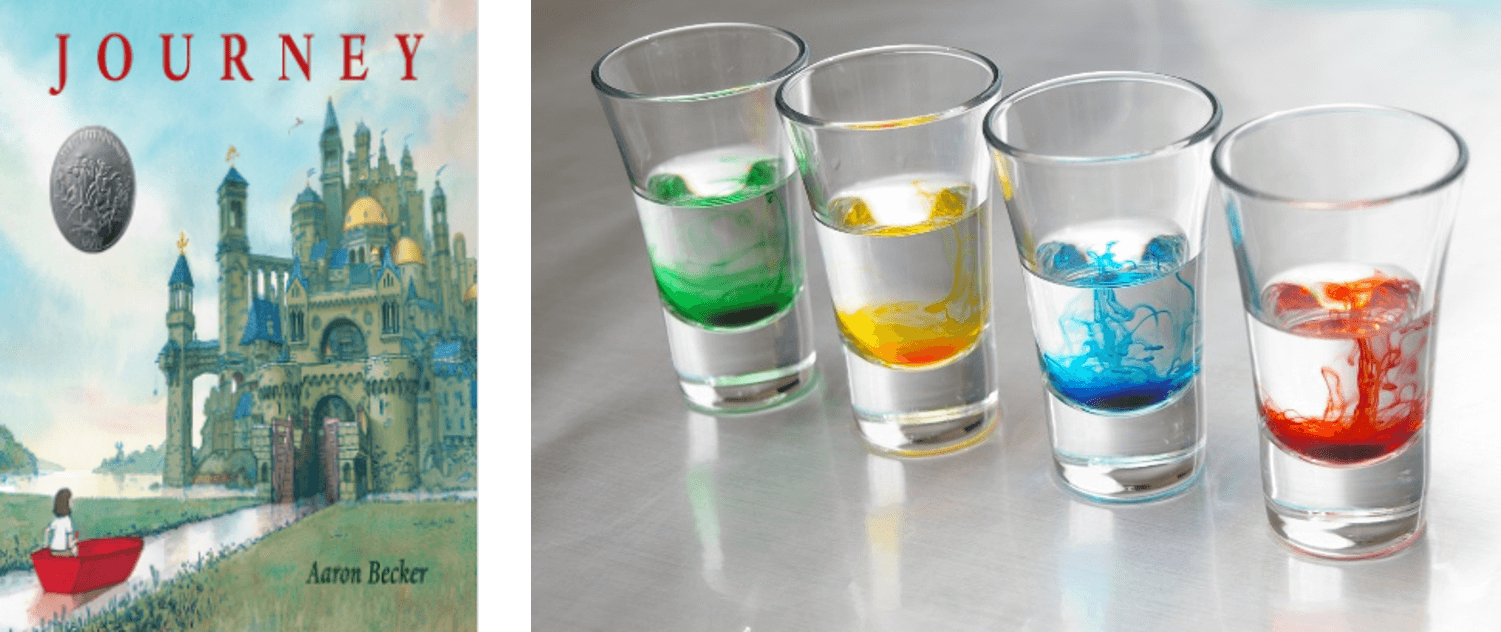 Group Project – Disappearing Colors Bleach Experiment – Fill cups with water. Color each cup a different color with food coloring (you can also associate each with a positive affirmation). Next, using a pipette , add bleach to the cup until the colors disappear. What happens when you try to add colors back in? The bleach works due to the chemical compounds oxidizing, or breaking down, the molecules that make up the color (or stains in clothes). Use this as a stepping stone in a chemistry class.
Discuss – How was color used to symbolize hope in the book? Why was the book effective without using words? When you filled your cup with water and color it got brighter with each positive affirmation (color drop) , but once you added bleach and removed the color, it never becomes quite the same — even once color is re-added. What's a time when you've been on a journey and needed a friend? How can we use positive affirmations to help each other on our journeys?
---
About the Author:
Emily Tara is an Education Product Support Specialist at OverDrive. Prior to OverDrive she taught preschool and was a seriously fun Program Director and taught college-level composition. She has Bachelor's degrees in English and Journalism from Ohio State (Go Bucks!), a graduate-level certificate in publishing from the New York University Summer Publishing Institute, and a Masters in English Literature from the University of Akron. She loves her guinea pigs, to travel, and always tries the local coffee shop anywhere she goes.
Tags In
Browse blog and media articles