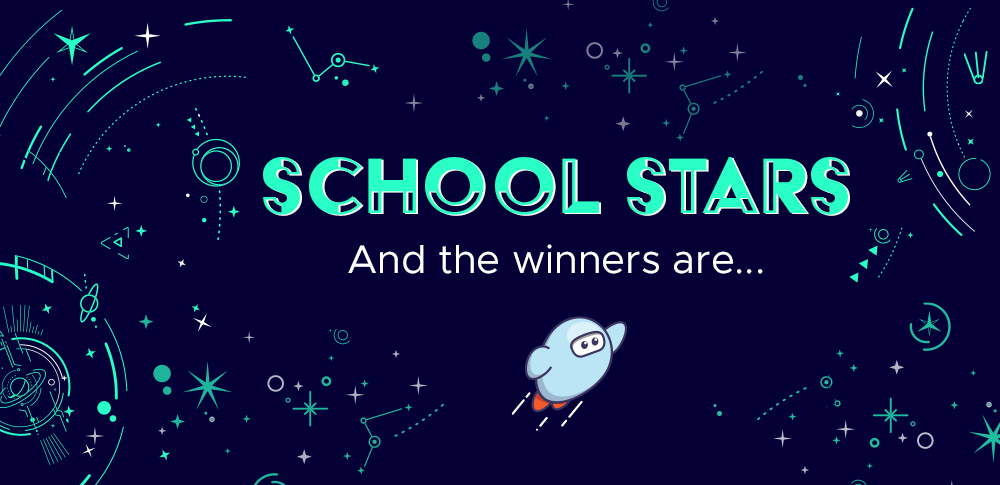 School Stars 2022: And the winners are…
---
By: Christina Samek, Outreach Specialist
School Stars 2022 has come to a close! I'm always sad when it's over but so happy and proud of all of the schools who participated. We saw so many GREAT entries this year, like we do every year — and like every year, it's really hard to choose the winners.
But, after painstakingly reviewing the entries, we've done it! Meet this year's very deserving winners below.
Grand Prize: Pasco County School District
Susan Forgas, Resource Management Associate at Veterans Elementary School (part of Pasco County School District in FL), and her team of students blew us away with this stunning reimagined cover of How Far I'll Go from the Moana soundtrack, originally written by Lin-Manuel Miranda and performed by Auliʻi Cravalho. They changed the words to highlight all of the wonderful features and benefits the Sora student reading app offers, set to an adorable music video that had all of us cheering and humming along.
According to Forgas, "I chose a variety of students from every grade level who read frequently on Sora to be a part of the video. Our amazing singer and actors really brought the song to life." We couldn't agree more.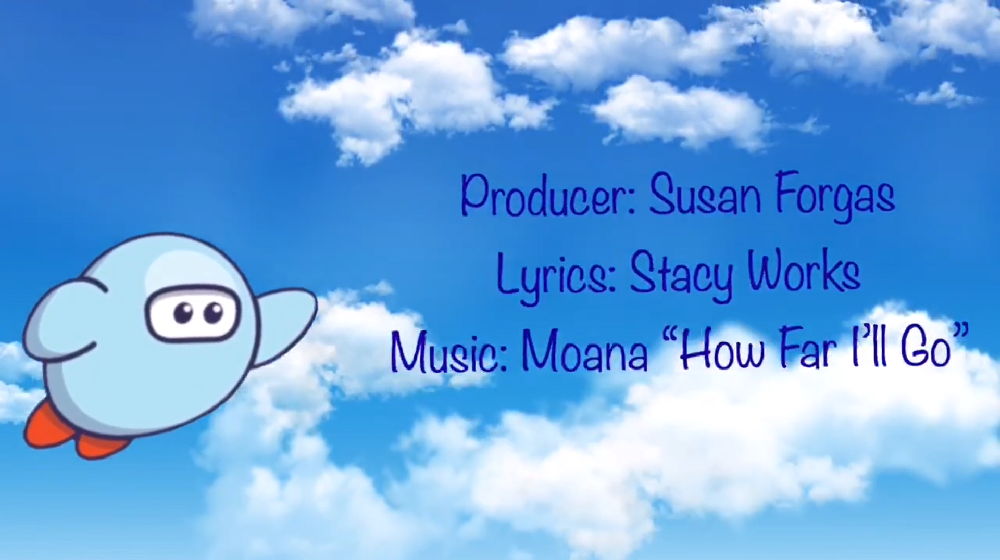 Best in Community Engagement: Ark Elvin Academy (Secondary Ebooks NOW)
When Ark Elvin Academy Librarian Jo Jenner saw how Sora increased library usage at her school in the UK, she resolved to make Sora a permanent fixture in her library service. Pupils at Ark Elvin receive a dedicated Sora lesson, delivered by the Computer Science department. Jenner notes "this is a great way to show pupils that reading and using the library are whole-school activities – not limited to the English curriculum."
Sora is now part of the way Ark Elvin communicates with families about reading. Emails and texts are sent to parents and carers before holidays to remind them that their children can keep reading while away from school. Sora is celebrated in assemblies and has become an important tool in book clubs. Ark Elvin's Sora lessons have even been adopted by other schools launching Sora.
Read more here.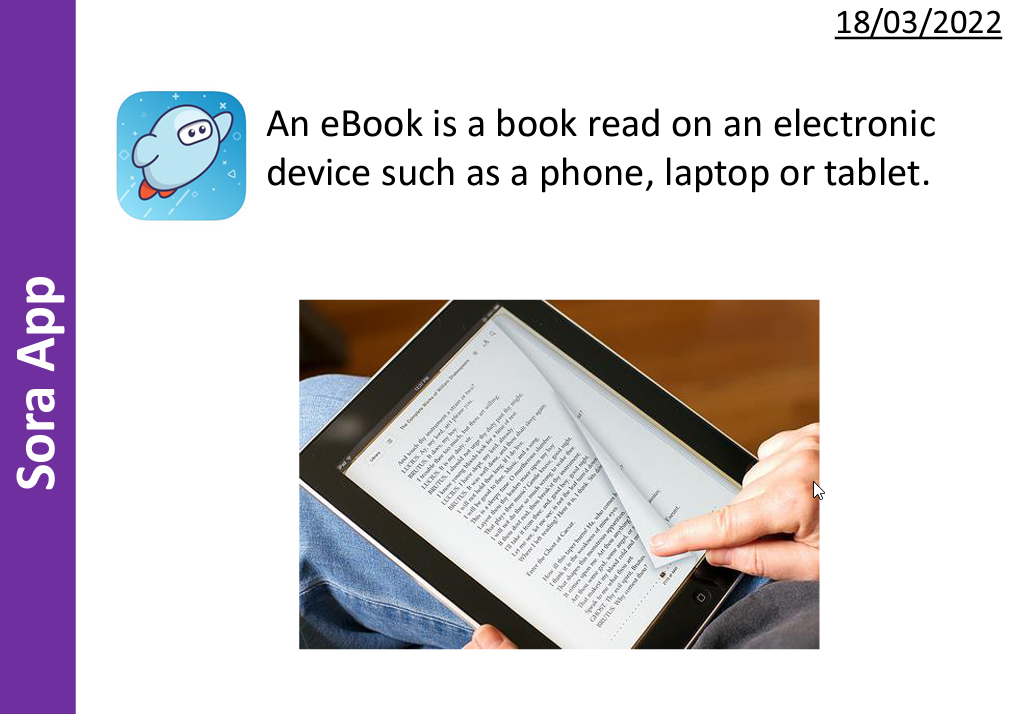 Best in Social Media: Fresno Unified School District
Fresno High Librarian Sue Navarro, part of Fresno Unified School District in CA, used materials from OverDrive's Resource Center in a fun, creative way on her social channels. She used the Holiday Reading challenge to encourage reading over break and added a little incentive on Twitter, writing: "Send ME a picture of you reading under a blanket and I'll send YOU a cozy Fresno High blanket to wrap up in!"
The dare worked! Navarro saw engagement from her post AND students found reasons to read even when school was closed. Simple and effective!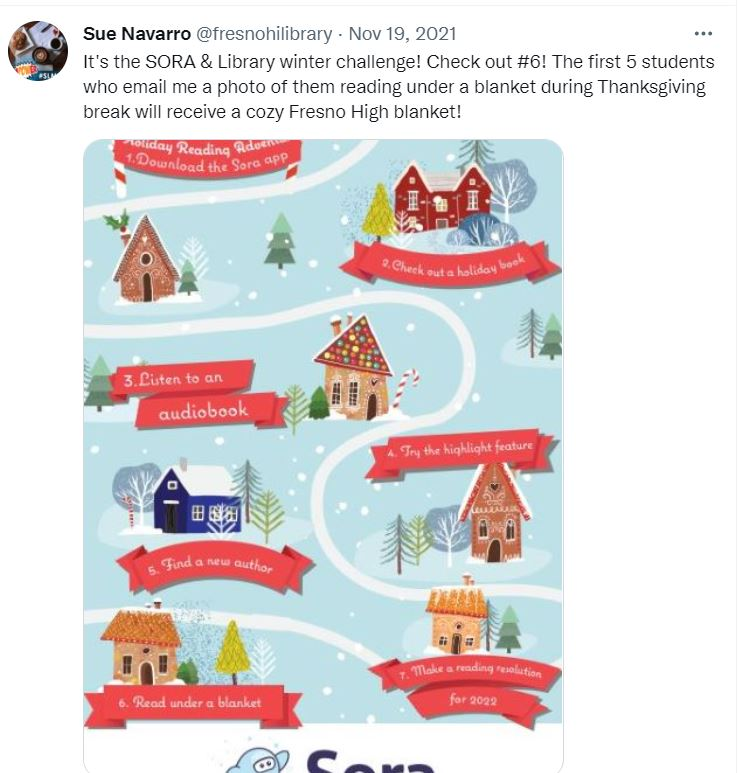 Best Visual/Virtual Display: Williamson County Schools
Grassland Middle School Library Assistant Amanda Spain, part of Williamson County Schools in TN, channeled a 50s diner to highlight Sora's 24/7 availability in this adorable and engaging display. Per Spain, "we printed off the book covers of our Sora books along with a blurb about the book to place on the display to help promote different books available on Sora." Additionally, they printed out various Sora marketing materials to mix in with their 50s themed clipart, highlighting bonus Sora features.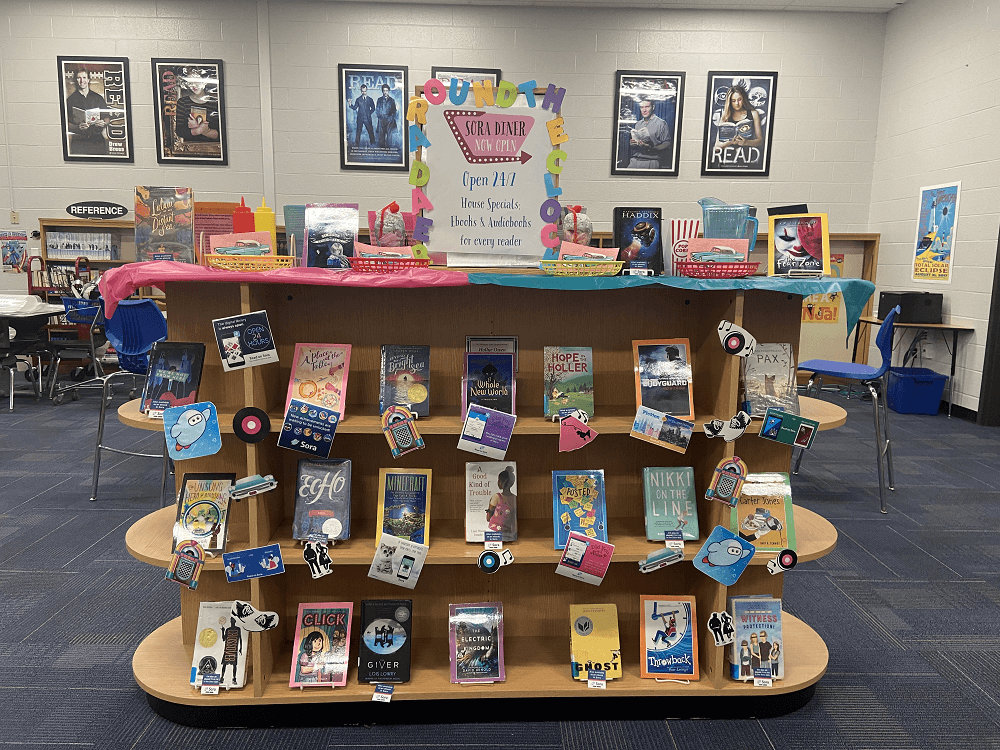 Best Student Ambassador: New Braunfels ISD
Librarian Amanda Hunt, part of New Braunfels ISD in TX, writes, "middle school is a tough time to engage readers when there's so much else going on in their lives, so my library aides made it their mission to get students in our school on the Sora app." The aides – frequent creators of book trailers, book talks, book recommendations and more – showcase students downloading the app and sharing their experiences. Hunt found that when students recommended Sora (over teachers and Hunt herself), there was a significant jump in usage. Even parents started asking!
Here's an example of one of their videos below:
Best Use of Sora in Supporting Learning Objectives: Lake-Geauga Computer Association (LGCA)
Chagrin Falls Exempted Village Schools Library Director Angie Jameson, a member of LGCA Lake-Geauga in OH, gave us such a compelling entry about how she used Sora to enrich her tenth-grade honors ELA program.
I could summarize, but I think she says it best herself:
Additional congratulations to our School Stars 2022 runners-up, listed by category:
Best Community Engagement – Runner Up: Ann Marie Anderson, part of Bend-La Pine Schools in OR
Best in Social Media – Runner Up: Jen Legatt, part of Hopkins Public Schools in MN
Best in Visual & Virtual Display – Runner Up: Joanna Parsons, from Havant Academy, part of Secondary Ebooks NOW in the UK
Student Ambassador – Runner Up: Daniela Prando, part World International School Torino in Italy
Best Use of Sora in Supporting Learning Objectives – Runner Up: Leigh Horner, part of Alaska Digital School Library in AK
And to our lucky $100 winners:
Kelly Oliva, part of Wentzville R-IV School District in MO; Sarah Sander, part of MLS Commonwealth eBook Collection in MA; Madelyn Lombardo, part of Tompkins-Seneca-Tioga BOCES in NY; Rebecca Moore, part of The Overlake School in WA; and Melanie Roy, part of RISOCKS in RI
---
School Stars will return in 2023!
If you have any fun, engaging promotional ideas for Sora that you'd like to share before then, please contact your OverDrive team – we're always looking to showcase educators' creativity on our blog and social media.
Until next time!
---
About the Author:
Christina Samek is an Outreach Specialist at OverDrive. She develops resources that help K-12 educators grow engagement among their students, faculty and parents. Prior to coming to OverDrive, she worked in the magazine industry. She has a degree in journalism and English literature from Miami University (OH). She loves reading, writing, running, her adorable little boy, her husband, cherry turnovers and her dog, Willow.
Tags In
Browse blog and media articles