Celebrating 100 million digital books accessed through the Sora reading app (Infographic) 
It's difficult to quantify what 100 million books looks like — and doubly difficult when the books in question are ebooks and audiobooks. There's no physical reference point that can paint an accurate picture — no quirky stat for how many times they'd wrap around the Earth lined up in a row or measure up against the world's tallest skyscraper. 
But suffice to say, 100 million of anything is a lot, no matter what you're comparing it to. And that's just one of the reasons we're so proud that the Sora student reading app has surpassed 100 million digital books accessed since the platform's September 2018 launch. More than anything, this milestone is a testament to the dedication and passion of all of the amazing educators we've partnered with over the years in service of one important mission: getting more students safe access to more books. 
"Sora has been incredibly popular with Stratford School students since we introduced it four years ago," said Keira Pride, Manager of Library Services at Stratford School in Saratoga, California, in a press release. "They love the achievement-based app, which reminds them of a fun video game, because it allows them to spend time reading books that they have requested. The built-in dictionary is incredibly useful as it allows their curious minds to define any new or unknown words instantly….Thank you, Sora, for making reading fun!" 
Since Sora's debut, the number of digital books accessed and read by students has steadily increased year-over-year. Though the COVID-19 pandemic certainly played a significant role in accelerating schools' shift to digital, it's also clear that now that these tools are in place, they're not going anywhere anytime soon.   
Check out the infographic below for a look at the road to 100 million books accessed in Sora. 

---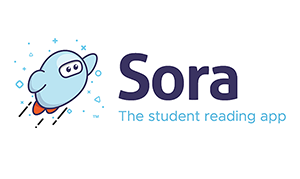 Not yet a Sora school? Check out DiscoverSora.com to learn  how it can help your school find the right book for every reader.
You can also join a live product walk-through to see Sora in action! Our team will take questions via Q&A, with many chances for follow up. Hope to see you there!
Tags In
Browse blog and media articles