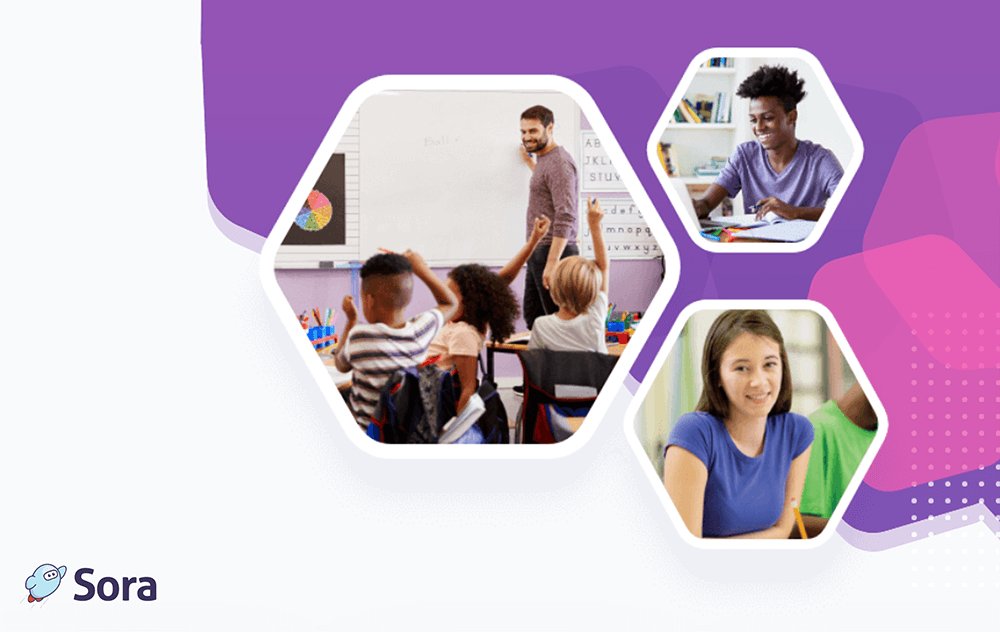 5 free outreach resources you can start using right now
By: Emily Tara, Integrated Marketing Specialist
Whether you're reading this as a school librarian, administrator or teacher. we know that your days are busy. Between planning, prepping, meetings and classes, your plates are full and you're lucky if you get those spare moments to refill your coffee cup.
So, what happens when you want to promote Sora and your digital collection? We want you to be successful without adding even more to your plate. This is where our Resource Center comes in!
You can think of the Resource Center as your own personal assistant, secret weapon, or best friend. Why? Everything you need to promote your Digital Collection is there for you and you can do as much (or as little) customization as you want to the materials! Why reinvent the wheel when you don't have to? No login is required to access all the graphics, videos, posters, and flyers – so what are we waiting for? Let's explore five free outreach resources you can use right now!
1. Customizable template: Sora shelf cards
You have a class of students in your library, and your 3 copies of Diary of a Wimpy Kid are all already gone. Don't worry! Head to the Resource Center and customize a Sora Shelf Card for your most popular titles. You can easily add a screenshot of a book cover, a quick summary, and a QR code (hint: copy the URL directly from the title page in Sora to make the title easier for students to access!). Students are reminded that they can find this title in your Digital Collection and the crisis is averted! There's an audiobook version of the Shelf Card, too!
Bonus Tip: Share these with teachers to use with their classroom library!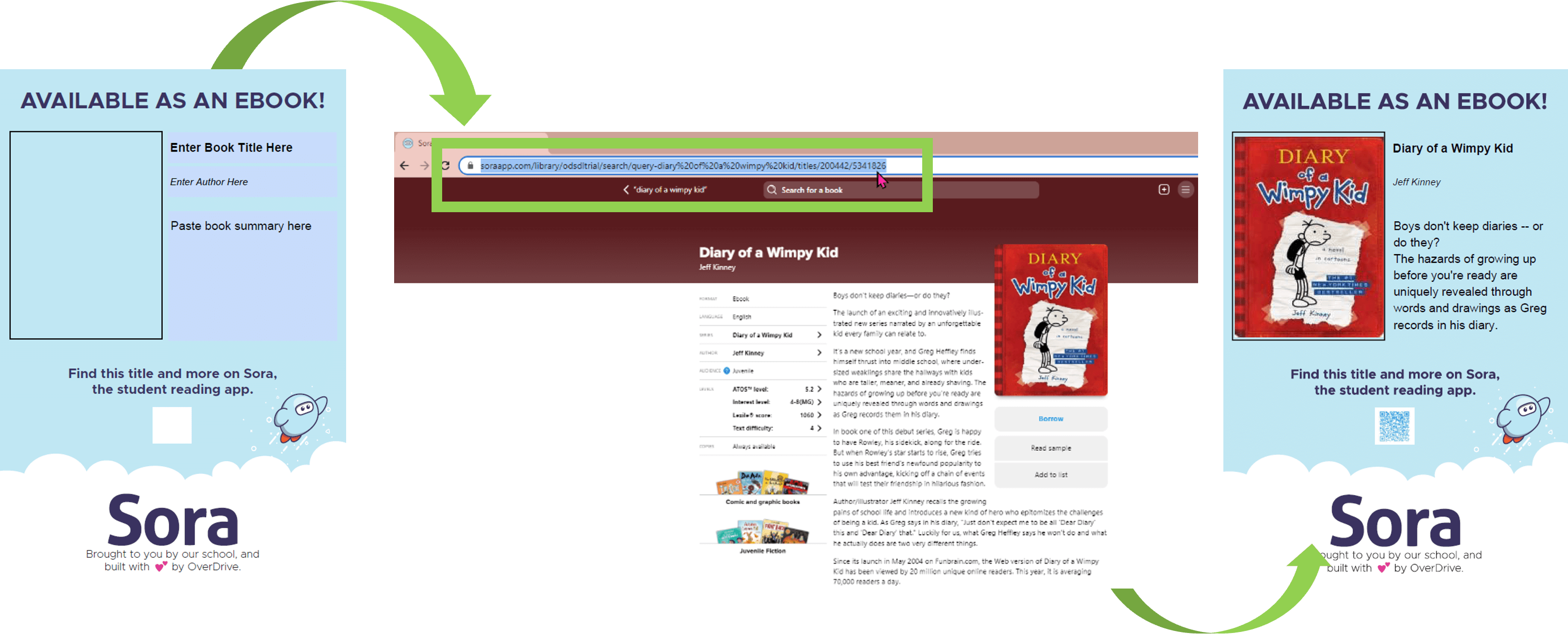 2. Student activity: Sora Scavenger Hunt
Introduce new students or refresh current students on all the features of Sora – with a fun twist! Have a few copies of the Sora Scavenger Hunt printed and ready to go so that students can learn all about Sora either independently or working together. The Scavenger Hunt is available in two difficulty levels, so there's a version for everyone.
Bonus Activity: Did you know that OverDrive has a podcast? Our Professional Book Nerds put together a reading challenge! You can use this simply to encourage reading outside of a student's comfort zone or, you could turn it into a fun school challenge!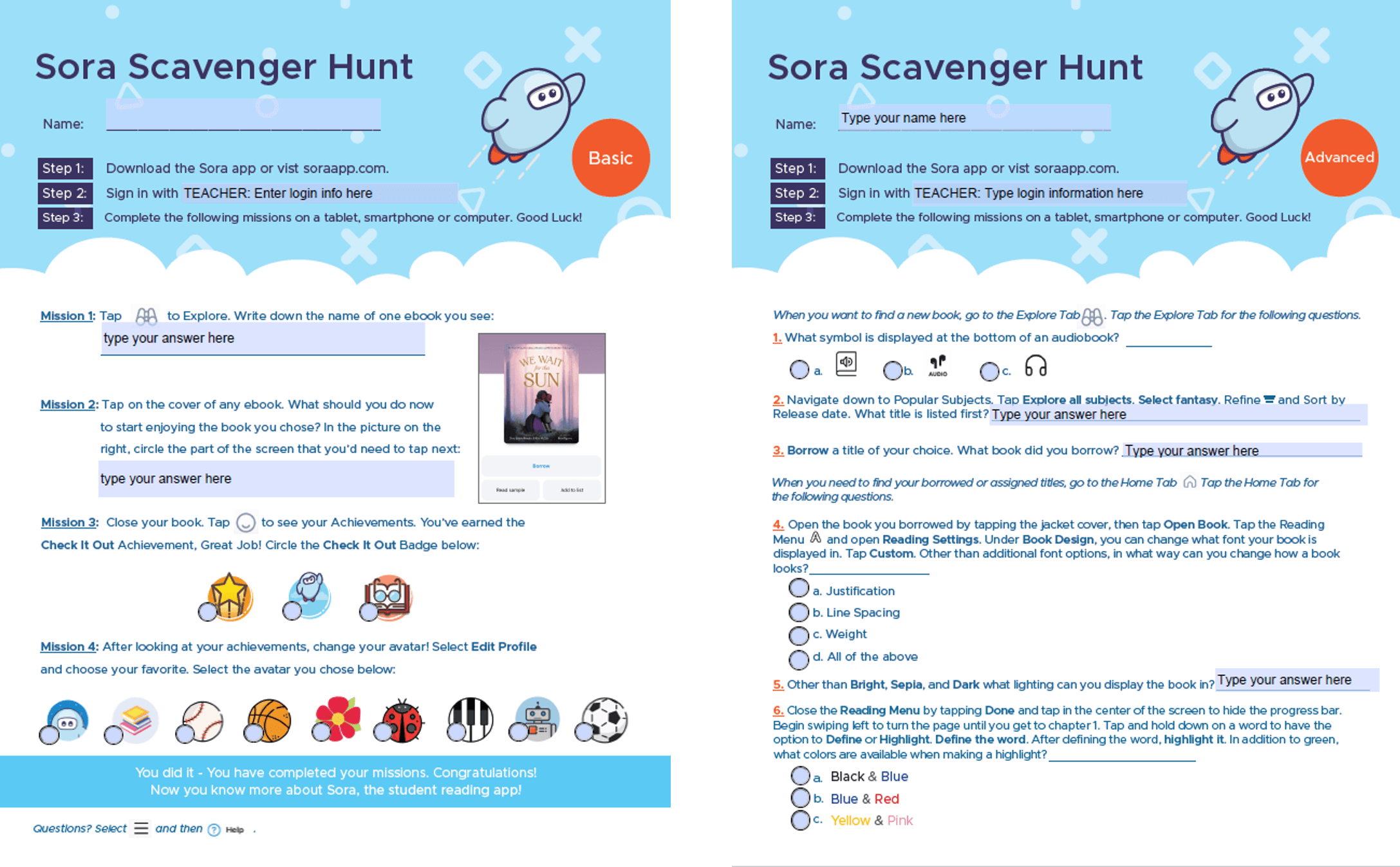 Print-ready poster: "Where will reading take you?"
Decorate your walls and doors with ease using our selection of print-ready posters! These are ready to be printed from your school printer, or they can be printed from your local office supply store in a poster size. They're a great way to visually remind students of your Digital Collection – whether you want to showcase ebooks, graphic novels or magazines is completely up to you!
Bonus Poster: Do you have a teacher's lounge or office space? Remind your teachers and staff of your Digital Collection with our Teacher Flyer. The Teacher Flyer also showcases a few of Sora's notable features!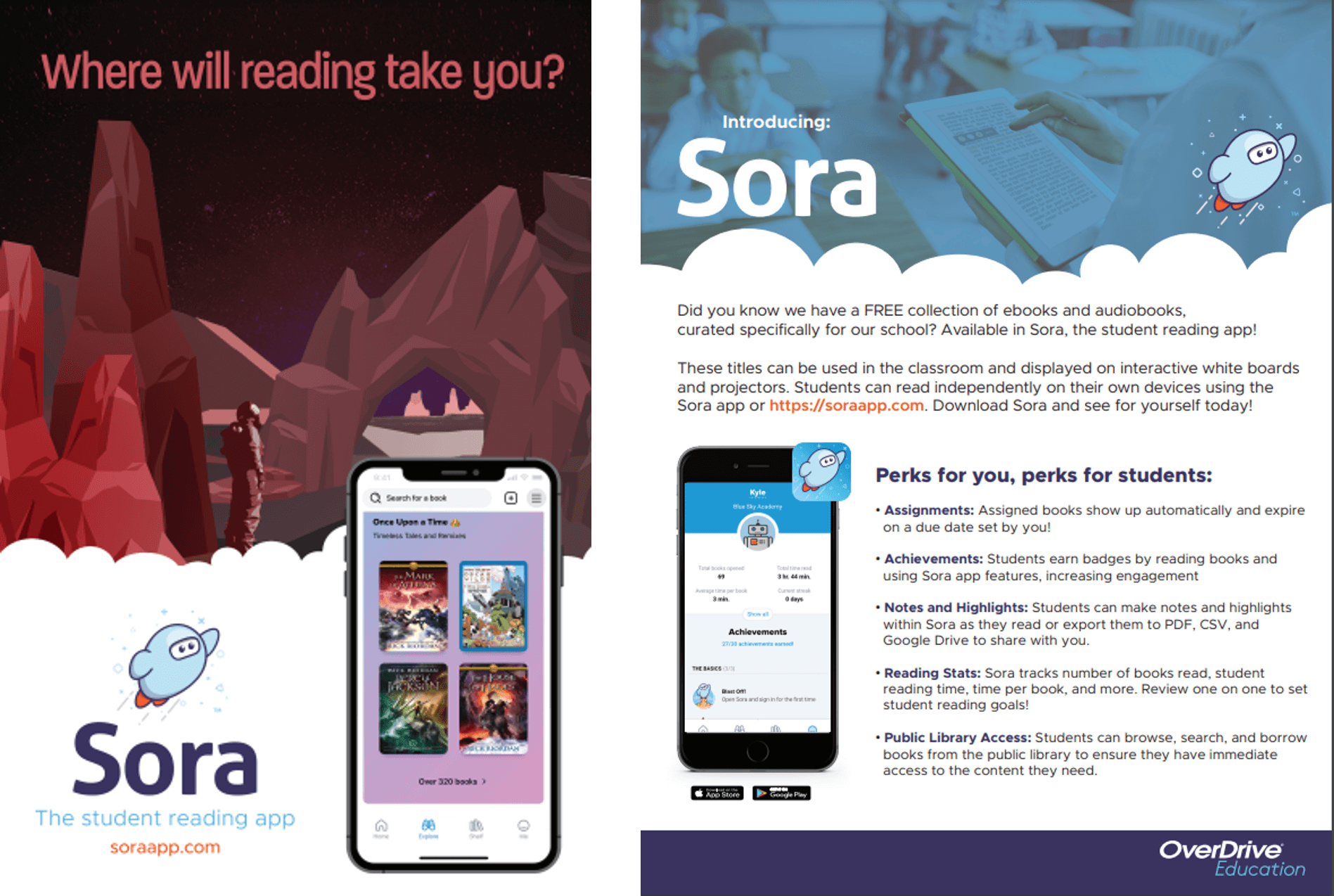 Parent outreach: Sora informational half sheet
Parents are a huge part of your school community and play a large role in your student's educational journey. Let's make sure they know about your digital collection and can help their child access the library when they're not at school. The Informational Half Sheet is designed to be printed double-sided and has places to customize your sign-in method (do your students sign in with usernames and passwords or with their school-sponsored Google or ClassLink account?) and setup code.  If you aren't sure of your setup code, reach out to your Sora Account Team!
Bonus for Parents: Do you have a drop-off line? Showcase your Digital Collection while parents are waiting to pick-up their student! Check out our Sora Yard Sign on the Resource Center.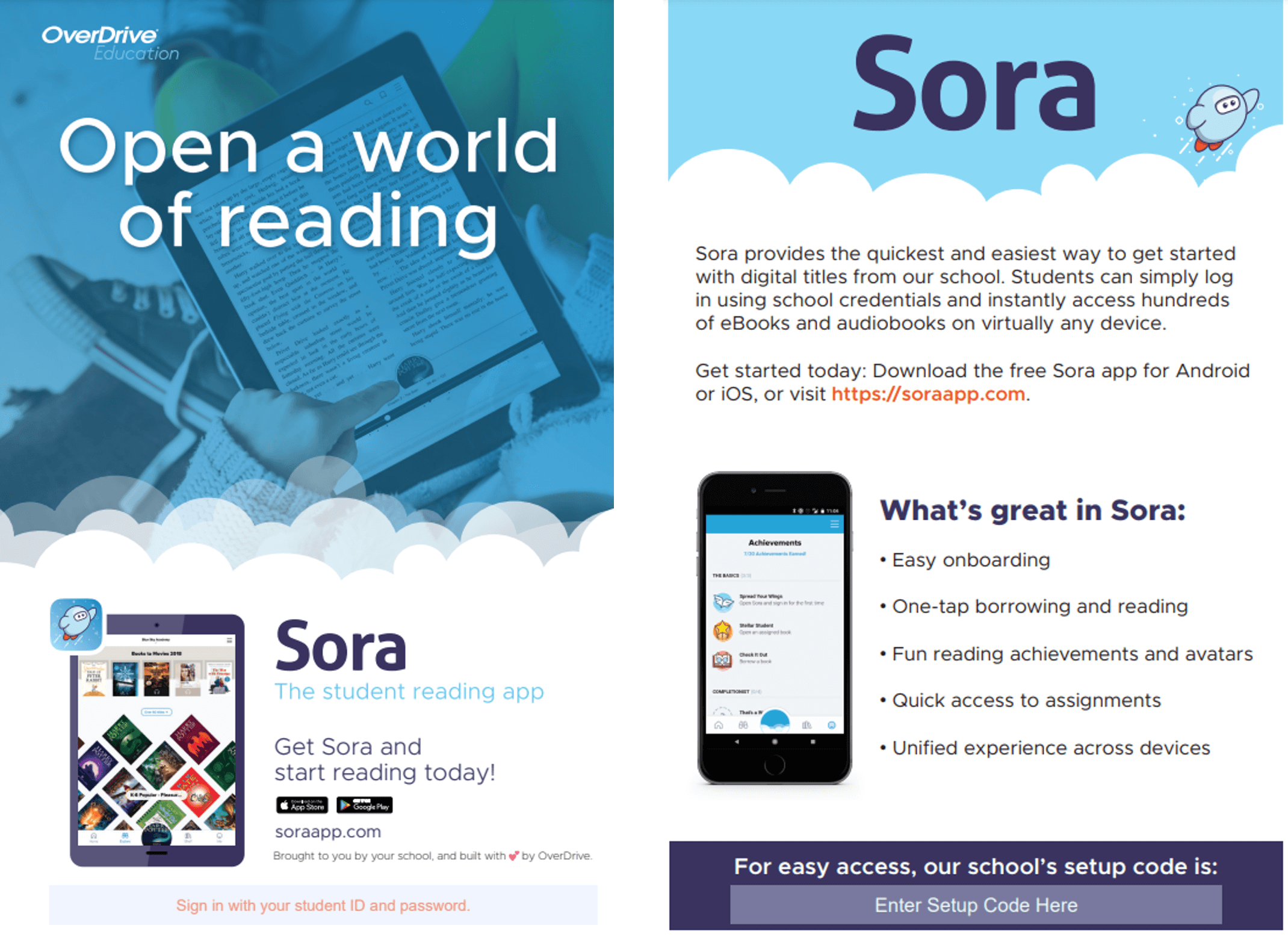 Social graphic: Sora is always open!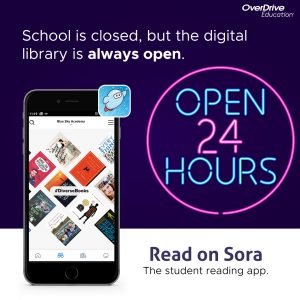 With so many social graphics to choose from, how do you pick just one? I went with one of my favorites that can be used at any time of the year. This graphic is perfect for a poster, school newsletter, or to be made into a sticker for take-home folders! One of the best features of your Digital Library is that its doors are ALWAYS open! Let's remind your students that whether they're looking for an after-school read, a late-night comic, or a cozy mystery while they're soon to be home on winter break they can find their perfect companion on Sora.
Bonus Tip: Prep for Winter Break with our cozy snowfall graphic! More winter graphics will be available soon!
---
For additional free outreach materials, reading activities and so much more, be sure to visit the OverDrive Resource Center.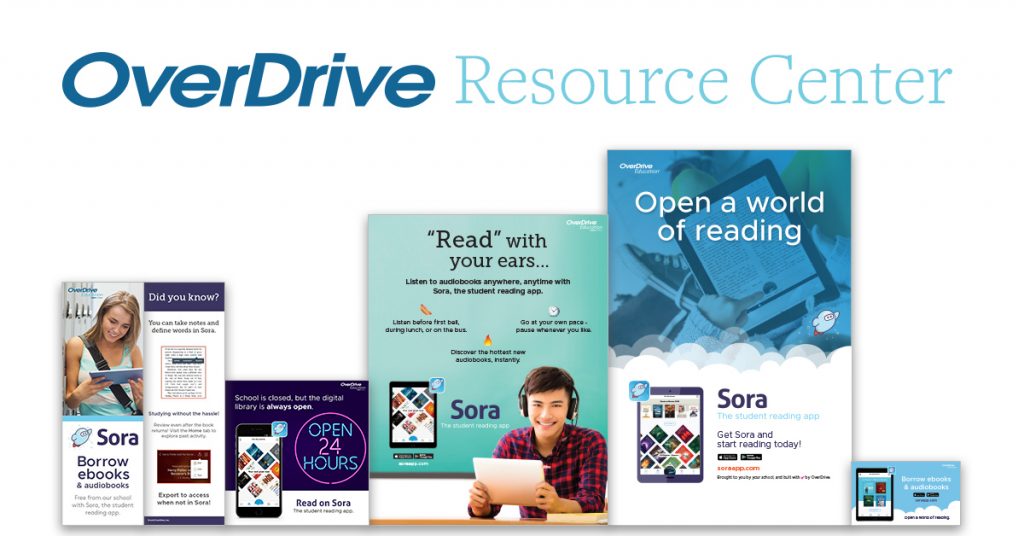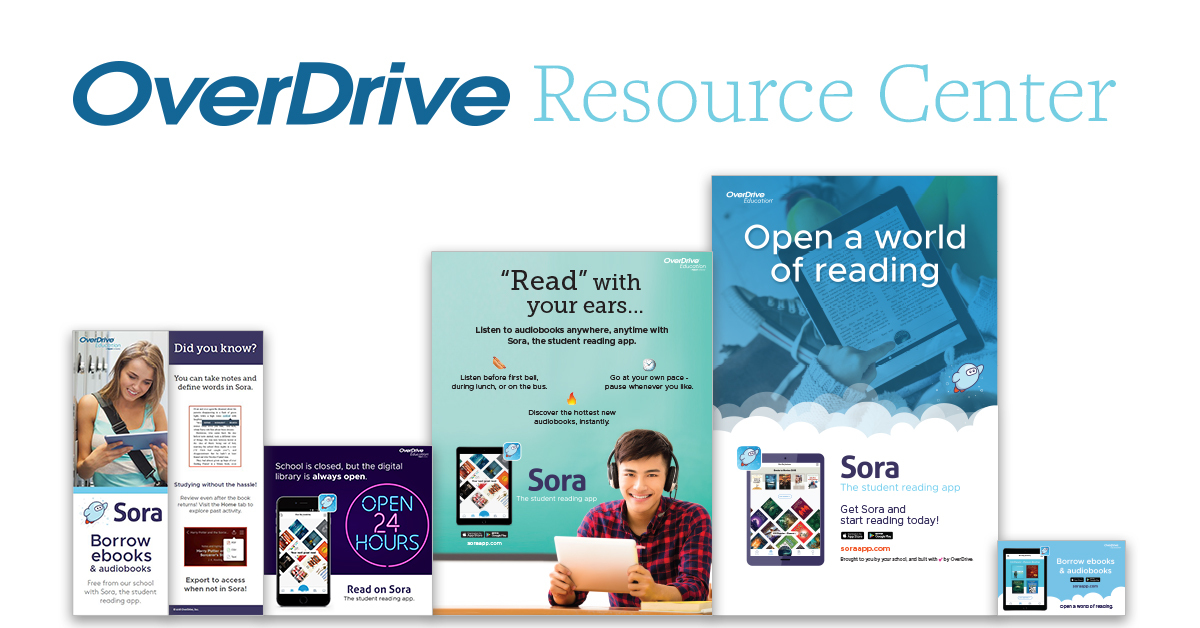 Tags In
Browse blog and media articles