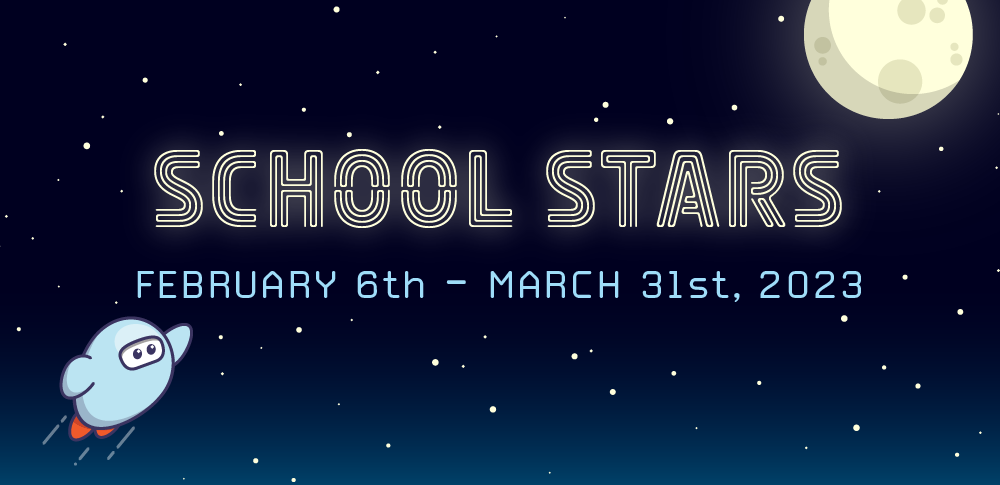 Save the date: School Stars returns February 6!
By: Emily Tara, Integrated Marketing Specialist
Can you believe that January is already coming to a close? I hope you all – wherever you are – have had a wonderful start to the new year! We often speak of the new year as a time for a fresh start, new opportunities and growth. But in the world of education, the new year is also often the mid-way point through a school year, so it signifies the beginning of the end of the year, too! It's why this time of year is perfect to reflect on what you've done so far to promote student reading.
First of all – what is School Stars?
If you aren't familiar with the School Stars contest, let me introduce you! The contest started in 2018 and continues to be a way for schools like yours to show off all the ways you've promoted Sora this school year. There are SO many benefits to School Stars, but let me share two with you.
One, you could win awesome prizes, like content credit! Who doesn't love free books?
Two, we keep the past year's winning submissions up on the webpage all year making them a great resource for other schools as they look for examples to promote Sora in their own classrooms all year long.
Ready to learn more? School Stars takes off on February 6 and submissions are welcome through March 31.  Submitting is easy through the form on the School Stars website.  We're looking for ways your school has promoted Sora in the 2022/2023 school year (August 2022 to present). Past entries have included videos, visual displays and bulletin boards, social media campaigns and student-created submissions.
Once submissions are in, our entire company votes on the winners, which are announced mid-April. No submission is too small – we want to see everything you've done this year! But, of course, it's always fun to "shoot for the moon!"
Categories
This year's submission categories are:
Best in Visual/Virtual Display or Bulletin Board – Share your best visual or virtual Sora display! This could be anything from a compelling Zoom background, a unique bulletin board or a towering display case.
Best in Social Media – Share how you promoted Sora across your social networks (Facebook, Twitter, Instagram, etc.) to engage your school community.
Best Community Engagement – Have you spread the word about Sora beyond the classroom? Share how you've achieved the buy-in of your community; whether it's through partnering with the local library (Public Library CONNECT), encouraging parent/guardian engagement, increasing faculty and administrator support, etc., we want to hear about it!
Best use of Sora in the Classroom – Show us how you've integrated Sora into the classroom to support your learning objectives with lessons, activities or assignments.
Best Student-Made Submission– Sora's impact on your students fuels our work. Share how your students have shown their love for Sora and spread that love to their classmates. Maybe it was a fun video, presentation or even a song! We welcome all mediums.
Prizes
This year, all winners will be mailed a special School Stars winner poster to display in your school.  You'll also receive a digital winner badge to display online!
Best Overall: Grand Prize Winner (1 winner) – $2,500 USD in content credit PLUS 1,000 silicone Sora bracelets
Category Winners (1 per category): $500 USD in content credit
Category Runner-Up (1 per category): $250 USD in content credit
Be sure to check out the School Stars website for all the information, a countdown to launch, and the entry link! You can also view last year's winners for inspiration.
Mark your calendar for February 6 – we can't wait to see you shoot for the moon to become a School Star!
---
About the Author:
Emily Tara is an Integrated Marketing Specialist at OverDrive. Prior to OverDrive she taught preschool and was a seriously fun Program Director and taught college-level composition. She has Bachelor's degrees in English and Journalism from Ohio State (Go Bucks!), a graduate-level certificate in publishing from the New York University Summer Publishing Institute, and a Masters in English Literature from the University of Akron. She loves her guinea pigs, to travel, and always tries the local coffee shop anywhere she goes.
Tags In
Browse blog and media articles