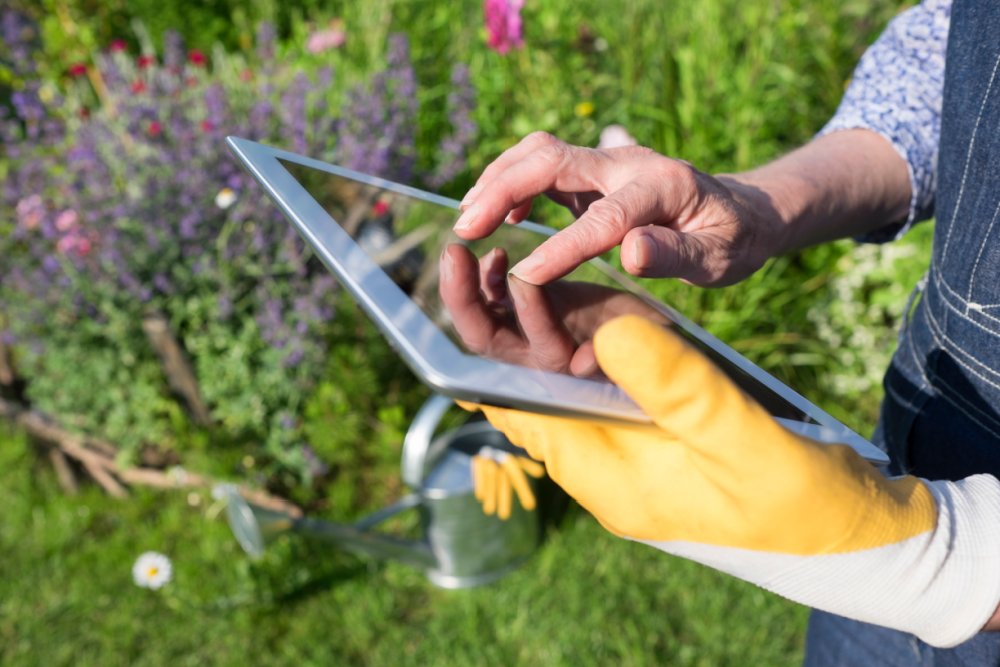 Best spring reads from OverDrive
By Kristin Roccaforte, Digital Content Librarian
Thoughts of spring make me want to start planning and planting my garden, get outdoors and frolick in a meadow. There's no better place to turn than our Garden Prep list for books on setting up one's garden. It is currently the spring of deception in Ohio. On the cusp of warming weather, most people know that false warm days are a mask for third winter. But let's deceive ourselves for a little bit and pretend that the sunshine, warming weather, and buds of spring are on our doorstep. Today, let's take a look at some books that remind us of spring like gardening titles and cottagecore books.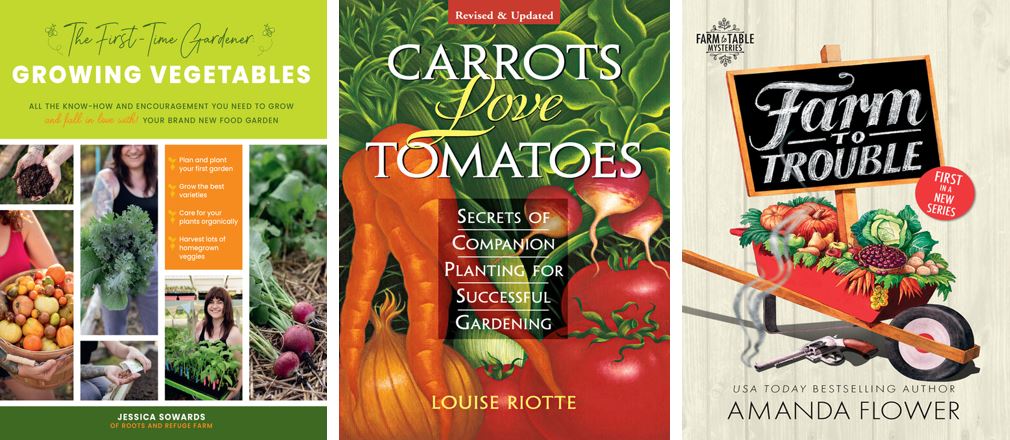 Best spring reads for gardeners
The First Time Gardener: Growing Vegetables by Jessica Sowards
Much like with cooking, a garden book with beautiful pictures allows readers to imagine what their own garden will look like once spring comes and The First-Time Gardener by Jessica Sowards is a great choice for anyone looking for basic help with growing a kitchen garden. It provides readers with the high-level understanding of what is needed to grow and maintain a garden and, as mentioned, there are pictures throughout the book so gardeners know what to expect.
Purchase in Marketplace here
Carrots Love Tomatoes by Louise Riotte
For more experienced gardeners, one of my favorites is Carrots Love Tomatoes by Louise Riotte. If you have readers who are seasoned gardeners and are looking to get a better yield, then this is the perfect book for them. Companion planting helps plants grow stronger, resist pests, and maybe taste better. This book was originally published in 1976, but the information is still relevant, and this updated version is beautiful.
Purchase in Marketplace here.
Farm to Trouble by Amanda Flower
Even though gardening is rewarding and, dare I say, fun there are many people who don't want to garden, but still want to read seasonally. Let me introduce you to a great list called Buried in the Garden: Garden, farm, and flower cozies. If you have patrons who are seasonal readers, this is a great list for them because it's full of titles about digging in the dirt, planting, and harvesting — but with murder!
One of my favorite series from this list is Amanda Flower's Farm to Table mysteries with book one being Farm to Trouble. Big city lady, Shiloh, decides that she should take over the family farm in Michigan. There's nothing like giving up the fast-paced, hectic life of the city for the pastoral innocence of the farm. Except that certifying a farm as organic, getting her business ideas going, and finding investors is hard. Not to mention the dead body that puts a damper on all of Shiloh's plans. There are currently three books in this series.
Purchase in Marketplace here.
Get cozy with cottagecore
Another theme that always makes me think of spring is cottagecore. This is an aesthetic trend that idealizes rural and simple living. Gardening is central to it, but there are lots of books that fit within it as well whether that be cozy fantasy reads, dark fantasy or contemporary fiction.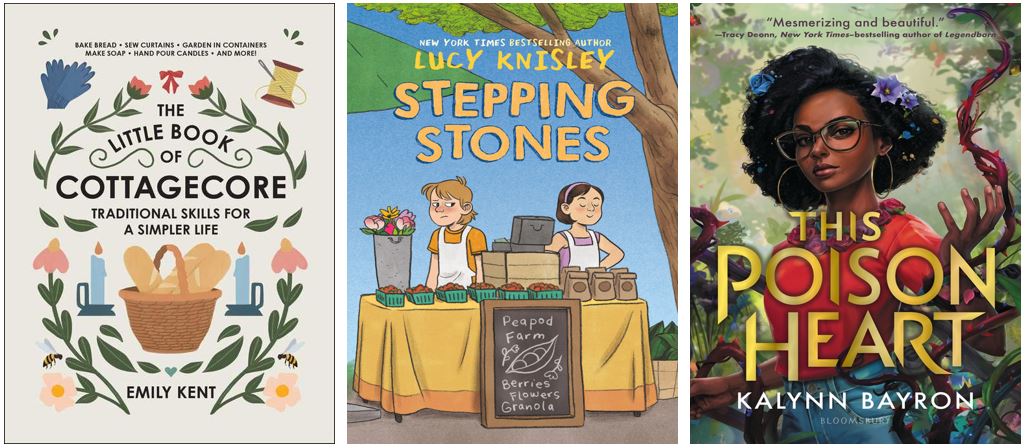 The Little Book of Cottagecore by Emily Kent
If you are new to the trend, want to learn more or are looking for ways to enhance your traditional skills, check out The Little Book of Cottagecore by Emily Kent. This book is in the same vein as hygge books. It gives readers an outline for how to slow down and enjoy the simple things like soap making and tea time. The book outlines instructions for how to do certain activities, like baking bread, but it also gives reasons for why certain ingredients and/or techniques are used. This is a perfect selection for anyone who is into cottagecore, but also pairs well with lifestyle books.
Purchase in Marketplace here.
There are many classic books that the cottagecore community fawns over like Anne of Green Gables, and Little Women because they are set in rural places, traditional skills are used, and the characters are spunky, playful and the reader grows to love them. Let's check out some modern books that also fit this theme.
Stepping Stones by Lucy Knisley
Stepping Stones by Lucy Knisley is part of the Peapod Farm series which is meant for readers who are 8-12, though I, a 30-something year old woman, also love this graphic novel series. Jen does not want to leave the city to move into a farmhouse with her mom and her mom's new boyfriend, but since her parent's divorce, she doesn't have much say. On the farm, Jen is expected to do chores and try to get along with her new sisters, Andy and Reese. All this responsibility is hard for Jen and getting along with Andy is proving to be a real pain.
I haven't shut up about this book since I read it several years ago. Knisley's art is beautiful, and the story resonates with kids and kids at heart. The second book in the series is Apple Crush and it is a perfect fall read.
Purchase Stepping Stones in Marketplace here.
The Poison Heart by Kalynn Bayron
Another canon cottagecore title is The Secret Garden, but what if we want a remix? Something a bit more contemporary? Well, The Poison Heart by Kalynn Bayron is just the ticket. Briseis inherited an estate that is mysterious and holds secrets she aims to discover. But Bri is no ordinary girl. She has a magical gift that enables her to make plants grow. It's amongst the gardens of this estate that she can start learning to control this gift, so long as the estate doesn't have sinister plans for her already. Make sure you pick up book two in the series as well, This Wicked Fate.
Purchase this title in Marketplace here.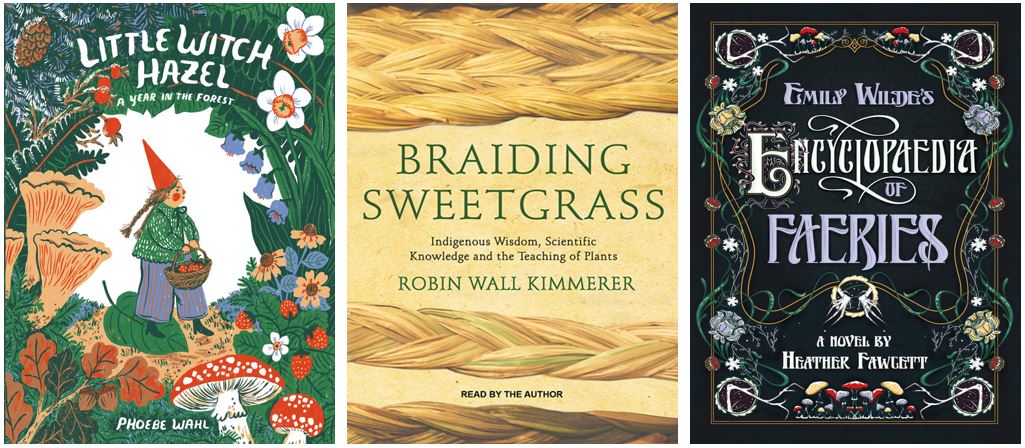 Little Witch Hazel by Phoebe Wahl
If you're looking for more magic in nature, I cannot recommend Little Witch Hazel by Phoebe Wahl highly enough. It is perfect for the cottagecore parent, kids who love nature, and adults who want sweet stories with gorgeous art. This is a picture book that celebrates the seasons with four short stories. The stories center around our titular character, Little Witch Hazel, as she cares for her friends in the Mosswood Forest and celebrates the joy that each season brings. If you love The Wind in the Willows or Brambly Hedge, this is a great pick for you. Though not as story heavy, the colors in this book are vibrant and the drawings are reminiscent of folk art.
Purchase in Marketplace here.
Braiding Sweetgrass by Robin Wall Kimmerer
If you're looking for titles about reconnecting with the land and understanding nature, pick up the New York Times nonfiction bestseller Braiding Sweetgrass by Robin Wall Kimmerer. It's about human's interconnectedness with plants and animals. The author is a botanist and a member of the Potawatomi Nation. She uses her knowledge to weave a gentle, beautiful book that reads like poetry. Throughout this book, a love of the land, indigenous wisdom and science teach the reader to appreciate the flora and fauna around them.
Purchase in Marketplace here.
Emily Wilde's Encyclopaedia of Faeries by Heather Fawcett
To finish out this list, let's end with Emily Wilde's Encyclopaedia of Faeries by Heather Fawcett. This is for all those children who turned into adults and never stopped believing that fairies were dancing in the woods and bringing the snow if only they could find them. This is the story of Emily Wilde's research trip to a remote island in Norway where she hopes to capture evidence of the most elusive of fair folk, the Hidden Ones. Emily is a professor of Fairy Studies at Cambridge and is compiling an encyclopedia on the subject, but the jewel in her crown would be uncovering the Hidden Ones. Emily is an awkward young woman. Social graces are not her forte and her awkwardness even more exacerbated by the arrival of her charming and mysterious colleague Wendell Bambleby. Can Emily get the evidence she needs, survive meeting the Hidden Ones, and solve the mystery of just who, or what, Wendell Bambleby really is?
Purchase in Marketplace here.
I hope these titles give you and your patrons ideas for spring planting and spring reading! Get ready for the lengthening days, warming temperatures, and new growth.
Happy Reading!
Browse blog and media articles